When you decided to monetize your site and traffic, I'm sure the first option you tried was undoubtedly Google AdSense. There is nothing wrong with that, AdSense is the largest ad network and the quality of their ads are second to none, but that does not make it one among the best ad networks in the world.
Today, publishers have access to 1000s of ad networks in various different niches, providing different solutions and options to better monetize your site, but even then it takes a great deal of trial and error to find the right network or a combination of different networks that works best for you, which is one of the reasons why Google AdSense continues to dominate advertising on the internet – There were very few networks that can match the fill and CPM rates of Google AdSense.
Over the past few years, there has been tremendous disruption in the ad tech industry, which poses a huge challenge to Google's monopoly. Such changes and disruptions provide better options for both publishers and advertisers.
Top 10 Best Ad Networks For Publishers – 2017
We have been researching many such networks and solutions for the past 6 months, the following are by far the best ad networks to monetize any blog or websites across 100s of different niches,
#1.  OneClerk (Recommended) 
First on our list of the best ad networks is AdClerks, formerly known as PublicityClerks is a leading advertising marketplace which has managed to attract nearly 10,000 websites and advertisers to its network ever since it was started in 2012. It basically allows publishers to sell ads directly using a self-serve advertising platform to effectively monetize their traffic.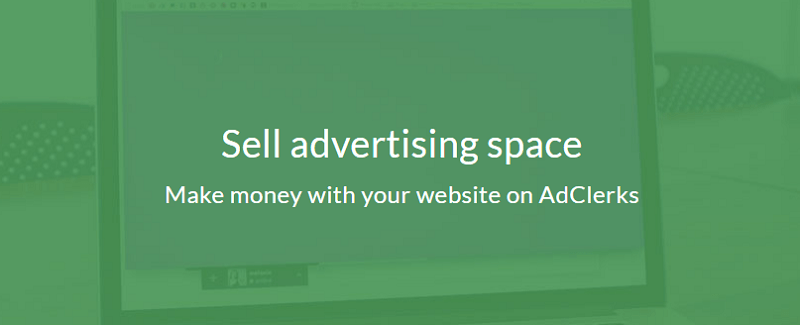 The concept is quite similar to BuySellAds, but AdClerks allows publishers to sell ads directly on their own websites using an on-site shopping cart. The cart displays your site stats, ad sizes, impressions and ad rates. The problem with this concept is that most publishers may not be able to monetize 100% of their ad inventory, resulting in a loss of potential revenue, this is where AdClerk's new CPM service OneClerk comes in.
For example, if you have an ad zone created on AdClerks or BuySellAds but haven't sold any advertisements yet, you could end up losing revenues from 1000s of impressions every day if the particular zones are left empty, so instead of waiting and earning nothing you can allow AdClerks to display high-quality CPM ads in these zones by opting into their OneClerk service.
Once you are signed up to AdClerks, you will have to send an opt-in request and get accepted by the OneClerks team. There isn't any eligibility criteria mentioned, but in general, they look for good quality content, professional design, and a few 1000 monthly impressions. If you would like to get started with OneClerks you can follow the steps below,
Login to your AdClerks account
Click on the 'OneClerks' option under the 'Publishers' tab in the sidebar
In order to opt-in, just click on the button 'Opt-in To OneClerks'
Your site should get approved within 24 hours and OneClerks will start serving CPM ads automatically!
Setting AdClerks Ad Zone

OneClerks currently serves ads only for 300×250 ad zones, so you can follow the below steps to set up your first ad zone,
Click on the 'My Websites' link under the 'Publishers' tab
Select the 'Zones' option and then click on 'New Ad Zone'
Give your zone a name, make sure you select '300×250' as the ad size option
You can place the javascript code on your site to start displaying the ads
Once that is done, scroll to the bottom of the page and click on 'Enable OneClerk'
CPM ads should start showing up almost immediately, ensuring that you make money for each and every impression.
We have been using AdClerks and OneClerks on QuickTopTens for quite sometime now, and the results have been better than expected, you can check our results in the screenshot below.
#2.  AdRecover
Today, the biggest loss of revenue for most publishers is blocked ads. Most users have some sort of pop-up blocker or Ad blocker and most publishers are missing out on revenue lost from this source. It is not that the user may not need your service, they just do not want to be bothered at the moment.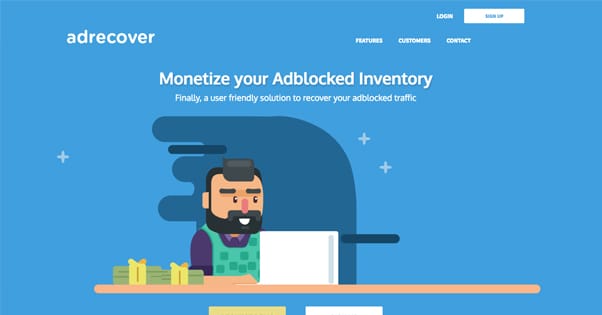 You owe it to these users and to your publishing service to recapture and monetize this loss with Adrecover, which is second on our list of the best ad networks. As a publisher, you are a content provider and not a spammer. This service will bring your content back to these potential clients via a user-friendly platform.
#3.  RevContent
Are you among the elite publishers and not just running with the herd? You had better be among the top 2% of publishers with a quality website because Revcontent rejects over 98% of the publishers whose websites do not meet their high standards, leaving it nothing less than the third spot on the list of the best ad networks. No room for second class publishers here.
With patent pending native technology, they believe in site quality and high-performance user experience. They are not after the cookie-cutter approach and seek to provide a high-quality platform for high-quality publishers. No long-term exclusive contracts, just long term trust. 
#4.  Infolinks
The reason users (including you) have pop-up ad-blockers is because they do not want to be annoyed with products or services they are not looking for. In addition, why waste your money on targeting potential customers who are not needing or wanting your content or offering.
What if you could target only those potential customers that are looking for your service? Infolinks does exactly that with smart embedded technology that tracks user intent by targeting what users want when they want them. They want what you have to offer and your ad is there! Very cool!
#5.  Undertone
Do high-impact, high-quality ads appeal to you? It should because users will ignore most ads unless it captures their attention within a few seconds. That is about all the time you have to make the best first impression. With Undertone, you can achieve this timely capture efficiently.
Their proprietary technology provides ad campaigns across multiple devices on smartphones, desktops, laptops, and tablets. Whenever and however a user is on the internet, they will impact them with the publisher's service. No cookie cutter approach or cannibalization of your ad content.
#6.  Bidvertiser
Here is a new twist for publishers. Allow advertisers to bid for space on your website! You can earn money while users are on your website by the click, the click to conversion and get paid! You are paid directly through PayPal, wire or check!
Over time, as traffic comes to your website or blog to see what you have to offer, quality advertisers will be placing their ad strategically on your website. Over time, you get higher quality advertisers that you would be proud to advertise for. Check out Bidvertiser.
#7.  Clicksor
How about if ads were placed across the internet to users who wanted to see them based on your website content or blog? That is exactly what you get with Clicksor. For both the advertiser and the publisher the concept of contextual advertising is employed.
They will scan the content of your website or your blogs and place a contextual ad in front of users on the internet that are focusing on that type of content. It is a simple yet powerful concept. In addition, it works. With 3 million ads per hour, over 150,000 premium publishers and 12 years of experience you have everything to gain as a premium publisher.
#8.  ePom
If your market is truly a global market then Epom should be a serious contender for your marketing dollars. This service connects top publishers with top advertisers in over 180 countries and all vertical markets. Now that is coverage.
They are a cross-platform service while offering a wide display range and a 100% transparency ad exchange. Your brand awareness will reach a truly global network. You will have no choice by to grow your market share using this service.
#9.  Chitika
If you have traffic coming to your website, and it's a high-quality website, you can make money in Real Time Bidding with Chitika. As a publisher, their ads were work seamlessly within your content to help maximize your revenue with other contextual added advertisers. It is an innovative concept that works.
The best place to understand their service is to go to Chitika's blog and learn. Real-time bidding, ad count and interface with constant contact give you an edge on the contents of your website.
#10.  Promoter.ix
A very innovative company relatively new having started in 2014! As their name suggests, they are serious about promoting publishers across the world wide web. This company is not set in a certain mode, they will use out of the normal advertising thinking to just get the job done.
Their core belief is that to stay relevant you have to be unusual, different and distinct. Nothing stands still and the internet marketing of your business is the epitome of that state of flux. Promotor is just the very company to get you noticed.
So there are our top 10 best ad networks for 2017. Take the time to explore each one of the best ad networks and have a prosperous publishing business for this upcoming year.