Though Kayaking offers a great way to exercise, see beautiful scenery and have some good time, an inflatable kayak can make the adventure more enjoyable and convenient. Based on various inflatable kayaks reviews you can choose the kayak that suits your requirements. These kayaks are not just easy to store but also fit easily into any small vehicle when not inflated. Having an inflatable kayak or stand up paddle board can make the transportation and storage of watercraft quite easier. However, you require inflatable kayak pumps to inflate and deflate the watercraft before and after use. Most kayak models include a manual pump, an electric pump is more convenient as paddling is quick and it inflates multiple types of equipment at once.
Top 10 Best Inflatable Kayak Pumps
Today, we consider the best inflatable kayak pump options available in the market today.
10. NRS Bravo BTP 12 Volt Electric Pump
A great solution for inflating different types of canoes, kayaks, SUPs, and dinghies quickly to the required pressure, NRS Bravo electric pump is simple to use and provides up to 14.5 PSI air pressure on connecting to a 12 Volt battery. A round manometer gauge monitors and controls the pressure and the pump switches off automatically when the desired pressure is achieved. It includes deflating function as well. The air filter is easily accessible for cleaning and replacement. Six-feet air hose and nine feet long battery cables give good reach while eight valve adapters ensure that it is compatible with most watercraft equipment. All the components fit easily in a handy zippered carry case to be easy to transport.
This pump is priced at about $180 and is a good solution to saving your effort at getting your inflatable up and on the water.
9. Vilano Inflatable SUP Electric Pump
Those who are looking for budget-friendly kayak pump options would definitely find this model interesting. Priced at just $49, the Vilano smart high pressure 12 V model is designed to get you on the water fast. It is specifically made for inflatable stand up paddle boards and features digital pressure reading LCD screen and simple controls. Built-in pressure gauge shuts off automatically once the target pressure is reached. It includes a flexible, durable hose with a standard nozzle that works with most inflatable SUPs. Extra long cord measuring 9.5 feet ensures that there is always plenty of room to set up regardless of the place or vehicle.
Though compact and lightweight in design, the Vilano electric air pump is fast and powerful enough to inflate most kayaks in about 10 minutes.
8. Pagurio 20 PSI Smart Electric SUP Pump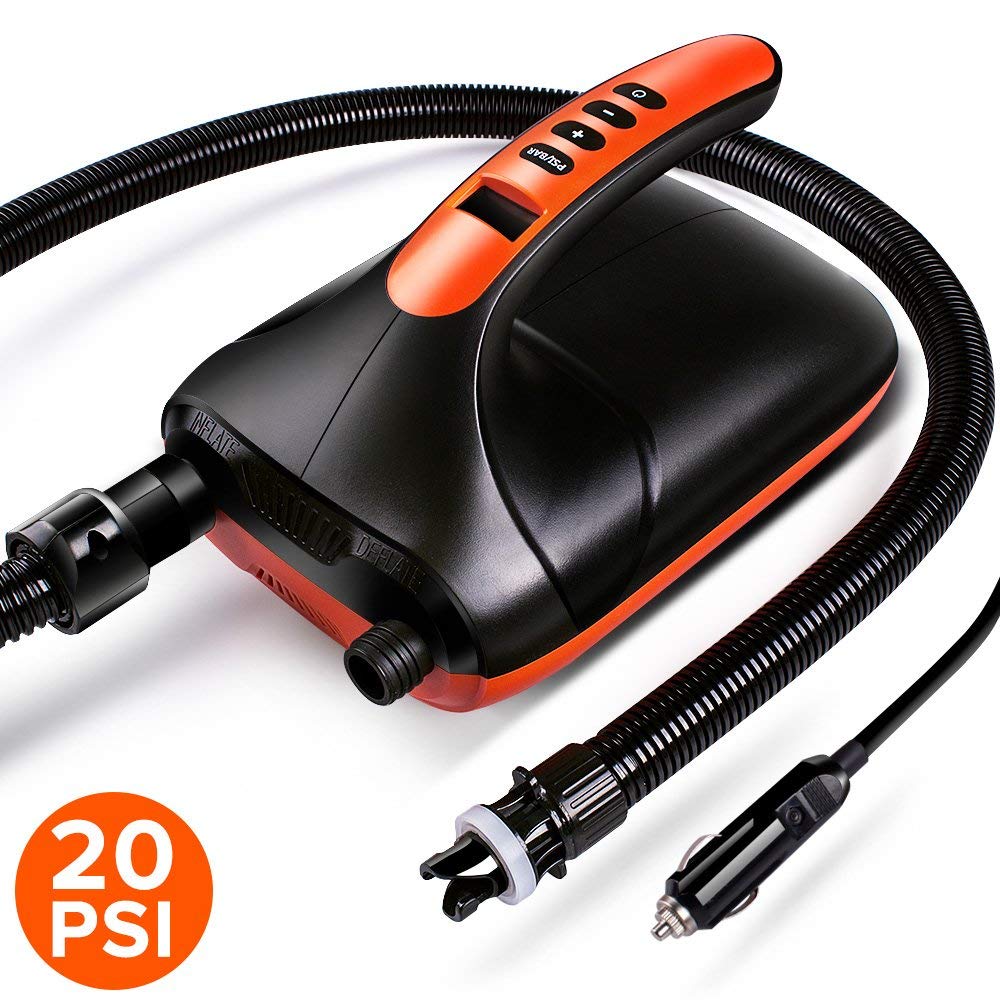 One of the easiest to use smart 12 Volt high-pressure electric pumps in the market, Pagurio 20 PSI model is ideal for SUPs, kayaks and inflatable boats. It comes with an integrated sand filter, auto shut-off feature and dual stage pumping to facilitate quick and convenient inflation and deflation. It connects with the car cigarette lighter adapter. Lightweight, compact design and carrying handle allow easy transportation. Stage one inflates at maximum speed while stage two provides maximum pressure. Auto-off function shuts the pump once the desired pressure is reached. Integrated digital display lets you set the target pressure and monitor the pressure in real-time.
With an affordable price tag of $100, this electric kayak pump makes an ideal option for inflating your watercraft.
7. Driftsun High-Pressure Bravo Electric Pump
A super-efficient dual-stage pistons pump which inflates from 1 to 15 PSI in about 4 to 6 minutes, Driftsun Bravo is a lightweight model with a compact design to be easy to carry wherever you go for sporting. Stage one is a low-pressure setting that quickly inflates with high capacity turbine blower while stage two uses a high-pressure piston actuator that inflates up to 15 PSI. Simply connect the alligator clips to a 12V battery and set the dial to the desired pressure and you are done. It also features a deflate function to deflate any board in 2 to 3 minutes. These inflatable kayak pumps does not connect to AC wall outlets or car cigarette lighters.
Driftsun Bravo electric pump costs about $120 and is a nice option for a high-quality kayak pump.
6. Scoprega Bravo Electric SUP/Kayak Inflatable Pump
The Bravo 20 electric pump has all that you need to pump your raft, boat, kayak, SUP and other inflatable equipment. It is a convenient twin-cylinder single-stage pump that fills air quickly and to quite higher pressure than other electric pumps in the market. It features a selectable pressure dial indicator which lets you choose the PSI and the pump shuts off automatically once the desired pressure is reached.
The pump includes an internal, rechargeable battery which can be powered easily using a cigarette lighter adapter or the wall charger included. It also runs from any other 12 V power source like car battery using the cable included. The estimated price of this pump is $300. There are many other cheaper alternatives available to this model.
5. Tower Paddle Boards Electric Pump
With a hose adapter compatible with all the inflatable SUPs and kayaks, Tower Paddle Boards pump works at a reliable speed to fill a regular kayak with air in about 15 minutes. It is comparatively slower but less noisy. Theses inflatable kayak pumps come with a safety setting that allows you to enter the desired PSI value and the pump shuts off automatically on reaching the value. It inflates watercraft up to 20 PSI making it ideal for kayaks and large inflatables. An amazing feature of this pump is the deflate function which makes it easy and convenient packing up after paddling. The pump easily plugs into the car battery or cigarette lighter.
Priced at about $140, this electric kayak pump is a high-quality option which works with almost any kayak or SUP in the market though it is slightly expensive compared to other options.
4. Kwik Tek Airhead Hi Pressure Air Pump
The best performing 120 Volt air pump currently available in the market, Kwik Tek Airhead Pump can inflate and deflate kayaks at an unprecedented speed. This fast pumping speed comes from its different approach of connecting to a regular 120V DC outlet. The pump includes seven universal adapters to be compatible with a wide variety of watercraft like inflatable boats, kayaks, and ISUPS. Pressure relief valve allows limiting the inflation to about 1.5 PSI to use with smaller equipment. It lacks automatic shut-off and pressure gauge.
The affordable price of about $47 makes this pump a viable alternative for those who want portable pumping with high-speed inflation.
3. Sevylor 12 Volt SUP and Water Sport Pump
Designed to offer great value at an affordable price, the Sevylor SUP and water sport electric pump can inflate a watercraft up to 15 PSI. It simply plugs into the cigarette lighter outlet of the car and also has a slot for a 12V battery. It is powerful enough to inflate a large SUP in about 8 minutes. Adapters for Mini Double Lock, Double Lock, Boston, and pinch valves are included making this model compatible with almost all inflatable kayaks. Two types of extension hose are also included. Adjustable auto-shutoff feature stops the pump automatically once the selected pressure is reached. Low-pressure adapters and extension hose work for low-pressure inflatables.
Priced at just $47, Sevylor electric pump is a great choice for inflatable SUPs and kayaks.
2. Seamax 20PSI Intelligent Dual-Stage Electric Air Pump
It is a reliable and durable model which works conveniently with an inflatable kayak. It is constructed using marine grade ABS and nylon and is designed to withstand salt water corrosion. The Seamax electric pump connects to the cigarette lighter outlet of the car or the car battery and can inflate up to 20 PSI watercraft in just 10 minutes. A digital pressure gauge shows the pumping progress and the pump shuts automatically once the required pressure is reached. It is a lightweight model with easy carry handle that suits almost all boats, paddleboards, and kayaks.
Seamax Intelligent Electric Air Pump is priced at $99 and comes with a 2 years warranty. It is an affordable choice for kayak owners who want their pump to serve them for years to come.
1. Sea Eagle BTP Mano Two-Stage Electric Turbo Pump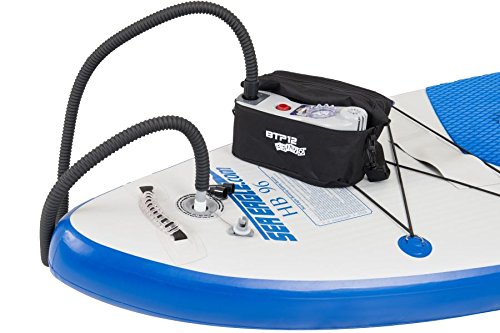 A high-performance model engineered specifically for products with high air volume requirements like kayaks and SUPS, the electric pump is able to inflate the gear in about two minutes. It operates in two stages to provide the best of convenience and speed. The first stage is a high turbine blower quickly filling up the inflatable kayak with air. Stage two involves filling up the watercraft up to the required PSI value with a high-pressure piston.
The pump works on a 12 V battery connected with a cable and two alligator clips. The Sea Eagle BTP Mano electric pump includes a 6-feet hose and a bag. With a full battery charge, one can inflate large inflatable kayaks several times. Its high performance and good compatibility make it suitable for inflatable kayak owners using their gear on a daily basis. The only drawback of this pump is that it does not connect to a power outlet of the vehicle and you need to purchase a 12 V battery if you don't use the vehicle battery. The price of this electric pump is about $113.
With such a great number of options available online in 2018, it can become a bit challenging to select the perfect inflatable Kayak pump at a budget-friendly price. We hope our list of the top ten best inflatable kayak pumps help you find the right one for your equipment. When combined with a powerful inflatable pump, your inflatable kayak would become an easy-to-use solution to get onto the water quickly and reliably.