The musical genre that originated long back in the Southern United States, Country Music is an all-time popular music across the world. Today, country music refers to a broader sense of music styles. However, it rooted from the folk music of American working-class. It has started gaining popularity after the recording of 'Arkansas Traveler' by Eck Robertson in 1922. From those vintage days of vinyl recordings to modern digital formats, fans of country music continue enjoying the music in various ways.
Talking about the best country singers of all time, the list goes long with so many male and female artists who have made contributions to the exciting field. Who are the famous top female country singers?
Top Female Country Singers
Here are some of the female country singers who made an incredible mark on the genre.
10. Reba McEntire
A famous American country music songwriter, singer, and actress, Reba McEntire started her career during her high school by singing in the school band, at rodeos and on local radio shows. In 1977, her first solo album was out and in five years after that, she released five more albums. She started with pop-country songs but later thought about creating traditional country albums and became one of the top female country singers. In 1984, 'My Kind of Country' was out and became her gold album. It brought her enormous success and a series of albums and singles in the 80s and 90s.
Reba McEntire is referred to as ' The Queen of Country ' and she is also one of the most awarded artists having won the CMA Female Vocalist Award from 1984 to 1987. She also got the CMA Entertainer of the Year Award in 1986. She is also known as one of the best-selling artists of all time, with more than 85 million records across the world. In the 1990s, McEntire also stepped into films beginning with 'Tremors'. McEntire has also run her television sitcom and starred in Annie Get Your Gun.
9. Faith Hill
An American singer and producer who deserves a place in the top ten list of female country singers, Faith Hill is regarded as one of the most successful country artists with over 40 million records sold worldwide. The first two albums of this artist were huge successes. However, her 1999 album 'Breathe' turned out to be one of the best-selling country albums with massive sales all around the world and earning three Grammy Awards.
Hill recorded 'There you'll be' in 2001 which became an international hit and best-selling single in Europe. Hill has won five Grammy Awards in her career along with six American Music Awards, fifteen Academy of Country Music Awards and others. She was also ranked in the '30 Most Powerful Women in America'. Billboard, in 2009, regarded her as number one adult contemporary artist of the decade.
8. Miranda Lambert
Popularly known as a solo artist, Miranda Lambert is a songwriter and country singer from America. She is also a member of the Pistol Annies. She has received numerous honors including the Academy of Country Music awards, Country Music Association awards and the Grammy awards. Her debut album named Kerosene received huge response producing four singles which reached the top place on the Billboard's list.
What makes Miranda so popular is that she sings for love of her fans. Miranda won the ACM Award for female vocalist in 2017 for the eight-time consequently, acquiring the position of the most awarded female singer. In 2015, she became the first lady to win the Country Music Association Awards Album of the Year twice. She has also won two Grammy Awards in her career.
7. Emmylou Harris
The country singer who started with folk singing and later served Gram Parsons till the death, Emmylou Harris released a number of popular singles and albums in her career and won 13 Grammy awards and other honors including the position in the Country Music Hall of Fame. Work of Emmylou includes her role as bandleader, solo artist, songwriter, duet partner, backing vocalist and interpreter of composers' works. In her career, she has worked with many leading artists like Bob Dylan, Dolly Parton, and John Denver.
Harris is blessed with a purist voice and many singers wish to sing like her. In 1979, she released three studio albums which represented a shift towards traditional country. Of these, the album called Blue Kentucky Girl won the Grammy Award. In 1985, her songwriting skills emerged out with the release of an album for which she wrote all the songs. She appeared on A Prairie Home Companion and became a fan favorite. Harris was honored with a tribute concert in 2016 where she performed three songs.
6. Tanya Tucker
The American country music artist, Tanya Tucker began her career in singing at a young age of 13. She is one of those few celebrities who managed to transition to adulthood without losing the audience. Her first hit was 'Delta Dawn' which she released when she was 13. Throughout her career, Tanya could stay on top 10 and top 40 hits lists. She gave numerous successful albums, a number of nominations for Country Music Association awards and many hit songs including 'Blood Red and Goin' Down', 'Strong Enough to Bend' and 'What's Your Mama's Name?'.
Tanya, in her time, was the youngest star to have entered into country music. In 1975, Tanya signed with MCA Records with which she gave a line of hit singles. These included 'Lizzie and the Rainman' that became number one hit and also acquired a place in the top 40 pop hits. It also ranked among the top 10 adults contemporary list. Tucker was, in 1988, nominated for the 'Female Vocalist of the Year' by the Country Music Association and was also nominated for other awards at this time. She was rewarded for her contribution to country music with the 1991 award for the Female Vocalist of the award. Tanya was presented in the Rolling Stone Magazine in 2017 as one of the Greatest Country Artists of all time.
5. Taylor Swift
An American singer and songwriter, Taylor Swift is popularly known for her breakup songs. She found interest in country music at the age of 9 and decided to make a career in it. Taylor signed with RCA Records and started writing songs. She released her debut album in 2006 which reached the number 5 on Billboard listing. Taylor Swift became the best-selling album in 2007 and 2008. Her second album 'Fearless' was an international record and became the best-selling album too. Fearless got numerous nominations and won two Grammy Awards thereby making Swift the youngest female singer to receive it.
In 2014, Swift released her first pop-focused album '1989'. It turned out to be the best-selling album and got many nominations and awards to Swift. 1989 won the Grammy Awards and got nominated for Billboard Music Awards as Album of the Year. Taylor Swift is one of the most favorite country singers in the United States and deserves a ranking in the top ten female country singers.
4. Patsy Cline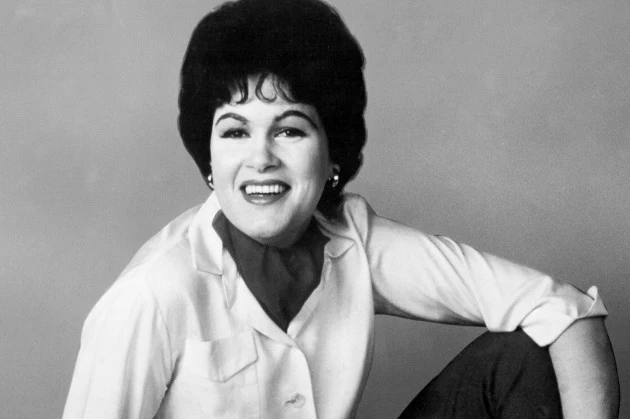 Patsy Cline is one of the most known artists and inspirations in the music history of America. Her powerful vocals inspire a lot of women in the country music till date. She was one of the first female country singers to reach the pop charts with her song 'Walking After Midnight'. Patsy Cline, through her works, proved that women were as strong as men in country music. They could sell records well and also sell tickets to their shows. She has been regarded as the most successful, influential vocalist of the 20th century. Cline was loved for her emotionally expressive and bold voice, rich tone and her role as a pioneer in the country music industry. She helped women avail opportunities in the field.
In 1957, with the release of her hit records, the career of Patsy Cline got uplifted and ended in 1963 with her death. After she died, millions of her albums are sold. Ten years after her death, she was featured in the Country Music Hall of Fame.
3. Dolly Parton
One of the most popular country singers of all time, Dolly Parton was born in a poor family in 1946. She had a natural music talent and vivid imagination power which led her to perform on the radio station at an early age of 11. Parton grew up to become one of the most successful business women by converting her talent into various beneficial ventures. She is known as a songwriter, record producer, author, actress, instrumentalist, and philanthropist. Dolly began her career in singing with her debut album in 1967. After this hit, her success remained constant during the 1960s and 1970s.
Parton is one of the renowned female country singers of all time. Dolly has 25 songs reaching the top position on Billboard country music charts. She has achieved nine Grammy awards, ten Country Music Association Awards and three American Music Awards. Dolly has received a total of 47 Grammy nominations. She was featured in the Country Music Hall of Fame in 1999. She starred in films like 9 to 5, Steel Magnolias and Rhinestone.
2. Kitty Wells
The American singer Kitty Wells is known in the history of music for breaking down the barrier for female country singers in the industry of country music with her hit recording in 1952. This record made her the first female country singer to get the top place in the U.S listings, turning her into the first-ever country star. She continues giving top hits till the 1960s and set inspiration for many country female singers of the time. In the history of Billboard country charts, Wells gets the sixth position for the most successful female vocalist. She was also featured in the Country Music Hall of Fame in 1976. In 1991, Wells became the eight ladies to achieve Grammy Lifetime Achievement Award and third country music singer. She got the nickname of 'Queen of the Country Music' for her contribution to the industry.
Kitty Wells was the first female to have her solo act reach the first position on country charts. She gave many hits in her career including a duet with Red Foley 'One by One'. Her clear, strong voice has a twang and she explores various forms of heartbreak in her songs. She chose traditional stage appearance wearing conservative dresses rather than fancy clothing. Wells has retired from performing but she will always be remembered for her help to female country performers paving a new way for future generations of country singers.
1. 'Mother' Maybelle Carter
An American country music artist, Maybelle Carter is popularly known as the member of the original Carter family, one of the first commercial country music groups. Maybelle not only played banjo and autoharp but also invented a unique sound for the group with her unique 'scratch' style for guitar playing. She was involved in random solo recordings in the 60s and 70s. One of her final works containing two records got ranked on the best-selling country albums list. She was featured as part of the Carter family in the Country Music Hall of Fame in 1970. Her image was used in the U.S. postal stamp in 1993.
Maybelle also got a place in the International Bluegrass Music Hall of Honor. She also got ranked as eighth in the CMT 40 Greatest Women of Country Music. Due to her contribution to the country music world, she was honored as 'Virginia Women in History' by Library of Virginia. Whether as a solo artist or as a mother to her daughters or as a part of Carter family, Maybelle was an inspiration to worldwide women.
These are just a few of the top female country singers who have contributed to bringing this music to popularity. There are much more and a lot more to come in future. So keep listening and enjoy the great music.