With the holiday season knocking on your doors, it's that time of the year where you will have to do a bit of brainstorming, about what gifts to get for your favourite people. We all have loads of friends, family or colleagues. And in such a big group you will definitely have a few who would love thrills of adventure or sports.
An ideal gift for an adventure lover will be something that they would enjoy for years and will create beautiful memories that could be cherished even longer. There are a few things that are absolutely necessary, there are some things that are nice to have but no matter what all of them are really great for a present.
10 Ideal Gifts For Adventure Lovers
Here is our pick of top 10 incredible gifts that are well suited for any outdoor lover or adventure traveller:
1. Tent
Allow them to be the kings or the queens of their camps. With a tent, sleeping in nature, under the sky will definitely be a comfortable and safe experience. Capable of fitting at least 2 people, it offers great protection from the rain.
If you wish you can even get something more specific with other features, in the same category. Based on the adventures your friend or family member loves to go on, you can always take the help of a specialist and find a perfect tent for them.
2. Dive Watch
Commonly referred to as a diver's or a diving watch, these are specially designed for underwater diving.
Built to meet ISO 6425 standards such as, a minimum depth rating of 100 metres, a unidirectional bezel with markings at least every five minutes, a dial visible in total darkness and an indication in the darkness that lets you know that the watch is running.
Dive watches for men come in various styles and models from various different brands. A dive watch is a timepiece that is not only rugged, reliable but also legible for any adventure lover.
3. Sleeping bag
One of the most enjoyable and memorable experiences is sleeping under the sky with so many stars twinkling above you, and with this pleasant view, if you have something that keeps you warm and comfy, there cannot be a more relaxing experience for anyone.
Hence a sleeping bag is one of the best gifts for adventure lovers. You can easily find something that is light and warm or something which is waterproof or has a mummy hood, to keep the head or pillow off the ground.
4. 7-In-1 Camping Tool
A very handy and a must have tool for any traveler. This tool comprises of prong forks, spoons, a knife, can opener, bottle opener, corkscrew, and a tent reamer.
This tool can detach into two separate units so the eating units can be used simultaneously when needed, and they easily snap back together and provide compact storage. Constructed out of stainless steel it comes in a handy carrying pouch. This is one of those gifts that you shouldn't miss.
5. Down jacket For Men / Women
For cold weather, there is nothing more comforting than a comfortable and cool jacket. A down jacket has synthetic insulation on the inside. Its DWR finish repels moisture and it has a hood to protect from stormy weather.
An adventurer might need 2 down jackets, one a lighter version for not so cold areas and the other one, a serious down jacket for really cold, stormy or windy weather. There are tons of brands from which you can choose the right one to be given as a gift.
6. Fire Starter
This little and very useful tool will be an amazing gift. It will help in creating a bonfire that will not only keep your loved ones warm but also heat their food.
Made up of magnesium and flint, this is absolutely perfect for adventurers who go in the wild and long for that pure experience.
7. Alcohol Stove
Alcohol stoves are lightweight and portable and a classic for a lot of campers and hikers. These are very simple to operate on, you just add fuel (best is ethanol, though methanol can also be used), light it up and wait for the flames to rise out of the jets around the rim of the stove.
As soon as you see the flames you are all set to get cooking. Capable of sustaining fires for about 45 minutes, working on 100ml of fuel, this again makes a really cool present.
8. Portable Battery Pack
In today's digital age, none of us leave technology at home and travel. Your friends or family members those who love to explore and admire nature will definitely take their tablets, phones or kindles on their trips.
A portable battery pack, which can easily fit in a pocket and recharge itself with the help of solar power, is an ideal gift for all adventure lovers. Nowadays this is a must-have on every trip.
9. Headlamp
You discover more when you see things properly, and with a source of light especially during the nights will definitely take the whole camping experience of your loved one a level up.
A headlamp will ensure illumination for short and long distances. It is also waterproof (extremely good for complete immersion) and is resistant to physical shocks. No matter where your adventurer friend would go, he or she will definitely need one of these.
10. Outdoor Cooking Set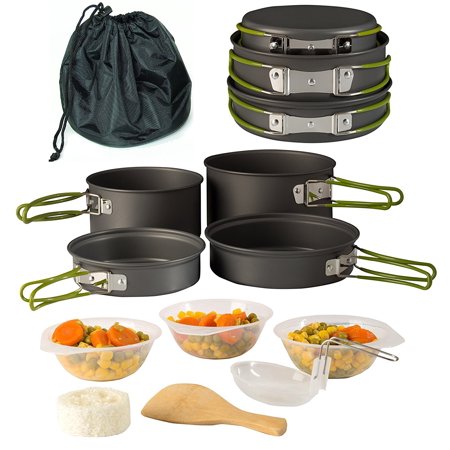 Food is vital for our existence. But in conditions such as hiking or camping, preparing meals can be really tricky. You can find that perfect outdoor cook set which may include, non-stick pans, spoons, forks, knife, cups, multi-function carabiner, and even a mini stove.
These are very convenient and incredibly durable. These are awesome for those who love outdoor camping with family and friends.
On To Our Readers
There are other options also which can be great gifts such as hand warmers, 5-in-1 survival whistle, water purification straw, neck warmer, bike tools, first aid kit, sunscreen, microfiber towel, wool compression socks, sleeping pad, washing bag or a hiking backpack.
Get them something that will help them stay safe in the wilderness. All gifts that you give are for this purpose in the end, hence buy quality products that are relevant and helpful. An adventurers trip is never complete without these tools in his/her backpack.