Looking to unwind in unbridled luxury at one of the world's top travel destinations but don't know where to start? Look no further than our list of current favorites to serve as your inspiration.
Top 10 Luxury Travel Destinations
1.  Asilia Highlands, Tanzania
Home to the majestic Mount Kilimanjaro, as well as a bevy of gorgeous islands with pristine Indian Ocean water, Tanzania, has long been a favorite escape among the world's jet-setting elite. As evidenced by the new Highlands camp in Asilia, this region continues to innovate with exciting tourism offers that showcase its unparalleled beauty and biodiversity.
The camp, which is conveniently located just a mere 45 minutes from the famed Ngorongoro Crater, offers guests a choice of eight luxurious domed tents, where you can enjoy some well-deserved 'glamping', complete with king sized beds, flush toilets, double showers and amazing views of the Serengeti as far as the eye could see. You'll also have access to adjoining tents with shared facilities that include lounging space, a fully stocked bar and a dining room where you can indulge your epicurean pleasures in style.
Staying at the camp affords visitors an opportunity to visit close-by Masai villages where ones get a real taste of the culture here, and what it's like to be a local in this largely unchanged region of the world. Apart from enjoying an authentic cultural and Safari experience, you'll also get to have one-of-a-kind animal encounters with rare species like the Seychelles magpie-robins, and famous ones like flying foxes, Aldabra giant tortoises, and the different bird species that occupy the lush rainforests. Did we mention that Asilia is in close proximity to volcanic mountain peaks and beaches with turquoise blue waters and marine activities? Yep! This unique destination has it all, with breath-taking scenery that's sure to inspire a sense of relaxation and adventure.
2.  Tokyo, Japan
Famed for its rich heritage and futuristic neon buildings, this eclectic Japanese capital continues to enthrall visitors with a new innovation that's sure to attract the top echelon of world travelers. Take the Luxury Collection's Prince Gallery Tokyo Kioicho for example. It's a first in the country for the collection and boasts a whopping 36 floors, with six of those floors paying homage to the natural and man-made beauty of Tokyo through the swanky Tokyo Garden Terrace tower. The design here is contemporary and minimalist, inspiring a sense of peace and tranquillity.
3. Amsterdam, Netherlands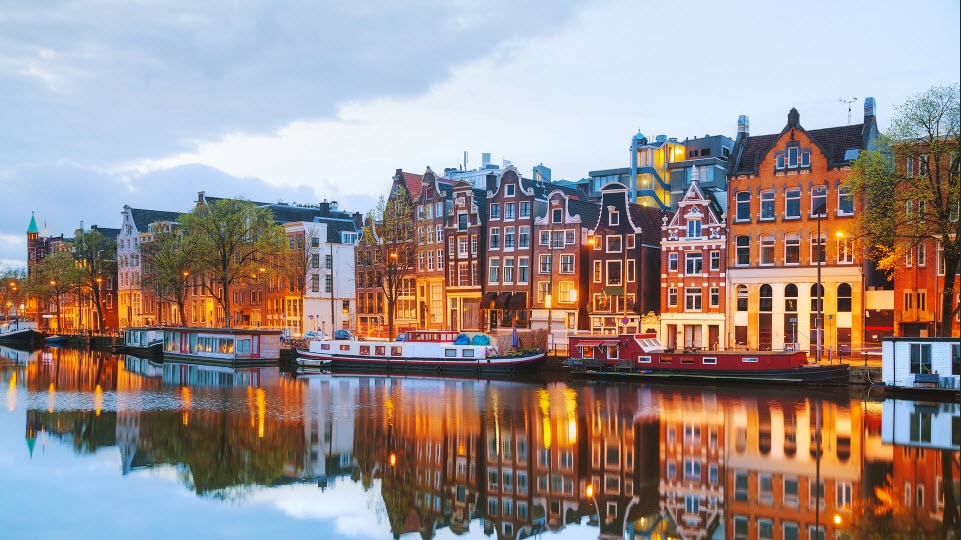 Thanks to some much-needed revitalization, Amsterdam is rising above the banal stereotypes of hash bars and dingy nightspots to reclaim its place as one of the world's top luxury destinations.  Nowadays, visitors can enjoy an array of its more positive attributes such as the natural beauty of its interspersed canals, to the attractive scenery of its historic buildings and the growing culinary scene.  But perhaps one of the most exciting results of this transformation is the rejuvenation of the city's Museum Districts, where art and history buffs can enjoy days of exploration and learning, alongside its shopping district, which offers plenty of high-end and bespoke options for the modern-day fashionista.
4.  Northern Lights, Finland
Want to see the sun at midnight? Well, that's what a view of the Northern Lights will remind you of, and few experiences inspire the sense of inner peace and tranquillity that's offered by this one amorous adventure. Now, imagine experiencing it from the comfort of your own private igloo, a domed glass structure with complete views of the surrounding wilderness. This is possible at Hotel Kakslauttanen, which offers 20 igloos for guests to enjoy this once in a lifetime experience in luxury and style.
5.  Villa in Maldives
The magnificent Maldives islands offer some of the most breath-taking scenery that you'll ever see, and there's no better way to enjoy it than from one of its ultra-private, secluded and luxurious Villas. Almost all the villas in this island offer unparalleled views of the turquoise green sea with swaying palm trees from every vantage point and are in close proximity to its lush jungles, which have a plethora of colorful birdlife, flora, and fauna. As if that weren't enough, the Maldives is also one of the scuba diving capitals of the word, thanks to its crystal clear waters and coral reefs, with most of its villas within walking distance to the prime diving locations. Oh, and being in the Maldives means that you can show off your bikini body for longer because the beautiful climate there makes for perfect bikini weather.
6. Dubai's Hotels
From gold-plated walls and faucets to spectacular service and glamorous bathrooms that would put most modern homes to shame, staying at any of Dubai's hotels gives you a sense of what it must truly be like to live like royalty. The country is known for its unbridled luxury and over the top style, making it one of the world's top luxury destinations almost by default. Needless to say, the best way to experience Dubai is through one of its iconic 7-star hotels (because a 5-star rating was simply not enough) like the famed Burj Al-Arab, the Shangri-la Hotel, the Qasr Al-Sarab Desert Resort as well as the epic Atlantis Dubai to name but a few.
7.  The South of France
This beautiful slice of Mediterranean heaven is by far one of the most spectacular destinations in France. This stunning region is a famous haunt of the rich and famous, who frequently book out luxury suites at its beautiful beach hotels like the Hotel Du Cap Eden-Roc, Royal Antibes, and Grand Hyatt Cannes Hôtel Martinez. Stay a few days in any of these illustrations establishments and you'll return home feeling wonderfully rejuvenated thanks to indulging in authentic Mediterranean cuisine alongside world-class spa treatments. Other activities to enjoy in the South of France include bespoke jazz performances, film festivals, fashion shows, or you can party up a storm in one of the celebrity yachts in its marinas, where you're most likely to rub shoulders with more than just a few famous faces.
8.  Mdina and Zebbug, Malta
With its remarkably beautiful landscapes and a growing reputation as one of the world's scuba diving capitals, Malta proves that dynamite comes in small packages. A stay at a Malta villa is the ultimate Maltese escape, as it places you in an ideal position to enjoy all the wonderful activities provided by its superb coastline.
Taking a tour through Mdina will bring you face to face with its medieval past, complete with imposing palaces, baroque architecture and many of its proud treasures that tell of its grand heritage.
Zebbug, on the other hand, is a true reflection of the country's Arabic heritage, and is the ideal place to go if you want to explore authentic Maltese food with a combination of Arabic and Mediterranean flavors that delight the senses!
9. Inkaterra, Peru
Enchanting, sublime and life-changing are just some of the words that one can use to describe a visit to the magnificent Inkaterra region of Peru. Here, you'll find sacred valleys and lush rainforests with over 3000 species of different mammal, amphibian, bird, reptile and plant species. You'll also discover the ancient Machu Picchu ruins, whose legend dates back to the illustrious Incan civilization, one of the earliest known to man.
10.  Ruinaulta, Switzerland
Travel off the beaten path to Ruinaulta, an ultra-secluded canyon in the Eastern part of Switzerland that offers glorious landscapes, as well as a turquoise blue lake called Lake Crestasee, which looks more like a private beach than a lake. This little-known region of Switzerland is a nature lover's haven and offers terrific outdoor activities such as hiking, paragliding and water rafting.