All the dangerous animals are in Australia, but New Zealand has built up an adventurous reputation over the years. If you want to do something wild New Zealand adventure experiences are a must try. It doesn't hurt that the country is absolutely stunning 365 days a year. Not only does New Zealand have every type of landscape some of the best adventure opportunities would demand but it also offers a fantastic line of activities that guarantees something for every level of ability and daring.
Even if the adrenaline junkie inside you is desperate for something to do, you might not have any ideas. It won't take long to find some of the most enjoyable things on earth. Here are a few you should definitely try out. These adventurous experiences will take you by land, sky, and sea to explore the best that nature offers.
Top 10 – New Zealand Adventure Experiences
1. Go On A Road Trip

The best way to explore the real New Zealand is obviously a road trip! If you take one of the NZ South Island tours you'll get to do it looking at the most scenic views in existence. You will jump between glaciers, rainforests, beaches, and turquoise-colored lakes. You are sure to fall in love again with the outdoors it features, no matter you choose hotel stays while traveling in a car or pick enjoying the campervan days. Road trip possibilities in New Zealand are many of which the North Island short trip is the best recommended for those who have little time to spend.
You can take any of the routes and enjoy seeing Bay of Islands, vineyards, natural parks, spas and rugged mountains while meeting the friendly natives. Alternatively, you can choose from numerous routes to South Island to explore New Zealand's natural beauty sights.
2.  Go Swimming with Dolphins

Everyone needs to go swimming with dolphins at least once in their lifetime. There is no experience that matches this one. New Zealand is the ideal place to experience it. You swim in a dolphin environment and they can often be close and playful. You just need to make your way to the Bay of Islands first.
The North Island is warmer and you won't need to wear a suit. Warm waters in summer make a pleasant option to swim with dolphins. Kaikoura offers all the year-round opportunities to swim with dolphins along with whale, seal and albatross sightings as a bonus. Another option is swimming with Hector's dolphins, the smallest in the world of the species. They are quite friendly and you are likely to see them close enough as you enjoy the blue waters in Akaroa.
3. Hike the Tongariro Crossing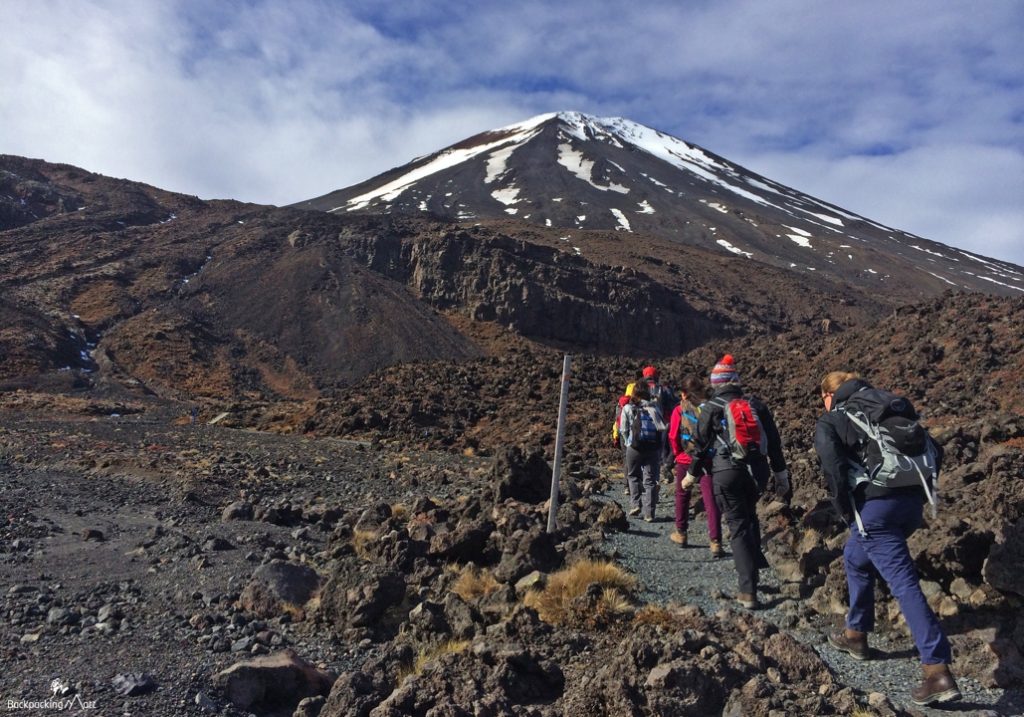 The Tongariro Crossing is one of the most popular day hikes on the planet. It's so impressive Peter Jackson decided it would become Mount Doom, which Lord of the Rings fans will enjoy. The special thing about this place is that one can see the forces of the earth at work here. You feel like walking on some other planet as you move across the landscape of active volcanoes, craters, mountain springs, scoria, lava flows, scattered pumice and volcanic rocks that look like carved statues.
You also see contrasting blue lakes amidst the natural beauties. The 19 km hike into the volcanic environment should be a must-do to complete your New Zealand adventures. It is a 7-8 hours trip which offers different views all through the years. You experience an adventurous workout session where you are either climbing mountains or trekking through the valleys to explore some of the most beautiful sceneries ever found.
4. Tamaki Maori Village

The most awarded cultural attraction in New Zealand, Tamaki Maori Village is about the journey to the time of mighty warriors. The Polynesians settled here back in the 13th century, but Tamaki Maori Village is livelier than ever before. If you want to learn more about the culture it's a must-see. The Powhiri welcoming ceremony is magical to watch. You get to know about the stories, protocols, and customs that passed through generations.
You can embrace ceremonial rituals, powerful performances, and the traditional Hangi feast, the attractions of this place. An evening at Tamaki Maori Village lets you experience the power of Maori culture as you explore the interactive pre-European village beneath the 200-year-old dense Tawa forest after a warm welcome ceremony.
You get to participate in poi dance, Maori war dance and warrior training, view displays of the facial tattoo, wood carvings and arts weaving. It is a truly rich experience not worth missing on a New Zealand tour.
5. Whitewater Rafting

With some of the most beautiful whitewater rivers of the universe found here, New Zealand visitors can include rafting on their adventures list to explore the white waters.You should have a bit of experience under your belt, but you'll be able to tackle class five rapids in New Zealand when you go whitewater rafting. There are even high ledges where you can throw yourself into small rapids from 5 meters in the air.
The exploration would demand multiple days but there are many one-day river trips available to choose from. The legendary river of the Rangitikei has acquired great fame through the time and is the best selection for white water rafting in New Zealand along with The Rangitata, The Mohaka, The Shotover and more.
A trip on any river is a must have New Zealand adventure experiences and fun as all of them have unique scenery, geology, flow and rapid numbers and can deliver a distinct rafting experience.
6. Zorbing Down a Hill

Do you have any idea what a ZORB is? It's a giant ball you've meant to stand inside. You position yourself at the top of a hill and somebody rolls you down at high speed. They've become synonymous with New Zealand in recent years. This is because you can find the longest zorbing course of the world here, 350 meters straight down the hill such as the Lombard Street of zorbing.
You can choose one of the two options – either roll down the hill inside the ball or float inside the warm water filled ball. This crazy activity is one of the most popular  New Zealand adventure experiences and worth giving a try.
7. Visit Some Glowworms

Everyone will spend a lot of time in the water, but you'll need to pay a visit to certain caves. There will be thousands of glowworms waiting to meet you. When they emit bioluminescently it will light up the water and blow your mind. The creatures can be found everywhere in New Zealand but there are some free glowworm caves worth visiting. Waipu Caves located along the gravel roads are one of the best displays of these native creatures. Another great place is the limestone Clifden Caves which provides an adventurous track and glowworms in bonus.
For a fun and adventurous experience, you can visit this unmarked cave for glowworms and much more be waiting for you. Abbey Caves is another network of caves all of which display glowworms and you should stay prepared for getting your feet thighs wet here.
8. Go Skydiving

There are a couple of exciting ways to fall from a great height. Skydiving is popular due to the wonderful sights you'll see on the way down too. New Zealand, with such amazing scenery, is a great place for skydiving. You just need to launch yourself out of a plane first. Don't forget you can go bungee jumping instead. Taupo is the best choice for drop zones with views like Mt. Doom and the lake and the pink plane makes it perfect. Another great option is Queenstown that throws you through a rain cloud and you come out of it to see miles of snow-capped mountains.
Skydive Paradise in Queenstown offers out of the world sights at an affordable price. You can also choose from views of Lake Wanaka, Bay of Islands, golden sand coastlines of Abel Tasman and of course, glaciers. With lots of jump locations to choose from, skydiving should be a top name in your list of New Zealand adventure experiences.
9. Trek the Fox Glacier

You won't get a lot of chances to trek across glaciers in your lifetime, especially if they all melt away. The Fox Glacier is probably one of the easiest and quickest ones you can do. It will give you a taste of what massive ones feel like. Fox Glacier is the longest West Coast glacier and is special for its ending in the temperate rainforest with more number of 3000m peaks at the head than any other New Zealand valley.
The walk takes about one hour to walk through moraine debris to a viewpoint located 450 meters from the glacier. You can enjoy a stunning view of the glacier's snout and terminal face along with the Fox River behind the ice wall. The terminal face is around 250 meters above the sea level.
10. Waiotapu Thermal Wonderland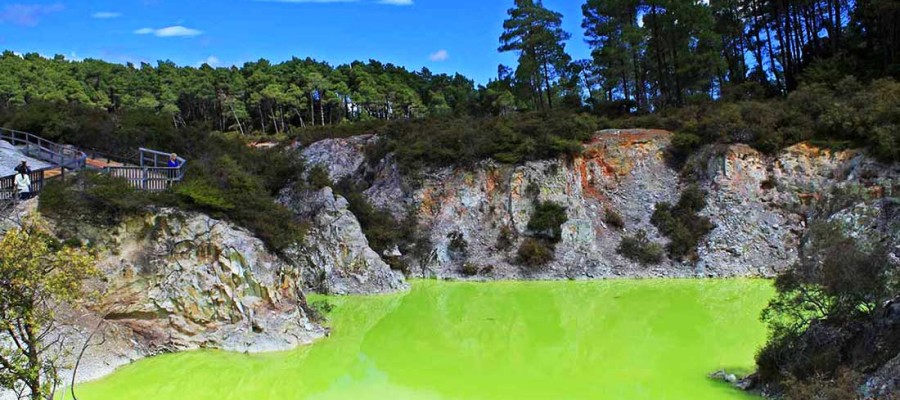 Located at a short distance from Taupo and Rotorua, Wai-O-Tapu is the most colorful thermal attraction in New Zealand. I hope you enjoy the heat because Waiotapu Thermal Wonderland is home to lots of geothermal activity. You'll get to stroll along volcanic and acidic lakes. This place was made after thousands of years of efforts and lets the visitors choose from one to three walks that take 30 to 75 minutes. Also, the geothermal pools, steaming ground, and bubbling mud will warm you up.
You can also find refreshment options at the modern designed Visitor Centre consisting of various souvenirs of New Zealand along with a cafe that offers dining facility. The natural bush setting along with the Lady Knox Geyser erupting every day at 10.15 am up to 20 meters of height would take the experience to the next level.
Don't Sit Around Doing Nothing!!!!
You won't have any excuses to sit around doing nothing when you visit New Zealand. There are so many adventurous things to do every day. Try out all of these the next time you're visiting the country.