RVs or recreation vehicles in a traditional sense were motor vehicles or trailers equipped with living space or amenities found in a home. Over the last few decades these vehicles have been growing in popularity and have evolved to cater to various different sections of society, today the most expensive RVs are nothing short of a 'home away from home'.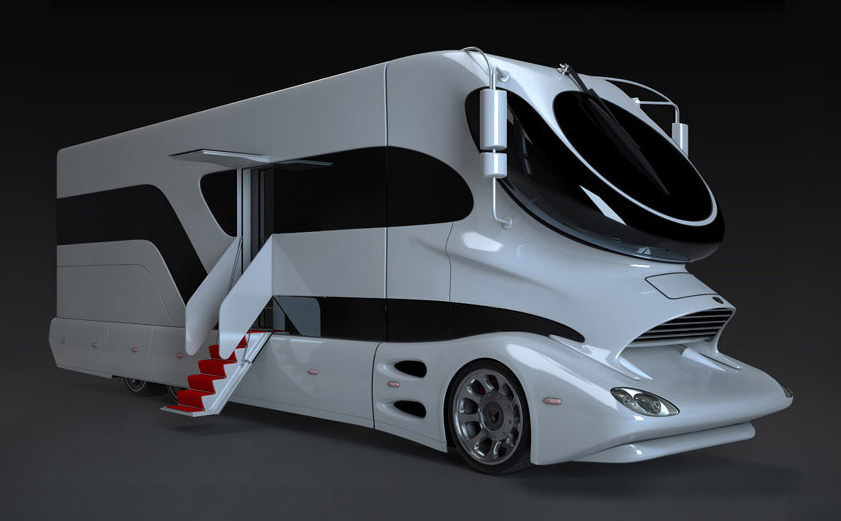 The Most Expensive RVs (Motorhomes) – 2017
Typically these highly customized 'palaces on wheels' offer luxuries such as a fully stacked kitchen, bedroom, bathroom and many other recreational and essential amenities making them extremely popular among superstars and celebrities. Below are the 'Top 10 Most Expensive RVs In 2016',
10) Entegra Coach Cornerstone 45DLQ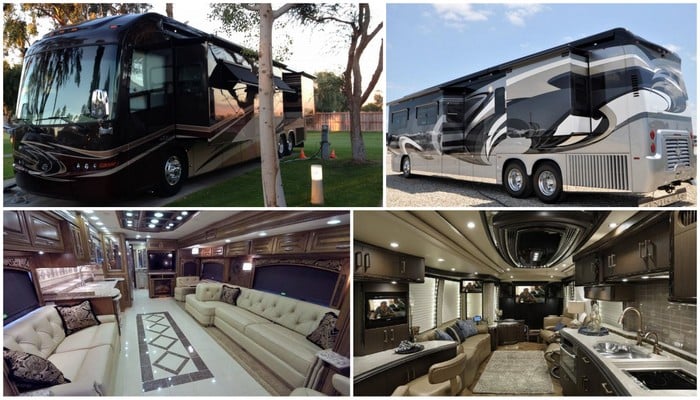 Price – $450,000
This super elegant luxury vehicle is fit for nothing less than royalty, it comes in-built with quartz counter-tops, heated porcelain floors and a walk in shower. This motorhouse also comes with mobileye, advanced touch screen technology and smartwheel making it very smooth to drive and control.
The master suite comes with a walk-in closet, a bar and an entertainment system making it very comfortable for long journey's across the country.
Anyone can live and travel quite comfortably on the Entegra Cornerstone for extended periods without feeling claustrophobic or homesick like a traditional RV. All this can be yours for just $450,000.
9) Country Coach Magna 630
Price – $495,000
This is the vehicle of choice for environmentalists and nature lovers, the Country Coach designers have gone completely green on this one by adding features such as rooftop solar panels that power all systems within the bus along with walnut cabinets and earth toned decorations.
It maybe environment friendly but it doesn't compromise on performance one bit, powered by a 600 HP Cummins engine with power tilt and telescope wheels, it can climb a mountain without much effort or discomfort.
As expected, the Magna comes with a queen sized bed, custom sofa, chairs, washer and dryer, basically everything one needs to lead a comfortable life.
8) NewMar King Aire
Price – $550,645
The Newmar King Aire is the pinnacle of luxury travel, designed with ultra luxury materials it truly gives the look of a luxury palace. It comes with a spacious kitchen with hardwood cabinets. The master bedroom contains a walk-in bathroom and two villa sofa sets.
Inside you will be greeted by a beautiful cockpit that will have you ruling the roads like a true king, the entire structure, design and feel of this vehicle is made to feel royal.
This motor coach is powered by a 600 HP Cummins ISX Turbo Diesel Engine and supported by a custom built Spartan K3 Chassis. It also features a comfort drive steering system with power control and a safety cruise collision avoidance system making it extremely safe and stable.
7) Country Coach Prevost
Price – $750,000
Unlike most vehicles on this list, this motor-home is not for adventurers, its made for people travelling between cities or towns but who'd want to do it in style. The Country Prevost carries the elegance and style of most luxury RVs and also has enormous safety features making it a great deal.
This too comes with porcelain flooring, cedar lined cabinets and walls, along with an amazing entertainment system and a beautiful master bedroom.
On the whole this is definitely worth the money, it may not have too many features to talk about, but it is one of the most popular RVs and sells millions every year.
6) Prevost H3 45 VIP
Price – $895,000
This is part of the H Series by Prevost and unlike most vehicles on this list, the H3 45 VIP offers a modern and sleek design, mainly targeting the young, single and rich. It is also one of the tallest motor homes standing at 12 feet and 5 inches giving it the highest cabin floor in the industry.
The outer layer is made using precision molded fiber composite giving the RV maximum strength and low weight.
On the inside it is designed with the most classiest modern furniture's with all essential amenities, the H Series is described as 'timeless and classic' and by its look and feel it sure seems like it.
5) Foretraveller Custom Edition
Price – $1,000,000
This RV comes from one of the oldest motor home building firms in the world, buyers can expect the most sophisticated handwork and excellent finishing. This RV has an advanced chassis which distributes the vibrations across the floor resulting in the ultimate noise reduction, similar to what you might experience in a flight.
The Foretraveller's cockpit comes with a pilot seat, providing an outstanding experience for drivers.
The design and interiors are quite traditional and may not be as appealing as the ones above, but it is undergoing a massive change as you read this, so you might expect something completely different within a few months.
4) Will Smith's 'The Heat'
Price – $1,200,000
This is probably the largest and most customized RV ever built, not only that this could very well be ranked as one of the awesomest vehicles ever built. The features and amenities inside this mammoth would take an entire post on its own, so I've decided to list out the coolest off the lot.
The 1,200 square foot mobile home rests on 22 wheels, has over 14 TV screens and leather worth over $120,000.
Sadly, no one can ever own this as their was only one such model built and it currently belongs to Will Smith. If you are really interested you can rent this for $9000 / week, which I think is surely worth it.
3) Marathon Designer Coach
Price – $1,400,000
The Marathon Designer Coach is a beautiful work of art crafted to perfection, the woodwork is absolutely brilliant, the furniture and all other amenities are elegantly designed and made to look very spacious.
Since the production volumes are quite low, it takes quite a long time to get your hands on one of these, but I think the wait is nearly worth it.
This vehicle is currently used by many celebrities and millionaires across the US, which is probably just one of the reasons to buy this.
2) Featherlite Vantare Platinum Plus
Price – $1,980,000
This is probably the most gorgeous motor-coach ever built, it may not look modern but the materials used for the interiors of this RV are ridiculously expensive. The furniture and most other amenities are all important and extremely expensive, something that reflects in the price tag.
On the outside the Vantare has a garage slide-out compartment that can fit a mini sports car, the gas tank can hold close to 235 gallons, which should cost nearly $1,000 to fill up!
The Vantare is a vehicle made for a millionaire, almost everything about it is stylish and elegant, and now thanks to the price tag – 'the second most expensive RV'.
1) Marchi Mobile Element Palazzo
Price – $2,300,000
One of the most expensive RVs in the world is the ultimate mansion on wheels, the design unites characteristics from motor, yachting and aviation sports making it the ultimate toy for millionaires and billionaires.
The $2 Million space age vehicle is extremely popular among oil tycoons in the UAE and has sold 100s in the region.
The Palazzo comes complete with a state of the art master bedroom, a fireplace and even a rooftop terrace, but the most impressive feature in this vehicle is the 'Sky Lounge' which transforms the motorhouse into a private retreat with cocktail bars, underfloor heating and extravagant marble lighting.
Almost every part of the Palazzo is designed and crafted to perfection, every aspect of it makes it seem worth the price. This is truly a ride for the kings and currently carries a price tag worthy of nothing less than royalty.
On To Our Readers
The RV lifestyle is catching up in most parts of the world, there are currently millions of people in the United States who live full time in their recreational vehicles and this number continues to grow.
With internet and communication facilities people can travel the country while working and making a living at the same time becoming digital nomads with no physical location or house to tie them down.
While most motorhomes having basic amenities can help you live on the road comfortably, there are a few who would like to live with much more elegance and style, the most expensive RVs maybe out of reach to most people, but it is a great way to live your 'grey days' once your done with all of life's responsibilities and have amassed a fortune big enough to make it happen.