The 2018-19 Premier League season is here and fantasy football leagues across the world are being formed. Strikers have endured a mixed fortune this season. However, some of them have managed to stand above the rest. They have a proven track record over a number of seasons and are the most valuable and expensive commodities in any draft.
Fans are betting over their favorite players to try to make a great fortune. The most important consideration when ranking the strikers in any fantasy football game is the number of goals the player is likely to score.
10 Best Strikers In The Premier League
Below are the top ten best strikers in the Premier League of 2018-19.
10. Callum Wilson
Despite being a mid-table team, Bournemouth is known to play expansively, making it ideal for Premier League players. Callum Wilson is one of the best strikers in the Premier League from Bournemouth. He assisted and scored in the first game against Cardiff. Then he went on to score against West Ham United.
His performance is improving continuously and he is expected to be a key player for the Cherries this season. He has signed a new four-year deal which will keep the 26-year player until 2022. Wilson has scored 43 goals for Cherries in 115 appearances despite multiple knee injuries.
9. Alvaro Morata
The Spanish striker was moved to Chelsea in 2017 and performed outstandingly in his first appearance in the Premier League last season. He is a versatile and well-rounded forward, capable of playing as the main striker and an accurate penalty taker.
He is known for his excellent movement and finishing ability and stood out for pace, energy, and work-rate during his first season at Juventus. His capabilities have seen him scoring a number of crucial goals.
8. Marko Arnautovic
Seeing him back banging in some goals in the pre-season, it can be said that the Austrian player is all set to resume where he left last year. He scored 144 points out of 11 goals and 7 assists and this suggests that he is an all-round forward.
29-year old West Ham forward started his career sluggishly but now it seems that the tide is turning for him. Honored as the Hammer of the Year for the season 2017-18, Arnautovic is expected to enjoy one more positive campaign despite West Ham's continuous woes.
7. Romelu Lukaku
Belgian forward Romelu Lukaku has been criticized for succeeding against just low-quality teams but his overall impressive performance of Premier League – 102 goals in 222 matches makes up for it. The player turned 25 this year and has netted 26 times in 50 games of Manchester United in 2017-18.
He is by no means a cold-blooded striker and should be appreciated for what he has done at this stage in his career. Lukaku's value has yet remained intact in fantasy football and indicates the potential of the striker in the current season.
6. Pierre-Emerick Aubameyang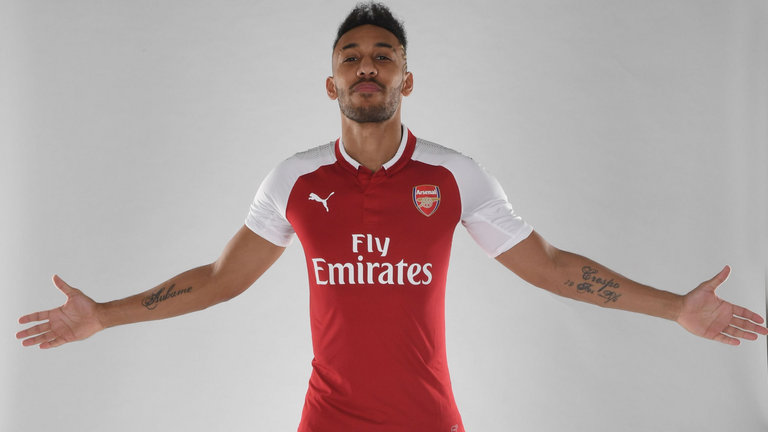 Arsenal's last season ended desperately as it finished sixth and failed to book a place in the Champions League. However, one of the good things that happened to them was the acquisition of Pierre-Emerick Aubameyang mid-way. This talented striker proved himself by scoring 10 goals in 13 appearances and he is known for the precision in front of goal.
Recording 141 goals in 213 games consisting of the 31-goal haul in 2016-17 winning the top scorer award of the league, Aubameyang established himself as one of the best strikers in the Premier League.
5. Wilfried Zaha
Though he could not do much for Manchester United, Wilfried Zaha's performance for Crystal Palace in the past seasons helped him associate with the top teams of Premier League. With nine goals and seven assists, the Premier League 2017-18 season saw him as one of the top fantasy football strikers.
The Ivorian player's future is not so clear to predict but after the two brilliant seasons in a row, despite the injury, it can be said that he can go above 150 points.
4. Gabriel Jesus
Due to injuries and other factors, Gabriel Jesus' Manchester City career has been like stop-start and this is why he is keen to hit the ground running in the Premier League 2018-19. He is a highly valued striker and his capability and performance justify it.
Jesus scored 13 goals in last season's 29 appearances and the number could easily increase with time on the pitch. Gabriel Jesus was named as the Player of the Season in 2016 when Palmeiras won their first national league title in 22 years.
3. Roberto Firmino
At the conclusion of the 2017-18 season, Roberto Firmino was one of the top three fantasy football forwards. One of the most effective and unselfish players of the Premier League, Firminio is a great facilitator, the main force behind Liverpool's frontline which lined up 91 goals last season.
The Brazilian forward got 27 of these goals himself in the season, 15 in the Premier League and 11 in Europe. He was named in Tite's final 23 man squad for the 2018 World Cup in Russia.
2. Sergio Aguero
Right from his arrival in 2011, the Argentine has remained as one of the outstanding talents of the English football. His incredible scoring consistency has marked him as the best finisher in the country and this deserves him more than the three Premier League titles. The most amazing thing about this striker is his consistent goal returns in every season.
His goals at the last season's league were scored at a rate of one per 93 minutes. Despite being surrounded by top-quality players, this 30-year old player has performed exceptionally when Manchester City was far less impressive. Aguero is presently their all-time record goalscorer having made 204 goals in 295 matches and one of the greatest frontmen in the history of Premier League.
1. Harry Kane
After four outstanding seasons with Tottenham, Harry Kane's skills as a striker are certainly unquestionable. These years have seen him improve his tally consistently. This England captain has returned to north London this season as a World Cup Golden Boot Winner and is the second Englishman to achieve this.
Last year's 30-goal haul was Kane's best campaign so far. He signed a contract with Tottenham in 2016 after which he broke numerous team and league records and this included his unprecedented score of 39 goals during the 2017-18 season. He has been named as the Premier League Player of the Month for six times and has scored more than 100 goals for Tottenham till date.
These are the top 10 best strikers in the Premier League as per us. But there are many other notable strikers to watch out for in the Premier League 2018-19 season. Do comment your thoughts here. We would love to hear from you.
How Are The Odds?
Based on how the odds are turning out, Kane & Aguero remain the strongest at 7/2 to be the top scorers. Other strong UK betting offers are at 11/2, 8/1, 9/1, for Salah, Lukaku & Mane respectively.
Roberto Firmino, Gabriel Jesus, Zaha stand at 1/66, while Aubameyang, Arnautovic, Morata & Wilson stand at 1/33.
There are a lot of other factors to be considered while betting on such odds, especially the previous and latest performance of the respective players, and their teams.