This season has certainly seen some surprises. There are teams that would never have dreamed of being where they are and other teams are hoping it's all just a bad dream after years of success. I count down the top 10 best football teams in this season only. Let me remind you this is completely in my opinion and I've tried my best not to be biased. (FYI I'm a Liverpool fan).
Honourable mentions to Benfica and Arsenal
10. Juventus
Juventus have enjoyed a remarkable season, they currently sit 1st in Serie A, 8 points ahead of 2nd place (with a game in hand), 14 points ahead of 3rd place and have secured their 3rd league title on the trot. This side used to be a colossus of European football before a series of incidents got them relegated from the Serie A altogether not too long ago. The only reason they don't rank any higher is because Serie A isn't the toughest league and they're failing to push far into the Champions League.
They contain one player from Top Ten Best Footballers in the World
9. Liverpool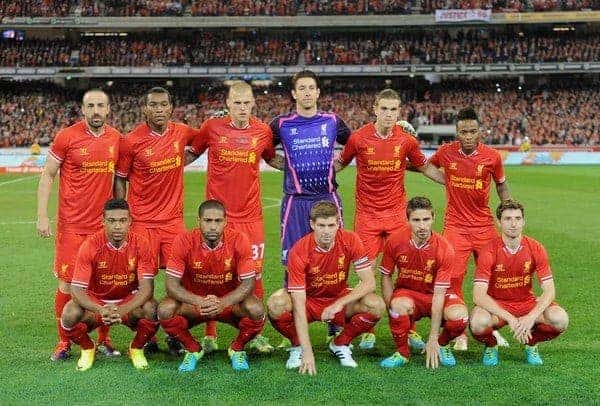 Despite finishing an abysmal 7th last season, Brendan Rodgers has managed to turn what looked like average players into superstars. Currently in 2nd place in the Premier League, they were favourites for the title before a recent poor performance. The likes of Raheem Sterling, Jordan Henderson and even the legendary Steven Gerrard have managed to improve their game and with the current best player in the Premier League they're a real force. However, this season they were knocked out of the domestic cups early and one of the reasons for their success is the fact they don't get many injuries due to not playing those extra games.
Contain one player from Top Ten Best Footballers in the World
8. Borussia Dortmund
Jurgen Klopp has managed to make this team a true force in Europe, although they keep selling their best players (Gotze springs to mind)  they still play attractive and effective football. They are currently sitting in a very respectable 2nd place of the Budesliga and reached an equally respectable achievement of the Champions League quarter finals.
They contain no players from Top Ten Best Footballers in the World
7. Barcelona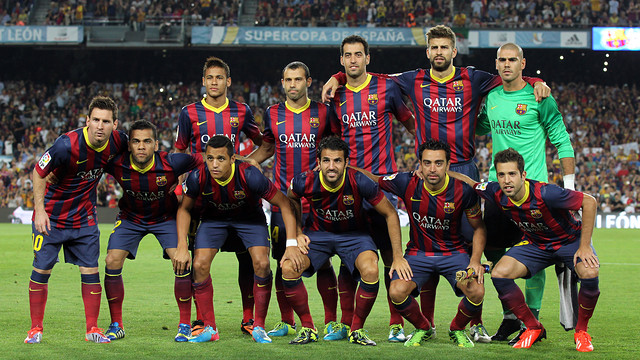 Barca have moved way down the pecking order recently, although their league form is good they only reside in 3rd place, which by their standards is poor. They bought quite a few good players at the start of the season, most noticeably the little genius that is Neymar but their form has dropped and even Lionel Messi, their key player has lost out on the Ballon D'or. The departure of Carlos Puyol won't help them as he was a brick wall in their defence. They went crashing out of the Champions League at the quarter finals, lost the Copa Del Rey final and are looking unlikely to win the league which means no major trophies for Barcelona this season.
They contain three players from Top Ten Best Footballers in the World
6. Paris Saint Germain
I've put these above Barcelona even though they reached the same stage in the Champions League because PSG have basically won their domestic league. Although the French league is generally considered an easy league to win, it certainly requires a lot of consistency. and they've done that by only losing 2 of 35 games. They contain Zlatan Ibrahimovich who is surely one of the most unique players to grace the game.
They contain two players from Top Ten Best Footballers in the World
5. Chelsea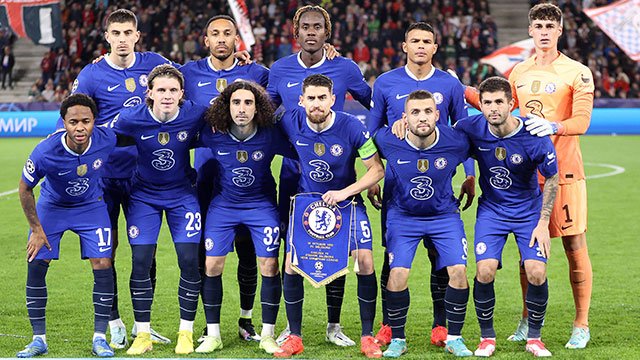 The 'Special One' returned to Stamford Bridge at the start of the season in the hopes that he would breathe new life to Chelsea and he's certainly done that. Recent performances have demonstrated that Chelsea are an extremely defensive team that are very tough to break down, they didn't concede a goal against a Liverpool team that have scored 96 goals in the Premier League this season. Most anti-Chelsea fans will say it's uninteresting football but Jose Mourinho will win a game at any cost. If they had a good strike force they would surely be higher on this list. They're 3rd in their domestic league, out of their domestic cups and only managed to reach the Champions League semi-finals but they've not lost against any of the other top 4 teams in their league.
They contain no players from Top Ten Best Footballers in the World
4. Manchester City
Boasting the likes of Joe Hart, David Silva, Yaya Toure, Sergio Aguero, Vincent Kompany and Edin Dzeko, Manchester City surely have a very good lineup. Their manager Manuel Pelegrini knows how to utilise these players and he utilises them well. They're currently 1st in the Premier League and will win it if they win their remaining two games which looks very likely, they also won the Carling Cup so they could get 2 trophies this season. Their downfall is their inability to make it big on the European scene but one year when they get easier opponents to start off with I'm sure they will climb higher in this list.
They contain no players from Top Ten Best Footballers in the World
3. Bayern Munich
Previously the best team in the world, Bayern have already won the Bundesliga by a mile but since then (and the death of Pep Guardiola's friend) they haven't been hitting the heights they've been so used to. They were knocked out of the Champions League in the semi-finals after having a tough time against Manchester United in the previous stage and because of this they lose their top spot. However, they've signed Robert Lewandowski who will be joining from Borussia Dortmund and that will certainly strengthen their team considerably.
They contain one player from Top Ten Best Footballers in the World
2. Athletico Madrid
Diego Simeone has been an absolute revelation, the former Athletico Madrid player has taken them to the Champions League final, beating Chelsea and Barcelona on the way, as well as 1st in La Liga. The side have always been good but never anything special but this team is so high in the list because they haven't spent money the other teams have and they play really attractive football (as well as being successful of course).
They contain no players from Top Ten Best Footballers in the World
1. Real Madrid
The team that has spent over a  billion euros over the years has finally made it to the top. Their marquee signing Gareth Bale has proven to be worth the £85m spent on him as he scored a terrific goal to win the Copa Del Ray. Real Madrid are currently 3rd (with two games in hand and 6 goals off the top spot) in their domestic league, they're also in the Champions League final (after beating Bayern Munich 5-0 on aggregate) and hold the best player in the world Cristiano Ronaldo. Real Madrid are dangerously close to winning the treble.
They contain two players from Top Ten Best Footballers in the World
I hope you enjoy this list, again I must say this is completely in my opinion it isn't FIFA's official top ten or anything.
List by Ryan