The World Cup of 2014 has ended with Germany the ones lifting the trophy. They certainly deserve it after easing their way through the group stages and then the finals, not one of their players looked out of place.  The World Cup wouldn't be the World Cup without a share of upsets, controversies and unexpected triumphs, so we've collected the 10 biggest moments from this years tournament!
10. Portugal crash out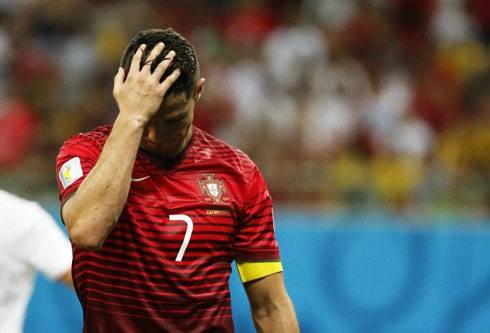 After winning the Ballon d'Or and securing himself as the best player in the world, the stage was set for Cristiano Ronaldo to captain his country and go for a good run in the World Cup, although it wasn't all on his shoulders as Portugal are the 4th best team in the world according to the official Fifa World Rankings. They should have easily got through to the finals after drawing Germany, USA and Ghana in their group but instead they were smacked 4-0 by Germany, drew 2-2 with USA and just beat Ghana 2-1. These results allowed USA to go through on goal difference instead of Portugal and Cristiano Ronaldo's dream of lighting up the biggest stage was shattered.
9. Holland vs Mexico
These two met in the last 16 straight after the group stages, Holland had topped their group and Mexico had finished runners up so it was going to be a cracking game to watch. Giovanni dos Santons scored for Mexico just after half time at 48 minutes and the Mexicans held on for most of the game, it looked like Holland were going home earlier than expected. Holland's manager Louis Van Gaal made a nervy substitute, replacing Robin Van Persie with Klaas-Jan Huntelaar. This move paid off, as Huntelaar ended up providing an assist for Wesley Sneijder on the 88th minute mark and then slotting home a penalty in the 94th minute to seal Holland's win, taking them into the quarter finals. It was a great comeback and some genius tactics by Louis Van Gaal, who unfortunately will be going to Manchester United soon.
8. Costa Rica
When it was announced that Costa Rica would share the same group as England, Italy and Uruguay, they were immediately written off and 3 huge losses was expected. What happened couldn't be any more different, after a 3-1 win against Uruguay, a 1-0 win against Italy and a 0-0 draw with England, they stunned everyone by finishing top of the group of death. They then went on to beat Greece on penalties before losing to Holland on penalties. They made history and it's not like they were lucky, they were actually good enough as a squad. They proved that you can have a couple of world class players but to do well you need a team that can work together and stay focused.
7. Spain crash out
Having won the last World Cup, Spain were finalists in everyone's predictions but what really happened is something that Spaniards won't want to mention for a long time. In a group with Chile, Holland and Australia, they looked certain to progress but they were demolished 5-1 by a Dutch masterclass in their first game, then after a further loss to Chile they were on their way home. I think Diego Costa was the most annoyed after choosing to play for Spain instead of Brazil. We're not quite sure what happened to Spain this World Cup, but most of their best players will have retired before the next one so this was their best shot at another trophy.
6. Goal of the tournament
What a goal this was, James Rodriguez has had an excellent tournament, picking up the golden boot for most goals scored and should have lifted the golden ball, or at least been in contention to. The ball fell to him, he chested it down and volleyed it perfectly, rattling the crossbar and going over the line. Although it's not officially the goal of the tournament at the moment, it's widely agreed that no other goal comes close. Watch it here.
5. Suarez's bite
Suarez missed the first Uruguay game due to an injury but came back for the next game to score 2 goals against England, from there he was set to star in the World Cup and show everyone just how good he can be on the big stage. The next game he didn't manage to score, but he did manage to bite another player, Chiellini. I'm not sure why he did it, it is his third time in his career he's bitten another player and each time there's been no signs or provocation. It's disappointing that someone with so much potential has to have a drawback as bad as he has. If you want to read more about Suarez, we have an entire top 10 just for him here.
4. Messi wins the Golden Ball
I think it is fair to say that Argentina wouldn't have gotten to the final if it wasn't for Messi, but it's also fair to say he really didn't deserve the Golden Ball. He scored some good goals in the group stages but didn't deliver in the big games (such as the final they lost, he missed a sitter). The award should have gone to someone who did consistently well throughout the tournament, Toni Kroos, Arjen Robben, Thomas Müller all come to mind.
3. Team of the tournament
Although there's no official team of the tournament, I've had to go through all the teams picked by various sporting authorities and websites and find the most popular players. This will be the most accurate team of the tournament you will find on the internet (unless someone else has done the same). Sites taken into account: IBTimes, BBC, Goal, ITV, CNN, Sky and AOL. Votes are out of 7.
Goalkeeper: Manuel Neuer (5 votes)
Left back: Philipp Lahm (4 votes)
Centre back: Giancarlo Gonzalez (3 votes)
Centre back: Mats Hummels (7 votes)
Right back: Daley Blind (5 votes)
Left wing: Arjen Robben (7 votes)
Central midfield: Toni Kroos (5 votes)
Central midfield: Javier Mascherano (4 votes)
Attacking midfield: James Rodriguez (6 votes)
Right wing: Lionel messi (5 votes)
Forward: Thomas Müller (5 votes)
 2. Brazil vs Germany
Everyone knew it would be a good game but we were gifted one of the best games to watch in a long time (as a neutral anyway). Brazil were without their talisman Neymar, who had been injured in a previous game. They were also missing captain Thiago Silva due to suspension, who was badly missed. I don't know what happened to them, but Brazil were complete shambles, Germany had scored 5 before the half hour mark and went on to win 7-1. Besides being the heaviest defeat ever in a semi final, Miroslav Klose also became the highest goal scorer in World Cup history, even passing the legendary Ronaldo. This defeat humiliated Brazil so much that they went on to lose the third place play off against Holland, losing two games on home soil for the first time in many decades.
Germany looked the best team on the planet by far at that time, they were fluid going forward and solid at the back (Brazil has 13 shots on target yet scored once).
1. The final
We all knew who would be lifting the trophy, I doubt anyone thought Argentina would be the favourites going in. The difference between the two is Argentina look for one of their star players to produce some magic whereas Germany are just a solid, technically gifted, tactically proficient team. Argentina had some spells, Higuaín and Messi both missing sitters each but the Germans were largely dominant for the most portions of the game. It was a thrilling meeting, the referee was outstanding, blood was spilled and hearts were broken. But that's what the World Cup is all about.
Congratulations to Germany, World Champions 2014!
Click here to return to the home page