Working from home or telecommuting jobs has become a mainstream in past few years. Advancement in technology has allowed more and more industries to offer to telecommute posts without compromising on accuracy or productivity.
Healthcare may not come to your mind when you think of work from home jobs. However, the rapid growth of the healthcare industry along with the technological advancements has made it possible for various agencies like GP Recruitment Agency to offer a lot of telecommuting virtual healthcare jobs. In fact, according to a research, the number of telemedicine jobs is more than telecommuting jobs offered by any other industry.
Top 10 Virtual Healthcare Jobs
With the current shortage of doctors, the healthcare industry has started utilizing remote nurses for quick assessments of patients through over-the-phone services. The analysis of companies offering remote job opportunities reveals that health and medicine is the leading career field for telecommuting jobs. Here, we consider some of the highest paying virtual healthcare jobs.
10. Remote Medical Transcription Jobs – Annual Salary: $40,000
Most doctors dictate notes for patients after the visit. These voice recordings need to be transcribed and this is where medical transcriptionists come into play. Professionals can work remotely to transcribe medical records without having to travel to a medical facility. They transcribe patient medical records that consist of patient history, physical reports, psychiatric evaluations, operative reports, clinic notes, prescription history and discharge reports. Such records are usually dictated by nurses or doctors and medical transcriptionists listen to them and note down for future references.
Remote medical transcriptionists should possess a high level of knowledge and experience in medicine to be able to decipher the medical jargon. Providing consistent work is a must to make it easy for doctors to understand patients' records. This job position is quite flexible and perfect for somebody who wants to balance work and home or want to make some extra bucks working part-time.
9. Home-Based Health Coach Jobs – Annual Salary: $45,000
Today, an increasing number of health-based companies employ home-based health coaches who offer virtual, digital or telephonic health coaching services to their clients. There are many health and wellness apps and services that connect clients with virtual health coaches to provide them an on-demand health coaching.
One can also consider setting up his own health coaching business using social media networks. The responsibilities of remote health coach would include assisting clients with weight management, stress management, physical activity, nutrition and lifestyle changes. Such individuals use their healthcare skills, communication and personality to guide the clients to better health and wellness.
8. Work-at-Home Medical Coding Jobs – Annual Salary: $62,000
Another great remote healthcare job option is the position of a medical coder. Coding specialists review patient records and enter appropriate codes for insurance billing. These professionals are in demand these days and the scope is vast with a number of organizations looking for the position of telecommuting medical coders.
A remote medical coder undertakes various administrative tasks such as reviewing and processing medical claims for billing offices. They are also responsible for submission of medical insurance claims to insurance companies and offices. They also interact with doctors, nurses and healthcare professionals to unveil additional information about medical claims. These professionals may also be assigned the duty of contacting insurance companies.
7. Freelance Medical Writer Jobs – Annual Salary: $71,527
Another great work-from-home healthcare job option is that of a medical writer. With an increasing number of online health, fitness and wellness companies, there is more and more requirement of medical and health content. Many companies outsource content and blog writing and they look for dedicated, enthusiastic and knowledgeable professionals to employ as a contracted employee or freelancer.
Remote medical writers often need to put complex medical concepts in simple English language for the masses to understand easily. Many medical facilities even appoint nurse bloggers and you can apply for such a post if you have clear writing style and experience in nursing field. Another great option is to start your own blog. This is a nice way to earn some additional income. Working as a medical writer is a promising yet flexible career in the healthcare field.
6. Telephone Triage Nurse – Annual Salary: $71,794
A telephone triage nurse is a nursing professional that helps patients identify what type of medical treatment and care they need over the phone. Remote nurses often provide an assessment of patients and help them decide whether they should get an appointment with a doctor, seek emergency treatment or treat themselves at home.
Telephone triage nurses are trained to easily assess the severity of health problems of their patients without any need to visit the hospital. This is particularly useful to patients who find it difficult availing a medical facility or cannot afford to pay for the services. Remote nurses help doctors by reducing their load by helping patients determine if they need medical attention. Telephone triage nurses are required to work at all the times, including night shifts. They should possess strong listening and communication skills. There are huge numbers of remote nursing jobs available for those who want to do virtual healthcare jobs.
5. Remote Nurse Case Management Jobs – Annual Salary: $75,000
Another great remote healthcare career is that of a nursing case manager. To begin working as a case manager, one should meet the requirements of a registered nurse. Work-from-home case managers work with patients and physicians and ensure that proper healthcare services and care are provided and co-ordinated.
A remote case manager is also responsible for monitoring and evaluation of the clinical and psychological needs of every patient and helps create a treatment and care plan. He should also answer any questions and concerns a patient might have. Moreover, case managers often work with a patient's family and members of the healthcare team. Strong clinical knowledge and a Bachelor's degree are required to work as a remote case manager.
4. Telepractice Speech Therapy Jobs – Annual Salary: $76,459
Telepractice is the method of using telecommunications technology to deliver speech-language practices to patient remotely. It is a highly convenient and effective practice for both the professional and the student. A telepractice speech therapist does not have to travel and work at convenience.
Such a service makes use of technology-based interface that engages the student more. Students can even record and replay sessions for better effectiveness. Those who live in areas with no access to speech therapists can easily reach these remote therapists and benefit from their services. Many schools and organizations offer Online Speech Therapy Jobs to provide evaluation and treatment to their students. This career opportunity is one of the highest paying virtual healthcare jobs available at the time.
3. Remote Clinical Consultant Jobs – Annual Salary: $87,000
This is a great virtual Healthcare Jobs option for those who are willing to work remotely in the healthcare field. A home-based clinical consultant is desirably a physician with a medical degree and prior experience. The professional is generally involved with preclinical and clinical evaluation, strategic issues, evaluation of clinical pharmacology and biopharmaceutics.
He is essentially responsible for evaluating practices, research and other resources in the medical industry to evaluate and enhance existing clinical tools and programs. Clinical consultant functions as the leading management professional in any medical company or hospital. The consultant should possess knowledge and experience in healthcare operations and consult. He is often assigned the task of directly communicating with clients.
2. Remote Pharmacist Jobs – Annual Salary: $104,000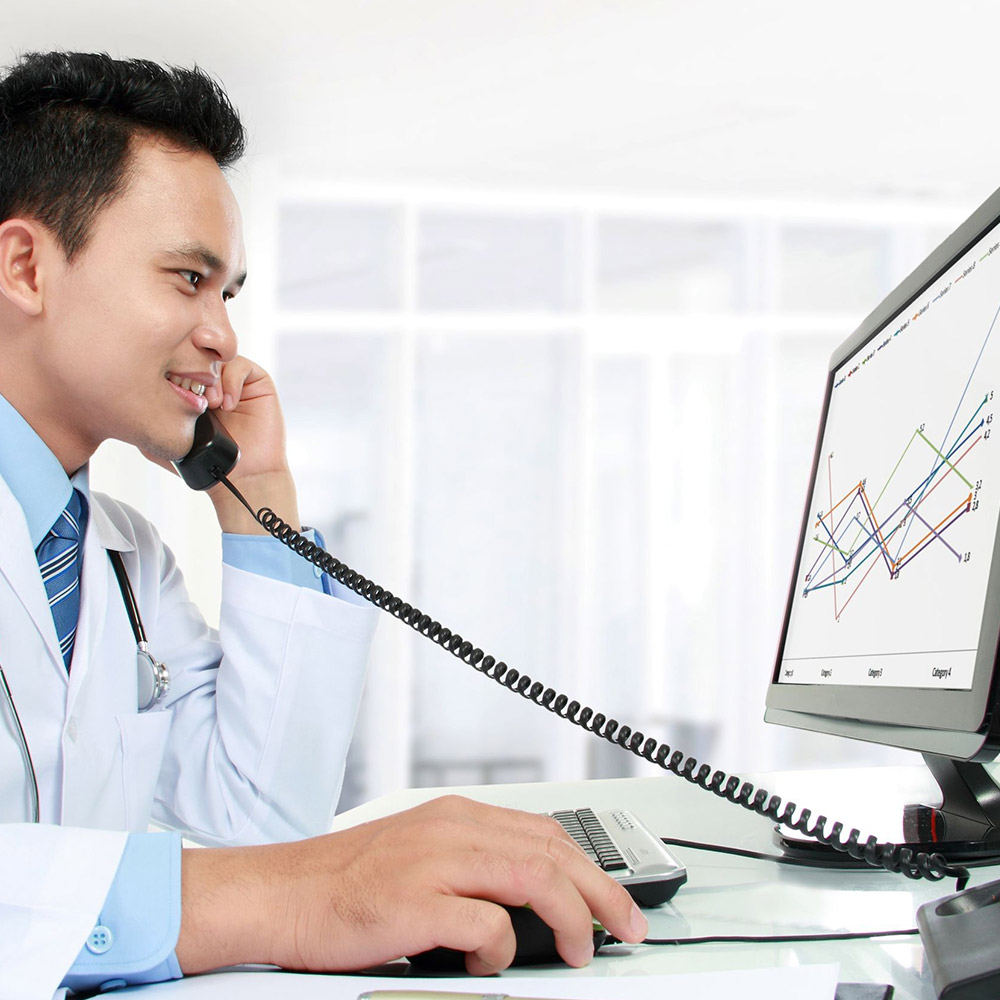 Technological advancements have enabled pharmacists to work remotely as well and herald a new way of working. A number of companies have recently implemented telepharmacy as a way of improving the efficiency of their dispensaries. Technicians prepare prescriptions and record the images while a remote pharmacist checks the images and communicates to authenticate the prescription by entering information.
These remote professionals offer consulting services to patients and help them understand and administer their doctor prescriptions while being able to find the best discounts available. Such a home-based job position requires a degree in pharmacy and is associated with the proper selection, dosage, administration and dispensing of medication orders for the healthcare system he works for.
1. Home-Based Physician Jobs –Annual Salary: $150,000
Though the opportunities for remotely working physicians are limited, this career is growing with the development of technology. A home-based physician possesses the same set of skills as any standard physician. The only difference is that he does not work face-to-face with patients.
Home-based physicians essentially communicate with patients and their families through phone and video calls and use patient monitoring systems. Some remote physicians even have the capability to travel and visit the patients. This depends on the physician's contract and the healthcare network he is working for. Such a job position is ideal for those healthcare specialists who want to make additional income. The schedule for such professionals is totally under control.
Though working from home is not meant for everybody, if you are really keen and goal-driven and looking for a flexible career with the lesser commute, you can consider the above-mentioned telemedicine opportunities. As you can see here, there are lots of work-from-home opportunities in the healthcare industry. New and exciting opportunities will continue opening up in the virtual healthcare jobs sector with the growing demand for medical professionals.