Kayaking is a fun outdoor sport. Be it in a recreational sense with the whole family sitting under the sun close to the banks and occasionally catching some fish, before throwing it back in, or as serious fishermen treading rivers and ocean waters for trouts. Kayaks are a fun way of doing so. It's also quite an inexpensive hobby, for anyone who lives close to pretty much any kind of water body. It is also really easy and safe, though it certainly might not look it. Read further below to find the best fishing kayaks that suits you need and their features.
Despite appearances, Kayaks are actually really sturdy ad well-balanced and feature a whole cornucopia of features that help you along, whatever your needs may be. They have rod holders, tackle hatches, and even live wells. However, Kayaks are made for specific needs, and so before you venture to buy one, you need to engage in some thorough research and think about your own needs, balanced against the provisions of the specific Kayak.
Kayaks for different purposes — such as fishing or relaxation — for different terrains — such as oceans, rivers, streams , or freshwater lakes — come with different customization's. You must also do a trial run before getting a kayak. In fact, it's even more important to demo a Kayak than it is with a Car. However, to get your research started here's a list of some best fishing Kayaks — that won't burn a hole in your pocket — for just under $1000.
Best Fishing Kayaks Under 1000
Have a look at the top ten best fishing kayaks under 1000 in sit -in and sit-on-top Kayaks.
Sit-In Kayaks
As the name suggests in these kayaks one has to be seated inside the kayaks.
1.  Heritage FeatherLite 9.5 Angler
This is specifically designed for fishing needs alone, with a sit-in feature which is rare for Kayaks. It is also extremely light weight, and an ideal choice for those who aren't entirely made of muscles and sinews alone.
It is wide around the sides and short along the length, giving it a rather staunch appearance which actually makes it all the easier to maneuver in treacherous waters and stable while catching even larger and heavier fishes. Check out here for more information.
2.  Old Town Vapor Angler
12 feet in length, it gives you plenty of comforts to spread out your legs without sacrificing on the stability of the Kayak. It even comes with a cockpit for you to store your valuables in. It also has plenty of pads and braces set up to offer ultimate comfort should you be in the waters all day. You can also stand comfortably while Casting, and be assured of stability.
This kayak offers a steady and effective ride.  Perfect for anglers and sportsmen, and great for those just learning how to paddle. Check out below for the reviews and the latest price
3.  Perception Sport Sound 12.5 Angler

This marries the stability and comfort of sit-in Kayaks to the cool features and options available in the sit-on-top Kayaks. The sit-inside kayaks tend to have more efficient hull designs than sit-on-top kayaks. Sound series is no exceptional.
It is a remarkably fast fishing kayak due to its tri-hull design and an open cockpit with bungee retainers. This is perfect for storing a small cooler in. However the best part is that it has been designed in such a way that it retains many of the key features of both sit-inside kayaks and sit-on-top kayaks. This is priced at $610.
Sit-on-Top Kayaks
The great thing about these is that they come with open cockpits, and that makes it easy to either enter or exit should the Kayak capsize. These are also quite literally impossible to sink because they have a double-hull construction with an enclosed air space between inner and outer hull, trapping air in between.
4.  Perception R15 Pescadors 120 Kayak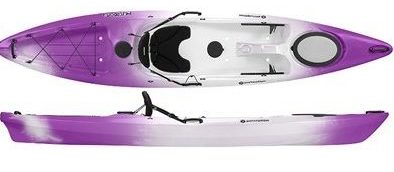 Perfect for control and stability, Pperception R15 Pescador is great for beginners. This is also ideal for single persons. There is plenty of room for leg space and personal belongings and even then it has room left over for the fishes you catch. It comes up to 12 feet in length.
This Kayak is a brilliant choice for beginners and more skilled fisherman alike. This is a best fishing Kayak for all types of waters and worth the money. Take a look at the current price and reviews below.
5.  Lifetime Sport Fisher Kayak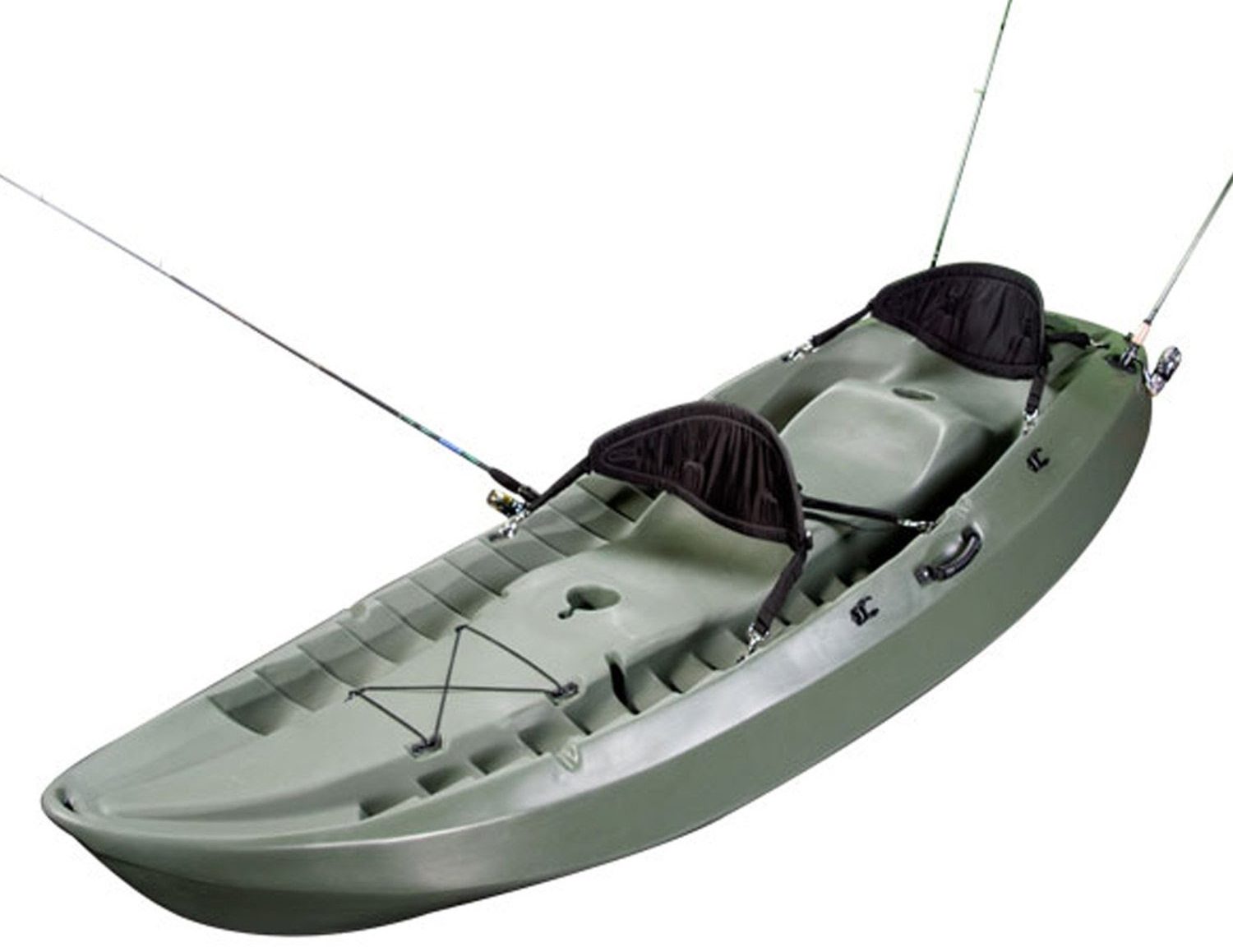 This offers ultimate ease and comfort, even allowing you to sit sideways while fishing without fear of the boat tipping over. It can include as many as three people, making it perfect for groups and families, and has high seats so as to keep you relatively dry.
Considering the attractive price tag  and the number of accessories that can be attached to the hull with not much of an effort, this kayak is an excellent value for the money and comes highly recommended by its base of users. Check out for the current price and reviews below.
6.  Sun Dolphin Bali SS 12-Foot

It is a 12 inch great best fishing kayak for long and short outings. This is a great choice for those just beginners and experienced ones alike. It is extremely stable thanks to a low center of gravity because of lower seats. This allows you to even stand up and fish without fear of tipping over into the water. Its design is such that it's next to impossible to tip over.
Additionally It features with 2 watertight compartments, adjustable backrests and footrests which gives you more comfort during your paddling time. The way it is designed makes it easy for the beginners with little practice to move at any speed. Check out the latest price and reviews  below.
7.  Riot Kayaks Escape 12 Angler Sit-On-Top Flatwater Fishing Kayak
This is meant for the most serious of Anglers out there.  Its features include a sit-on-top high back outfitting, adjustable sliding foot braces, pilot rudder system, drain plug and scrubber plugs, amongst various others. The rod handlers are able to do a full 360-degree swivel, which makes it more precise. This is of course one of the best fishing kayaks under 1000.
8.  Sun Dolphin Excursion 12-Foot Sit-In Fishing Kayak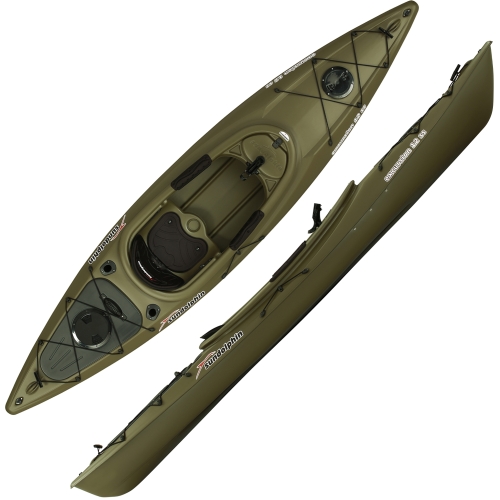 This is a best single person Kayak for those those fishing minded people who loves adventures. This one has really comfortable seating arrangements, along with a high performance, tracking, and maneuvering abilities. It has two rod holders, one of them a swivel, high-quality thigh pads and retractable carry handles.
It trails well on the surface of the water and due to its light weight you can easily go to the spot where there are loads of fish to latch with very less effort. This is meant to be used in clam water lakes, ideally. This is meant for those who want speed and stability.
9.  Heritage Redfish Angler 14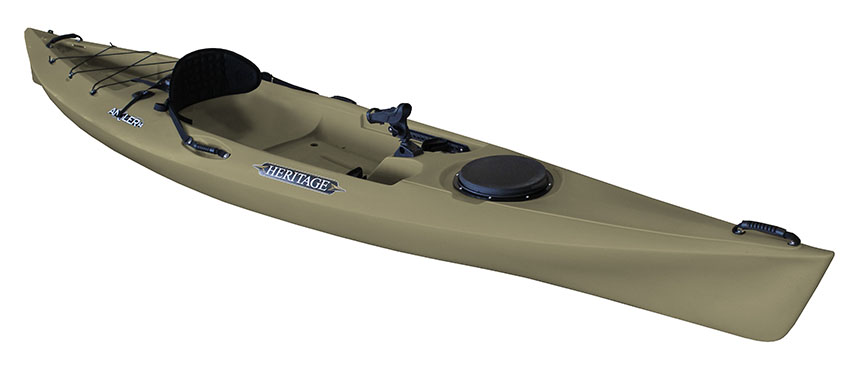 Lacking a bit on cool features, this is, however, ideal for long distance needs along with a decent speed. It has an adjustable back band, molded seats, and adjustable foot braces, making it comfortable and ideal for those who wish to travel to distant fishing waters. Read here for more information.
10.  Wilderness Systems Tarpon 100 Angler
This Kayak comes with an award-winning design, capable of zipping from the landing to your spot, and even able to maneuver in tricky areas. It has molded seats made for comfort with varying sized holes in the foam so as to make it adjustable to your needs, providing some extra cushioning for your spine, and able to accommodate your buttocks in the easiest way possible. It has various accessories as well which can be custom mounted in a number of ways, and it features a tank in the stern itself, perfect for storing coolers.
This is ideal for those in need of comfortable Kayaks that are maneuverable enough to penetrate tight spots and corners that would be impenetrable by most boats. At just under a $1000 this is a complete steal and one of the best fishing kayaks.
Having got an idea of almost all the best fishing kayaks under 1000 which one would you choose????