Clash of Clans is a great widespread games available on almost all the mobile platforms. It has been bloomed into one of the best most involving strategy games for mobile devices. However, recently there have been a lot of updates that requires a user to have lots of memory on their IPAD, Tablet, Smart Phone, or PC which is a downfall, as it is taking long time to complete upgrades, costing huge and slowing down the game. This has caused a lot of players to move out from this game completely, or look out for other games for their fun. If you liked the game play and want to play some other games that are similar to Clash of Clans in terms of game play but different in terms of style then you are at the exact place. Check out below for Amazing games similar to clash of clans which are worth exploring.
 Amazing Games Similar to Clash of Clans – Top 10 Best
#1  Castle Clash
Castle Clash is possibly the most popular alternative to Clash of Clans. This is another base-building strategy games similar to clash of clans for mobile.  It brings in quite a large amount of new mechanics to the genre. It has five additional activities than in clash of clans. You play as a warlord trying to build the biggest empire as possible, but with a similar layout, styling, map size and more than that of Clash of Clans. You build the same walls, armies, troops, upgrades and more. That said, it has a faster pace to it, which many will find refreshing after spending weeks saving money and delays in completing the upgrades of Clash of Clans. Castle Clash keeps the imaginary strategy elements going strong. You can build home forts while also using your heroes to battle other player's heroes. Castle Clash has it all varying from attacks, monsters, heroes' trial and more. You can hire heroes and use them destroy your enemies.
#2  Samurai Siege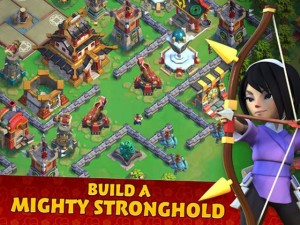 Samurai siege is another games similar to Clash of Clans. Samurai Siege employs the usage of samurai's for its fort construction and massive battles. This is an award winning game and is worth investing in. This does not need any introduction to any game lover. Plotted in a Japanese style setting, the game asks you to build a great army including Samurai, Ninja, and Dragon, Mongol and other warriors and fight against evil shogun. You can play it online as well so as to join players from all over the world. Though both the games are cut from the same source but the cool thing about Samurai Siege was that it was innovated in some ways that Clash of Clan did not. Overall Samurai Siege has its own advantages over Clash of Clans.
#3  Battle Dragons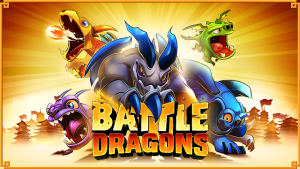 The game focuses on the popular dragon theme and hence the name Battle Dragons. This is another strategy games similar to Clash of Clans where you can attack your own village. The Dragons, goal limits and the cool option to attack your own village makes this mobile strategy title stand out. Build you castle and lead your army to destroy the enemies. This game is quite easy and you can also join others by going online.
#4  Clan War HD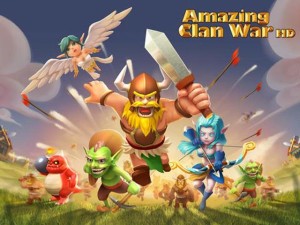 Clan War HD is one of the best matching games similar to Clash of Clans, it is often mistaken to be a duplicate of the Clash of Clans. It is basically an excellent alternative to the Clash of Clans for PC. You will only find very minor differences between the two. While fighting several clans online, you can win gifts and other bonus. It is a fun to play this game with good sounds and music.
#5  Viking Wars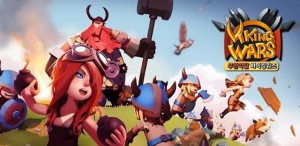 Viking wars is the one actually worth trying. While similar to Clash of Clans, the graphics are better, the game play is somewhat different, and users will enjoy a similar but possibly better experience with a few twists. In this game you'll be building your own village of Vikings and invading other tribes. It lets players employ the services of male and female Vikings. The real-time strategy battles here get extra chaotic, so make sure get some free game currency. It's a game barely anyone knows about, but with the improved graphics, faster game play, and real-time defense makes it one of the better alternatives for Clash of Clans. In fact, as per the reviews in the Google Play Store it is better than Clash of Clans. That is a big statement, so go ahead and give it a try today.
#6  Jungle Heat
Jungle Heat, is a game similar to Clash of Clans, and the only difference is in its army type. Instead of having mystical people and creatures as in Clash of clans you have war soldiers or troops. There are also lots of differences, similarities, good things and bad things between the two games. Which you can figure out once you get to know both the games. It is available for both Android and iOS devices. In Jungle Heat, you need to build your kingdom, lead your blood thirsty army, prepare for war and go for killing. It is becoming one of the most preferred strategy games ever. The jungle setting makes it even more interesting. It lets you use the modern day army tools like guns, helicopters, rifles and RPG. Jungle heat takes the army and their powerful weaponry and puts them to use in this real-time strategy game. Become a General, go ahead and try the game, but make sure your troops have a home to come back to.
#7  Total Conquest
Total Conquests is one from the list of the best of games similar to Clash of Clans. This is the game that deal with empire management and military combats. Here you are a Roman governor developing your own city-state and army. All you need to do is to build your city and defend it using towers, walls and gates. You have to take as less time as possible so as to gain interesting powers. You also have to attack your enemy's bases and eliminate any threats to your city. Total Conquest Roman Empire theme fits perfectly with empire management and epic military battles. This is indeed an exciting, strategic and social game.
#8  Boom Beach
Boom Beach is a modern day version of the Clash of Clans. It is new and unique in its look and style. It also utilizes modern weaponry and military alliances However, the story remains the same. You need to build an army, manage resources and win the battle. Boom Beach allows you to play in both modes – single player or multi-player. You need to fight the evil blackguard with brains and brawn in this epic combat strategy game. Attack enemy bases to free imprisoned residents and unlock the secrets of the tropical paradise. Create a Task Force with players around the world to take on the enemy together. Scout, plan, then BOOM THE BEACH!
#9  Clash of Lords 2
Clash of Lords 2, which is all about hero's is one of the games similar to Clash of Clans. It is a real time strategy game in which players control different types of heroes, to create a strong defense system to protect their city, which includes choosing a hero to defend it. You can order your heroes to attack other cities in seconds. Players can choose between more than ten different heroes, who they can also improve, equip with different talents and materials, etc. In addition, you can also create tons of defensive buildings to protect your town, which is important if you're trying to fight of charging enemies. It is fun real time strategy game with attractive graphics that lets you enjoy simple and addictive game mechanics, Clash of Lords keeps things Primitive, but a lot more cutesy. If you like your Clash of Clans to look a bit "softer," then this is the game for you.
#10  Clash Royale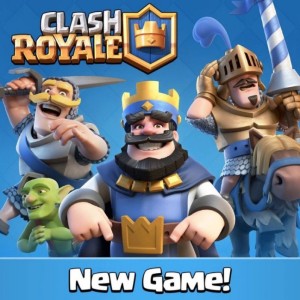 The developers of Clash of Clans, Supercell, also released Clash Royale. This is again one of the games similar to Clash of clans. A real-time multiplayer game starring the Royales, your favourite Clash characters. Clash Royale has similar graphics, the same Giants, Barbarians and other troops, using the same spells. But it is a top-down turn-based combat strategy game. Overall a familiar game in a completely different style. If you love Clash but want a change of pace and scenery, consider trying it.
These are the few Top 10 collections of games similar to Clash of Clans, Go ahead and enjoy playing.