In essence, the most expensive engine on 2 wheels! Unbelievable machines. Takes real skill to ride these things. I've only ever had the pleasure of riding on the back of my Dads Kawasaki Ninja zx 900r. It was thrilling but that may have been because he nearly killed us. Here's the top 10 worlds most expensive bikes. Enjoy!  
10. Icon Sheene – $172,000
Its slender minimal body work that surrounds a 1400cc power house of an engine looks amazing but it's unlikely you'll ever see one of these hurling past with the power of 250 stallions at its disposal, it has a top speed of 200mph making it the fastest production bike in the world. With 133lb ft of torque this thing can shift and will do when you rip on the accelerator. Only 52 of these special machines will be made and each one will have a different playing card painted on the tank.
9. MTT Turbine Streetfighter with Royce Turbine Engine – $175,000

This bike is the 2nd fastest bike in the world. Although it has a 249cc engine, it's a gas turbine engine. 250bhp, a whopping 298lb ft of torque and 0-60 in aprox 2.5 seconds. This is a scary machine to ride and that's an understatement.  Look at the size of that exhaust!
8. Suzuki AEM Carbon Fiber Hayabusa – $200,000
Apparently this bike is a ninja of the internet as I could not find any other information other than accounts of top speeds. 186 mph being the highest.  Please feel free to give us all a little more info in the comments below.
7. Ducati Testa Stretta NCR Macchia Nera Concept – $225,000
This Monster of a machine plays home to a 6 speed v-2  998cc engine that is pulled along by 185 mighty stallions powering on up to 230mph. This bikes frame is made entirely of carbon fibre and all other metals used are either titanium or aluminium making this bike light to say the least. The bike has a very distinct look compared to other superbikes, the most iconic part being the raised rear leaving a big gap between the tyre and tail which looks magnificent.
6. Ducati Desmosedici D16RR NCR M16 – $232,500
The Ducati Desmosedici D16RR NCR M16 has been fine-tuned again by NCR like the Stretta. Ducatti and NCR seem to gel pretty well as they vamped up the HP from 175 to over 200 and reduced the weight of the Desmosedici by 15% using carbon fibre titanium and aluminium parts. Another cool feature of this bike apart from the vicious looks is that you can record data and access maps so you can plan out your route, push your bike and skills to the limit and then view the results. Well worth the hefty price tag for bike enthusiasts.
5. Ecosse Titanium Series FE Ti XX – $300,000
The Ecosse Titanium Series has a whopping 2100cc engine which produces 200BHP and an equal amount of torque. As the name suggests the composite of this bike is made using largely titanium resulting in it weighing in at just 440 lbs. The combination of this light weight and such power makes this bike a fierce one and so you should expect with a price tag of $300,000. The front forks and double exhaust on the back are predominant features of the bike which give it a brilliant unique look combined with the hand brushed titanium and carbon fibre.
4. Yamaha Roadstar BMS Chopper – $500,000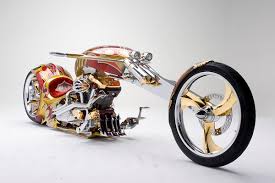 The ultimate bad ass chopper! This thing looks absolutely stunning. Owning one of these and riding down the street must feel god like. You'd think it's 24 carat gold paint would be most of the cost but of course it's also made with the highest grade components money can buy. It has a 1670cc engine but that's about all I could find as it's not really built for performance but to drop jaws with its looks. No side stand is needed as the bike lowers to floor and rests on it's frame when it's time to park. You'll definitely be the talk of the town if you purchase one of these beauties but at half a million you're going to be saving for a long time.
3. Dodge Tomahawk V10 Superbike – $555,000
This concept bike is that powerful it's not allowed on the road! It's propelled by a 8.3L 20-valve V-10 engine that results in 500BHP and 5600 rpm. Dodge's expectations of tops speeds at 460mph were greatly over estimated as it has been tested by land speed recorders and never hit over 100mph. Despite this it's still an astonishing machine. It has two front and two rear wheels which each move independently allowing it to counter steer and requiring you to lean into turns like cornering with a normal motor bike. Dodge stressed the fact that this bike is not really for use but instead a 'rolling sculpture'. In my eyes it's just to signify you have money in abundance because personally I think it looks hideous? Each to its own.
2. Harley Davidson Cosmic Starship – $1,000,000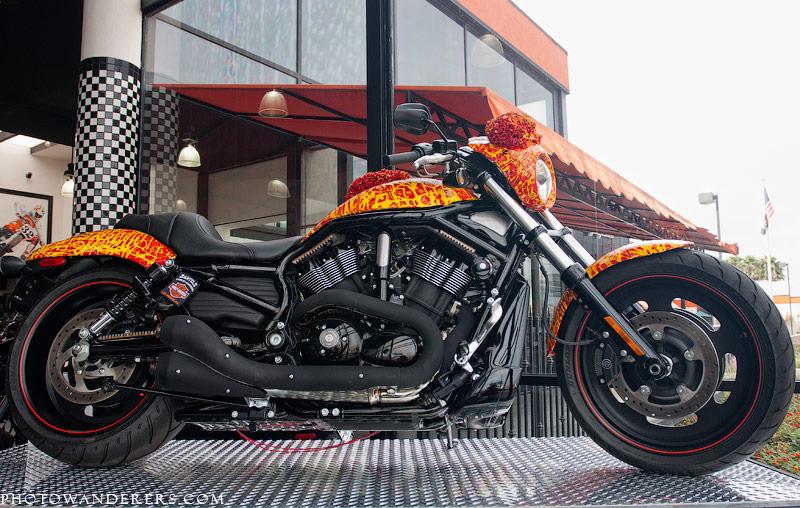 This Harley portrays a very powerful image and a 1250cc V-rod engine to back it up but this bike is more a piece of art. Hand painted by Jack Armstrong in a similar style to his 'Cosmic Extensionalism' painting hence the price tag. If you walk around this machine it seems that words magically appear all over the body work due to the textures. Unfortunately as it is a piece of art it seems people have been too scared to push it to its limits and give us some data feedback.
1. Ecosse ES1 Superbike – $3,600,000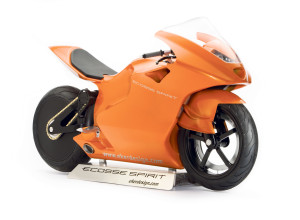 F1 on two wheels! This bike looks absolutely stunning! Unfortunately it is just a concept as it was expected to take only a year to produce a working prototype yet this was 7 years ago and still it remains a wind tunnel model. The engineers predict a top speed of over 240 mph seeding from a 210 BHP engine but the main man in charge 'Glover' is now firmly occupied with his day job at McLaren. Ecosse say that the project is on hold indefinitely as manufacturers and funders are reluctant to talk as this bike completely takes everything we know about motorcycles and flips it on it's head. The day this bike is built will be glorious if indeed it ever is.
Please leave your comments below!