So here is a top 10 of who (in my opinion) are/were the most influential bands in the genre of heavy metal (and all its subgenres). Of course some of you may disagree, but that's why music is such a subjective topic 🙂 anyway…..
10. System of a Down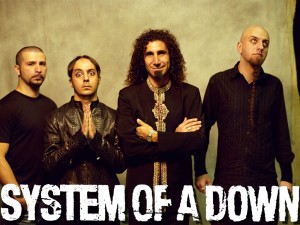 Took what Korn did and made it more metal. Whilst not technically a nu-metal band, SOAD embraced the genre, taking its best bits and adding it to their own brand of Armenian influenced alternative metal. The outcome? Some highly disturbing songs, psychotically delivered vocals from vocalist Serj Tankian & co-vocalist/guitarist Daron Malakian, pummeling drums from John Dolmayan (listen to Toxicity), and some pretty awesome bass lines from Shavo Odadjian. SOAD helped further the alternative metal genre which nu-metal band Slipknot would later become a part of.
Key Songs: Sugar, Toxicity, Chop Suey!, B.Y.O.B,
9. Korn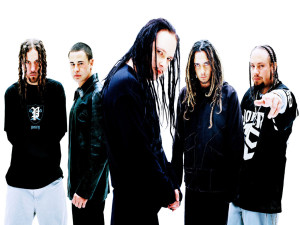 Korn are a band that some of the metal purists would not dare call a metal band. Whilst they were not your average metal band, they took bits from several different genres (mainly hip-hop, funk and alternative rock), threw it together, and added a good sprinkling of metal for good measure. With their debut album coming in 1994 and being undeniably influenced by Rage Against The Machine & Red Hot Chili Peppers, Korn created a new genre in metal, nu-metal, characterised by seven string guitars/five string basses, hip-hop and funk beats, vocals ranging from death growls to rapping, an absence of guitar solos and guitars downtuned even lower. The majority of the metal community have distanced themselves away from this genre, however.
Key Songs: Freak on a Leash, Twisted Transistor, Coming Undone, A.D.I.D.A.S
8. Dream Theatre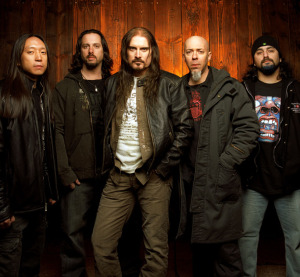 Dream Theatre are the quintessential progressive metal band. Taking a range of influences from metal bands such as Iron Maiden, Metallica & Judas Priest, to progressive rock bands such as Pink Floyd, Yes, Rush & Jethro Tull, Dream Theatre created a metal band that divulged into 20 minute epics, with guitar solos by John Petrucci that could melt your ears or crazy, rapid drum fills by ex-drummer Mike Portnoy. Their strange time signatures and concept albums further put them afield from their more straightforward contemporaries such as Pantera and Metallica. However, their influence on progressive music and metal can be seen on modern metal bands such as Avenged Sevenfold, where ex-drummer Jimmy "The Rev" Sullivan was a massive fan.
Key Songs: Pull Me Under, Wither, Lie, Burning My Soul, You Not Me
7. Pantera
Pantera were rooted in glam metal in the 80s with original vocalist Terry Glaze, who was on their first 3 albums. Phil Anselmo would join the band in time for 1988s Power Metal. However, it wasn't until the release of 1990s Cowboys in Hell that Pantera's most recognisable sound would come through. CFH showcased the bands groove metal style to mainstream audiences, and they furthered this with the release of 1992s Vulgar Display of Power, which became one of the most influential albums of the 90s and the bands defining work. 1994s Far Beyond Driven reached number 1 in the US, however, it was all downhill for the band from there, as internal tensions caused the band to split in 2003 after 2 more albums, and the tragic death of guitarist Dimebag Darrell, who was shot onstage by a deranged fan in 2004, put all hopes of a reunion to bed.
6. Slayer
Whilst Metallica may have created the thrash metal genre, Slayer were the band that took it one step further. Playing even faster and heavier than Metallica, and with 1986s Reign in Blood widely considered the greatest album in thrash metal, Slayer solidified themselves in metal folklore. Their sound also helped influence the creation of death metal.
Key Songs: Raining Blood, South of Heaven, Seasons in the Abyss, Angel of Death, Eyes of the Insane
5. Motorhead
Whilst Motorhead have never reached the commercial success of any other band on this list (with the exception of Dream Theatre), their influence on the genre is unquestionable. Bands like Black Sabbath with their down tempo, doom/gloom metal, and Judas Priests mid-tempo, blues influenced take on metal, Motorhead were more influenced by classic rock n roll and the punk movement that was brewing at the time in 1977. Adding the raw power and speed of punk to rock n roll created the tempo that all metal bands from then on would adopt.
Key Songs: Motorhead, Overkill, Ace of Spades, Bomber
4. Judas Priest
Judas Priest took the metal that Black Sabbath created, upped the tempo, removed the gloomy elements, added another guitarist, and became the prototype modern metal band. Whilst their early work was invariably influenced by the blues, come the late 70s and early 80s, these influences had been removed. 1980s British Steel is widely regarded as the first true "metal" album, and a cornerstone in the genre. Vocalist Rob Halford and guitarists KK Downing & Glenn Tipton influenced scores of vocalists and guitarists for years to come.
Key Songs: Breaking the Law, Living After Midnight, You've Got Another Thing Comin', Take on the World, Painkiller
3. Metallica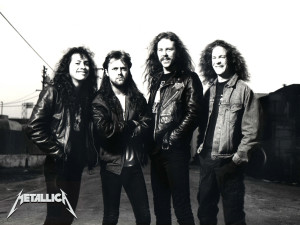 Metallica can arguably be regarded as the band that created the thrash metal genre. When their debut album Kill 'Em All hit the shelves in 1983, their raw metal sound, undeniably influenced by metal bands such as Iron Maiden and Motorhead, as well as hardcore punk, began to catch the ear of metalheads the world over. 1984s Ride the Lightning and 1986s Master of Puppets are regarded as metal classics, whilst the death of bassist Cliff Burton whilst on tour in 1986 could have derailed the band. However, they returned with another influential record, 1988s ….And Justice for All, before 1991s Black Album cemented them as arguably the greatest metal band in the world. Whilst they have never quite again reached the heights of their late 80s/early 90s heyday, they still manage to fill out arenas worldwide.
Key Songs: Master of Puppets, Disposable Heroes, One, For Whom the Bell Tolls, Enter Sandman, Sad But True
2. Iron Maiden
Whilst coming after their contemporaries Black Sabbath, Motorhead & Judas Priest, Iron Maiden have arguably had a greater influence on the genre than the latter two. Combining the early metal sound of Black Sabbath & Judas Priest with the speed and ferocity of Motorhead and a sprinkling of punk, modern metal was born. With a string of classic metal albums in the 80s courtesy of Steve Harris' bass attack and lyrics, guitarists Dave Murray's and Adrian Smith's dual guitar harmonies, Nicko McBrain's speed drumming and vocalist Bruce Dickinson's operatic squeals,  Maiden have sold over 85 million albums, and are regarded as one of the best live acts of all time. Iron Maiden have created a legacy for themselves and inadvertently helped spur the creation of thrash metal and influence numerous metal bands.
Key Songs: Hallowed Be Thy Name, Run to the Hills, The Number of the Beast, Aces High, Fear of the Dark
1. Black Sabbath: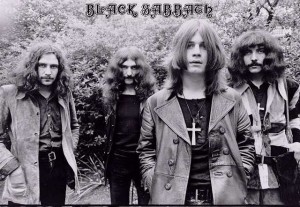 Pretty much invented the heavy metal genre. When guitarist Tony Iommi lost the tips of three fingers in an industrial accident, he down-tuned his guitar to make it easier to play which created a dark and gloomy guitar tone that would become one of the key ingredients in metal for generations to come. Combined with Ozzy Osbourne's apocalyptic vocals, Geezer Butler's transcending bass lines and Bill Ward's thundering drums, heavy metal was born with Black Sabbath's debut self-titled album in 1970.
Key songs: Iron Man, War Pigs, Paranoid, Sabbath Bloody Sabbath, Black Sabbath
Honourable mentions: Megadeth, Venom, Anthrax, Sepultura and Death.