Whether you're relocating semi-permanently as an expat or just breezing through as a romantic nomad, you cannot deny that travelling is alluring just in itself. And then to have yourself swept off your feet by a local beauty is even more precious. We have a list here of the top 10 cities where you are likely to fall in love with locals, based on research done by Inter Nations on the percentage of expats that have partnered up permanently with a local in specific countries as well as our own inspirations.
10 Amazing Cities To Fall In Love With Locals
#1. Lima – In Peru
In Peru, 72% of expats are married to locals. It's not surprising; Peruvians are an open-hearted and lively people with a certain love of life. Peruvian food is some of the best cuisines in the world and how much easier to fall in love over a plate of steaming hot deliciousness. The wine industry of next-door Chile has creeped into Peru, so you'll be able to wash down your perfectly grilled alpaca tenderloin with a decent red while you stare starry-eyed into your Peruvian lover's eyes.
#2. Santorini – In Greece
There is something to be said about the Greeks lazy way of living. The sense of being out of the rat race just makes it so much easier to be true to yourself and open yourself up to fall in love with a locals. The beauty of the Grecian coastline and the romance of the white and blue architecture will set the perfect scene to watch a sunset with your new Grecian beau. The Greeks are all about family time, so you won't only find a new partner to love, but also a whole new family to fall in love with too.
#3. Helsinki – In Finland
63% of expats in Finland are happily building a family life with a Finnish love. Spend the day at Hietaniemi beach, have a lovely dinner at any of its fine establishments. Afterwards, take a moonlight stroll through the Esplanadi Park and steal a kiss under the stars to spark your romance with your Finnish boy. If it's winter, find a place to ice-skate hand in hand like in the movies and repeat the instructions of kissing under the moonlight. Alternatively, visit a spa together to get some couples' pamper treatment.
#4. Buenos Aires – In Argentina
How is it possible not to fall in love in this city? It's the city of the most intimate dance in the world, the Argentine tango. Between the dramatic tango music and the flowing Malbec wine, you will quickly fall for the charms of one of the locals. Kick up your tango shoes, stay up all night like the rest of them and you'll find your Argentinian lover in no time flat. Just remember that you're going to have to set some time out for your new partner to catch up on his football.
#5. Cali – In Columbia
Where? Cali is a little known city of love in the south of Colombia. 58% of Expats in Colombia have married a local. The city itself is not especially romantic, but what makes Cali so special is that its heart beats to the rhythm of Salsa. Renowned as the Salsa capital of the world, you can dance the night away with the locals or maybe find your true love studying the meaning of art together at the many small galleries in town. Where there is music and art, there is love and in Cali you'll be able to find all three, and hence the best place to fall in love with locals.
#6. Rio De Janeiro – In Brazil
The heartbeat of Brazil will make your heart beat faster still over a new lover. The Brazilians are a loving and friendly nation. Go back into the past and visit Confeitario Colombo, a Belle Epoque café with romantic wooden mirrors and chandeliers. Have breakfast with your new love before you split for a lazy day on the beach, rubbing each other's backs with sunscreen. Wash it all down with a few cocktails and share a kiss over a sunset to make for a perfect day to fall in love with locals.
#7. Cape Town – South Africa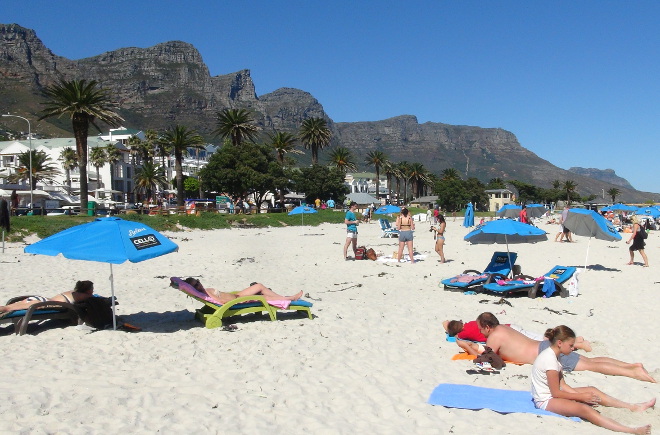 With its beautiful beaches against the backdrop of the stunning Table Mountain, love is always in the air in this stunning city. All the beautiful local people are always hanging out at the next newest best place to be in town. It can be difficult to get in with the crowds; there are several active and effective dating sites for singles full of beautiful Captonians just waiting to hang onto your every word with your adorable accent.
#8. Bucharest – In Romania
Where else to find love than in the capital of Romania? Mix and mingle with the locals at any of its many rooftop bars. Remember that 62% of Expats living in Romania has found a Romanian to make a life with. Maybe it's the romantic language, maybe it's the fact that Bucharest used to be called "Little Paris." In any event,  this energetic and fun city and best city to fall in love with locals.
#9. Medellin – In Colombia
Medellin is another Colombian jewel of a city to fall in love in. Frequent its many markets to get your feet out and about. Hang out in ParqueLleras, which comes to life at night. Grab something to eat at one of the food stalls and strike up a conversation with any of the lovely-looking people of Medellin. They are all very friendly and love to meet new people. Who knows? One of them might be your Mr. Right.
#10. Verona – In Italy
Verona is Italy's city of love. This is the home of Romeo and Juliette, ice cream, fine food, and even finer wine. More importantly, it is also the home of gorgeous, vivacious and inviting people. Be inspired by operas, wine bars and the Juliette balcony to find your own true love. Don't follow too closely in Romeo and Juliette's footsteps, though – we all know how well that worked out.
There you have it, the 10 cities to fall in love with locals. Whether it will be your forever love or just a whirlwind romance before you move onto your next destination is up to you. Now the big question: Where do you find the locals? There are loads of online resources and apps to help you with that. Better yet, get your feet out on the street and dance the night away until you fall into the arms of your Romeo.