Winning a Fantasy Football game — or simply winning anything, really — feels great, especially if it comes with a cash prize and all of a sudden you're swimming in well-earned dough. However, there's one thing that might actually beat Cash.
I know! Sounds implausible, but hear me out.
It's bragging rights, that's what! I know most people would give away a fair chunk of their cash if that meant they could have some good old' shove-it-in-your-face fun with the Losers.
However, just a simple fantasy football trophy for the best team isn't enough. That might create an incentive to win, but where's the fear that drives the bottom scrapers to desperately fight not to lose terribly?
That is where the Loser Trophy comes in, an eternal badge of shame, branding you as an object of abject humiliation in the face of the deserving victors. However, it's important to know that you shouldn't take yourself too seriously with the trophy. Have a little fun with it, especially the losers, get creative, but also be mindful that you shouldn't feel ashamed about displaying it in your living room unless you're the loser of course.
Amazon is the best place to find all such trophies, so here's a list of the 5 Fantasy Football Trophies ideas each for Winners and Losers alike.
Fantasy Football Trophies – Winners
Let us first take a look at the Fantasy football trophies for Winners. Choose the trophy such that the team would strive its best to win the match and after winning would surely be proud of the achievement. Also, make sure that the trophy represents your league aptly and also is well within budget.
Also, make sure that the trophy represents your league aptly and also is well within budget.
#1.  Perpetual Silver Football Trophy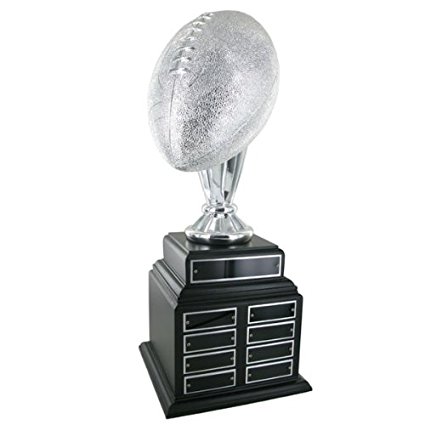 Coming in at a glorious height of 20inches, this Large Silver inlaid football trophy could sit amidst a banquet of Kings and Queens, and that's the exact purpose. The football itself is slightly over 10 inches, and it comes with one header plate and 8 name plates for the victors' individual glories. It costs $135.
The football itself is slightly over 10 inches, and it comes with one header plate and 8 name plates for the victors' individual glories. It costs $135.
#2.  44 Year Bright Gold Metallic Finish Resin Fantasy Football Trophy P5500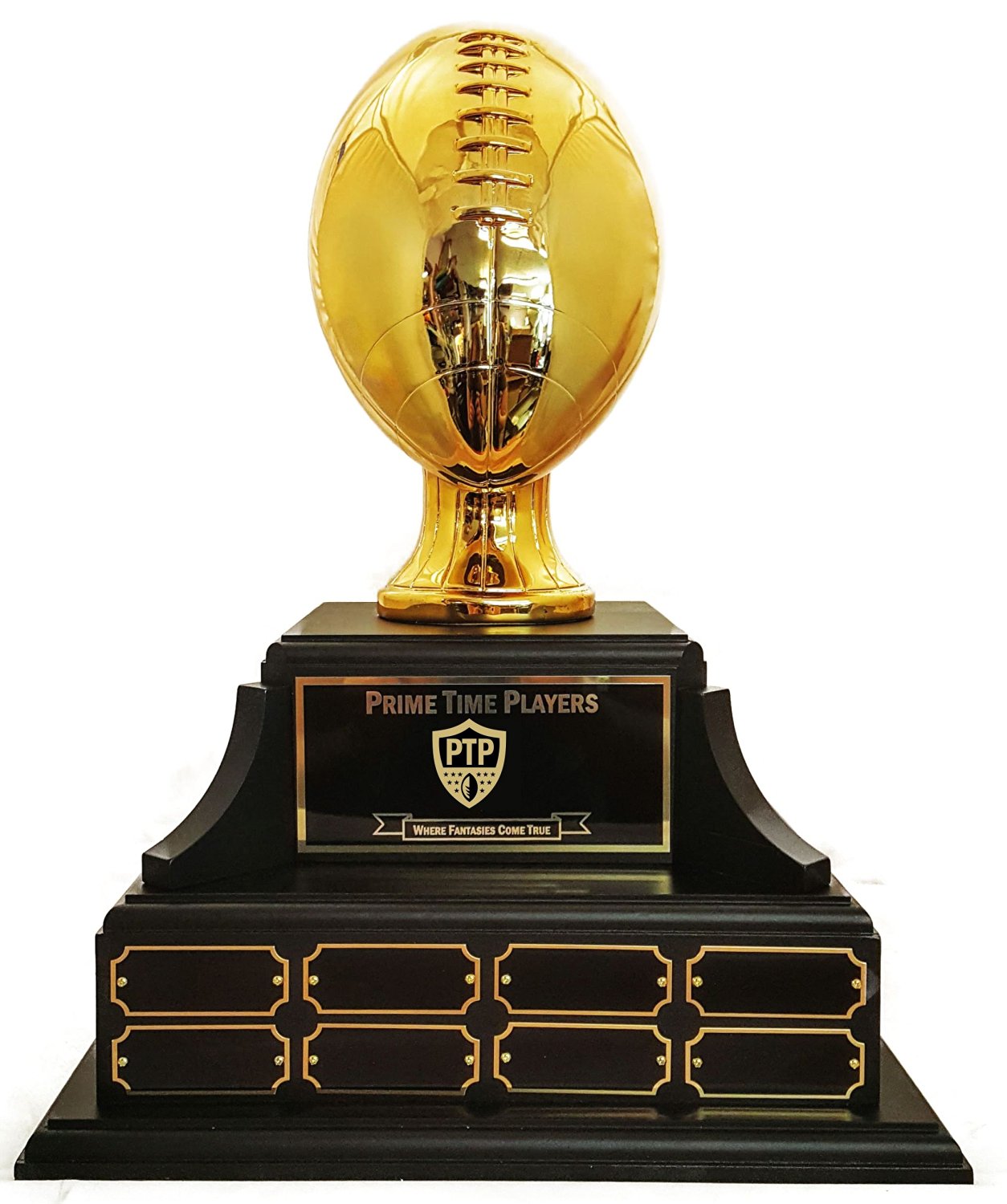 Wow! Even the name just sort of blows you away doesn't it? Gold! Metallic! Resin! This screams loyalty and it ain't afraid to show it. No subtlety here, with 17 inches of height, and a header plate that can hold all your info and custom letters, etc.
Plus, it's tremendously customizable and can be used year after year because it comes with 44 individual nameplates to honor past and present glories! However, the cost of such glory is $325, so time to dive into that cash prize.
#3.  Fantasy Football Trophy – Armchair Quarterback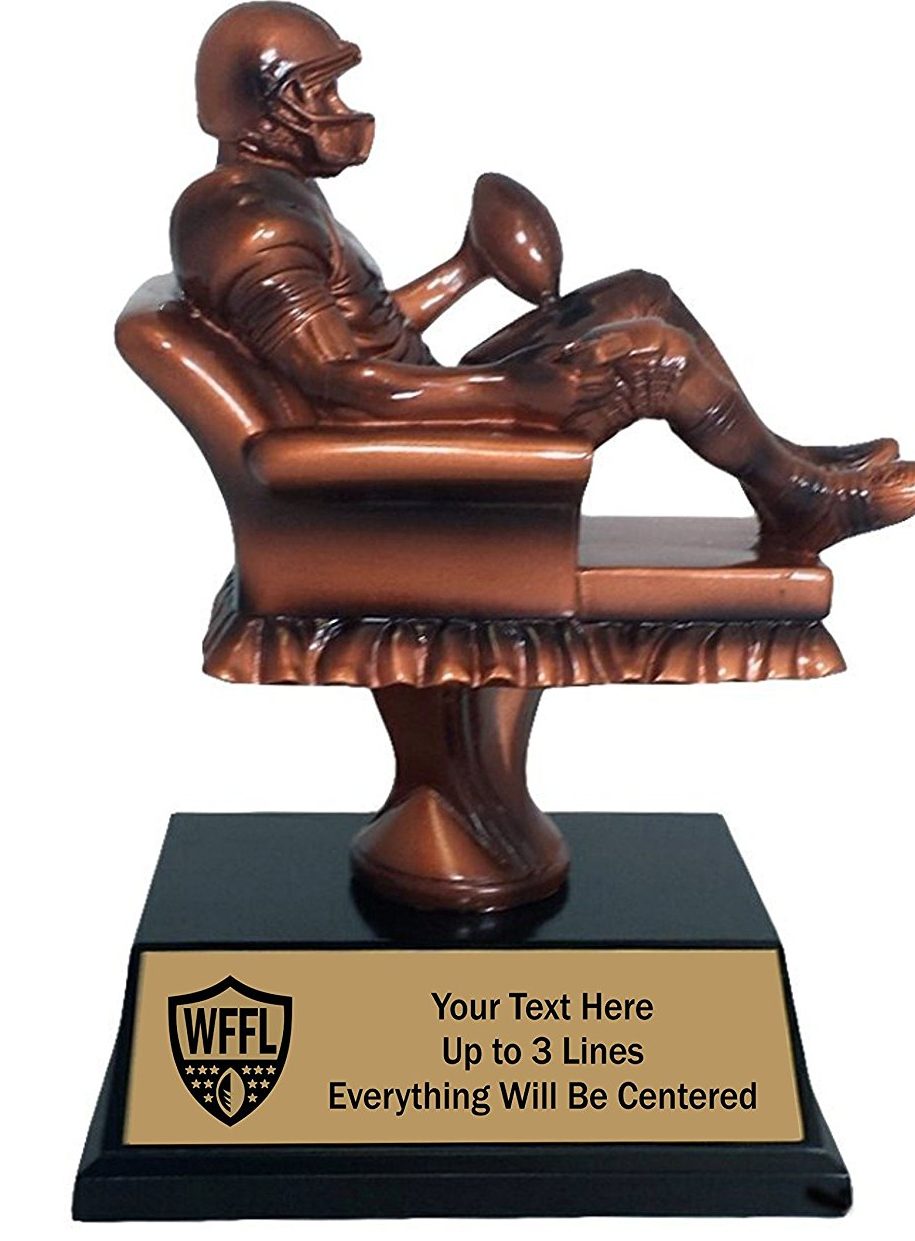 Okay, this is a fun and interesting concept. This features a quarterback sitting gloriously atop an arm chair. The base stand and the nameplate blocks are all deep chocolate brown with a mahogany wood pattern. And the headpiece seems made from the same material.
This is a great steal for those who aren't going for the immediate wow! factor and dazzle, this is a beast of a witty nature. It costs around 30$.
#4.  Fantasy Football Champion Pilsner – Trophy Award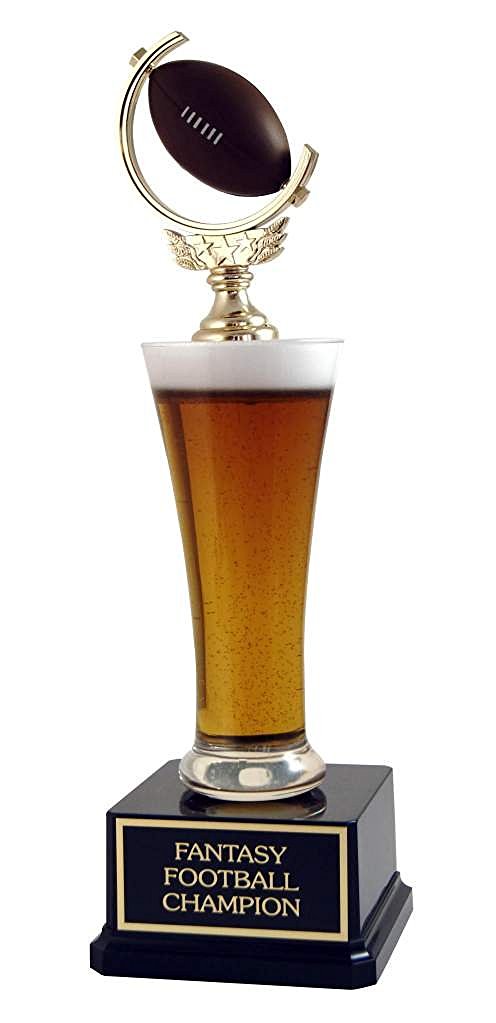 Okay, this one is truly awesome and fun! On the outset it looks like just another trophy, a football encased in a semi-circle golden ring, standing atop a long golden stem of… and then you wonder, look closely, and shit is that a tall glass of beer! Yup, yes it is. Coming in at just $85, this is both elegant and clever.
With a custom engraving base stand, followed by a glass of beer, and then the football, this is perfect.
#5.  The Throwback MINI Fantasy Football Trophy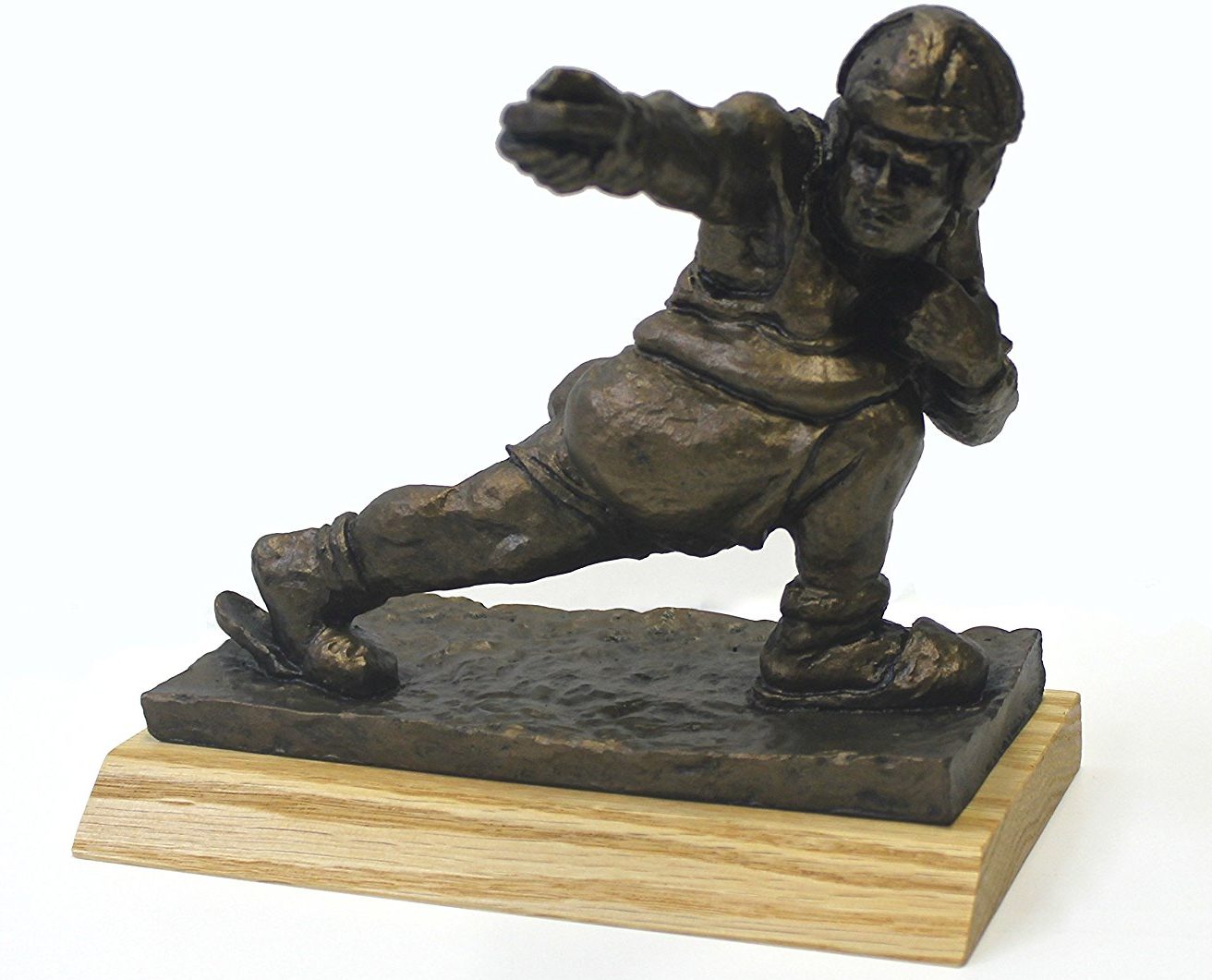 This is yet another great piece which glories in its subtlety. The engraving features a quarterback cast in bronze, standing on a solid oak base. This is quite short in size and comes in at $119.
Fantasy Football Trophies – Losers
Now, let us take a look at the fantasy football trophies for our losers. It can be awarded as a humiliation punishment for having lost the match. But be sensitive don't overdo it.
After all, anyone can be in that position as failure is inevitable in a game and probably next time it will be you who will have to hold it.
#1.   "Pile of Crap" Last Place Biggest Loser Trophy
This one is really quite hilarious. It features a literal pile of crap sitting on a base stand with a custom tag that can feature Four lines of text.
It is the ultimate wet blanket for any team to have and then flush over. It costs around 60 $.
#2.  Toilet Bowl Trophy
I have to give it to them. Even when designing a trophy for losers they don't hold back. It's a 5-inch tall last place trophy made of Gold finished Resin.
And if you look past the image and the association of your team being a literal dump, then you can actually sort of exalt the quality of the trophy. The cost is simply $12.
#3.  Horse's Rear Bobblehead Award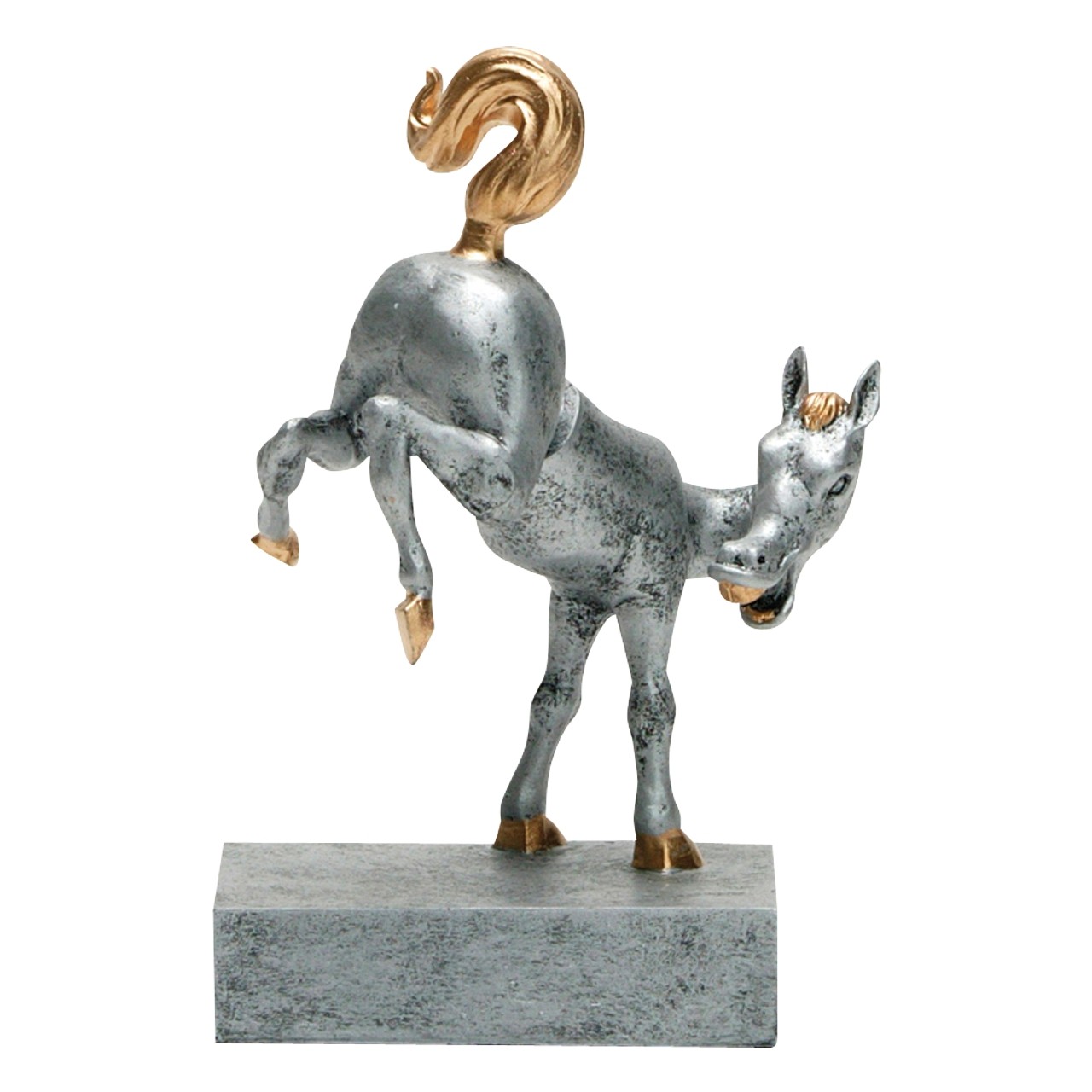 Another witty piece of Loser Trophy which should get a certain team cowering in shame. This one just screams ASS with a literal ass directly in your face!
It doesn't get any more on the nose and biting than this. It's made of poly-resin and is 5.5 inches tall, and comes in at about $12.
#4.  Golden Plunger You Stink Award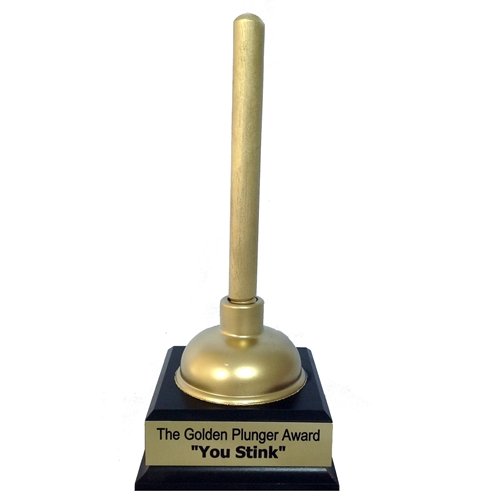 Another Loser Trophy glorying in its wonderful on-the-noses. This is a $50, award with three lines of custom text, in the shape of a golden plunger.
This is real wood and rubber plunger simply mounted atop the wood base. Enough said.
#5.  White Fantasy Football FFL Toilet Bowl Trophy
Yet another $15 worth of Toilet Bowl trophy for the ultimate losers. This one, however, comes in White, and an engraved plate.
It doesn't look very elegant, it's not shiny or anything, but that's all the losers deserve I suppose.
Having got a rough idea on the elite fantasy football trophies out there, you can decide for yourself which one to choose. And if you are not satisfied with any of these probably you will get more options on other cheap fantasy football trophies at Amazon. But don't forget to share your choice with us using the comments section below.