It is a common saying that one can always determine an essential personality trait of a person based on the shoes he wears- A well off person always wears the most expensive shoes. I can't say I entirely agree with that reasoning, but it does hold an essential truth — that people put a lot of stock on what shoes one wears, often more so than the clothes on their backs. This is strange considering shoes are perhaps the least visible of any articles of clothing out there. Anyway, people do spend a whole lot on shoes.
People often say that Women care about shoes and stilettos, but the truth is men care just as much about their own footwear or wallets. Remember that Wing's craze which came up recently? That is evidence of the fact that people do tend to spend more than they can afford to on luxury shoes and sneakers. And so we've compiled a list of the top ten most expensive shoes for men out there. Now some of these aren't even generally available in the market but are made in limited numbers to meet the supply, rather than the other way round. That is because only people with wads of cash lying around could possibly afford them.
10 Most Expensive Shoes in the World For Men
So here they are- The Most Expensive shoes in the world. Try and keep your mouth closed, you wouldn't want to salivate over your keypad.
#10.  Air Jordan 2 Eminem 313 – $1000
The great thing bout these sneakers, other than the fact that they are named after Eminem The Way I Am, is that their design is so retro and casual that once you spend a $1000 on these, you can just throw on any old baggy pajamas and sweats and you'd still look like you're at the very peak of high fashion!
During the release, only 313 pairs were made which was the area code of Detroit, Em's hometown. When these were first launched, they sold out entirely within just 5 minutes, I think that says all about it.
#9.  Tanino Crisci's Lilian Shoes – $1250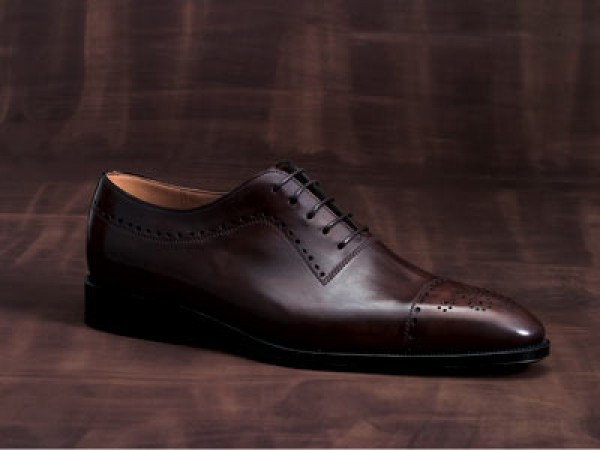 These are beautiful brown leather shoes fit for the most elegant of formal occasions. Tanino Crisci is one of the most premier brands out there, and with a price tag of $1250. The high level of elegance is owing to the fact that each of these Lilian shoes is handcrafted and provides the best walking experience.
The rich folks of the world could easily afford them. But regular folks would probably just have to be satisfied with looking at them through windows.
#8.  John Lobb 2005 Shoes – $1280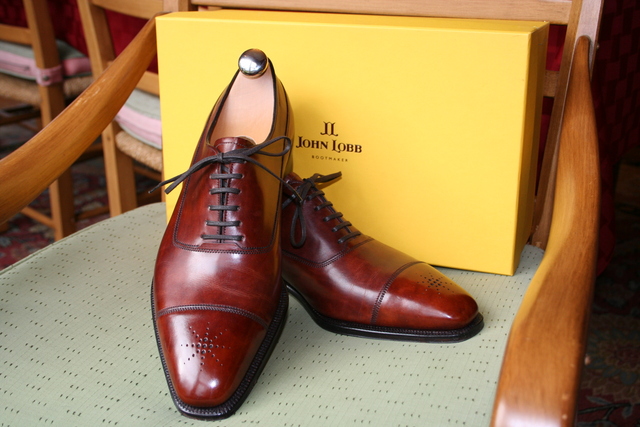 These formal wear shoes are sleek and classy with an ebony and mahogany finish. The great appeal of these shoes is the minimalism they offer. They're plain, polished and don't seek to impress, just exude confidence in their quiet style.
At $1280 these are the ideal shoes for those sitting comfortably in an Executive position in their companies. These is the costliest pair that company has so far launched and was quite a hit.
#7.  Balmain High-Top & Double Strap – $1475
These are beautiful leather shoes with rubber soles that look entirely, flawlessly, silver. These go high up on your ankles and come with two silver velcro straps, that can help your feet slip into them all comfy and warm.
These may dazzle in the dark, and give off a distinctly Royal vibe, but they'll also put you short of $1475.
#6.  Testoni Norvegese –  $1500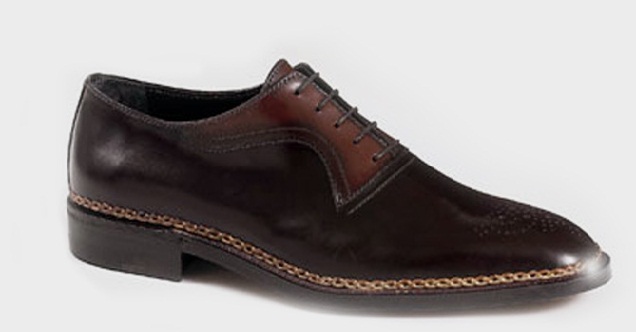 When it comes to Formal Wear Shoes, Testoni simply must be included in pretty much every list possible because this particular shoe at $1500 is the cheapest thing in their catalog! And one can't blame them, especially considering each and every single pair in their catalog is hand-crafted with an astounding level of attention to detail!
This particular pair has a strong smooth appearance of a mahogany shade of brown, with a light brown threaded touch just running parallel over the soles. This attention to detail really sets it apart from other formal shoes.
#5.  Nike Air Foamposite – $1500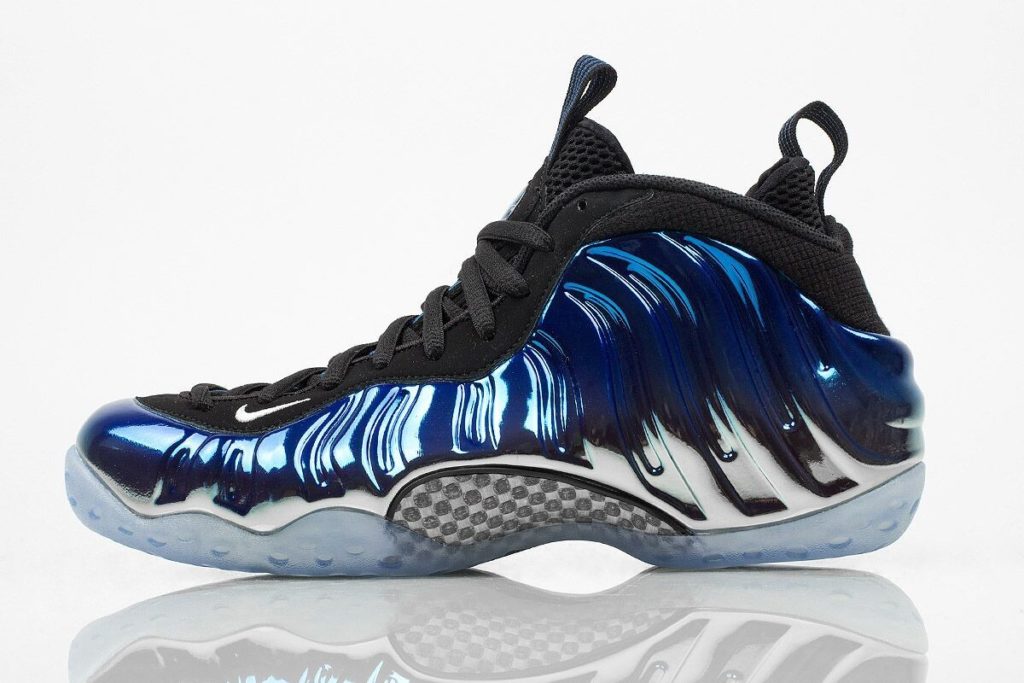 Like most Nike products, they don't much care for subtlety, and we're so glad for that! These are obnoxiously loud Sneakers with a Foamposite technology because of which the upper reaches of the sneakers are synthetically molded, offering optimal comfort.
And as for the style, they are blacktopped and have a lower reach that glows a fluorescent purple. If you have $1500 lying around and are into the darker aesthetics, then this is the ideal fit for you.
#4.  Aubercy Diamond Studded Shoes – $4700
Aubrey is a well-known brand in the luxury market, and they are known for their ultimately sleek and minimalist designs, with the just a touch of dazzle. That's what this pair offers, simplicity and minimalism with just a touch of dazzle, that is, with just a touch of  diamonds!
These plain black shoes come with a few diamond studs encased in an elaborate pattern at the front end of the shoes. That probably accounts for its price of $4700.
#3.  Rick Owens 'GeoBasket' – $5152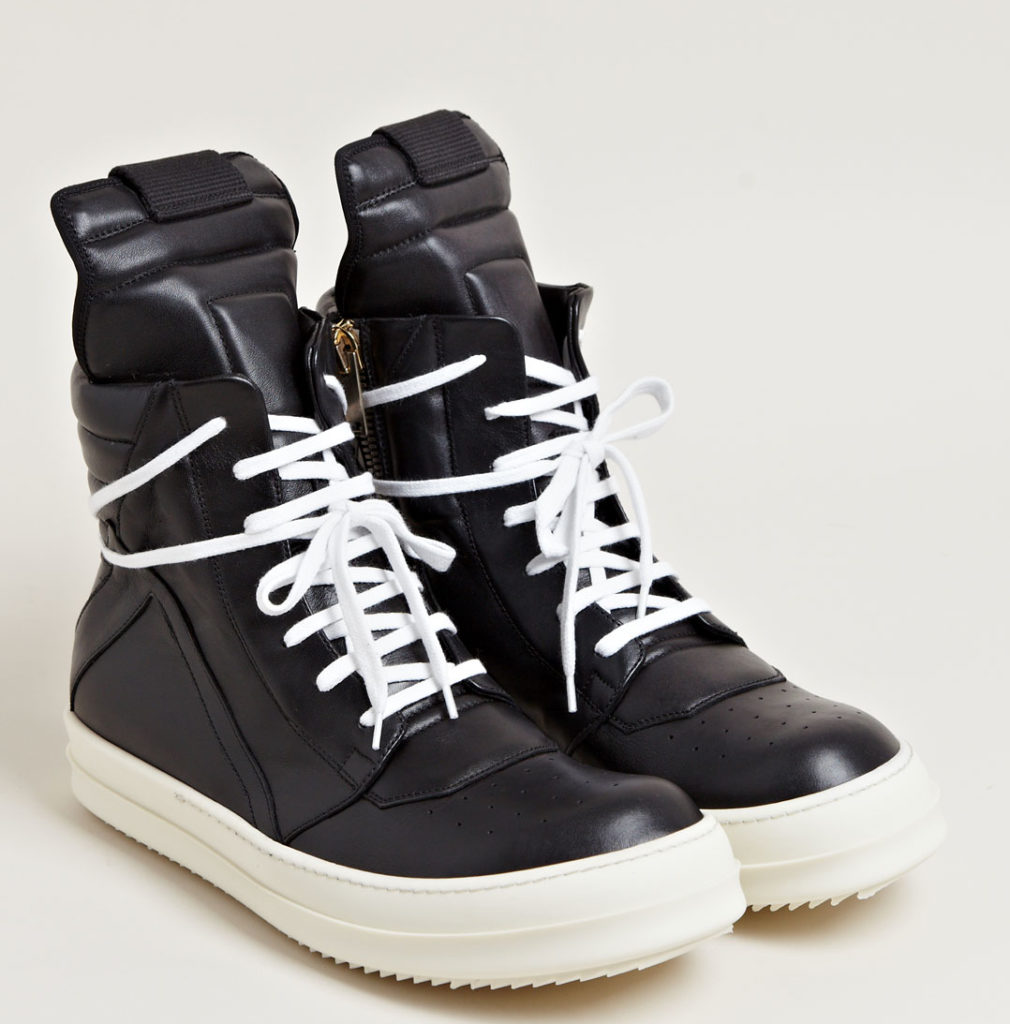 Rick Owens is a brand for the elite celebrities of the world, that is, people like Rihanna, Madonna, and Lionel Richie. Coming in at $5152 these might look heavenly but aren't made for you if you're an animal rights person as the surface of these shoes are made from brown iguana skin.
Owing to the exotic material it is an extremely limited edition. The soft brown skin contrasts well with the off-white leather back and soles.
#2.  Nike SB Flom Dunk High – $7500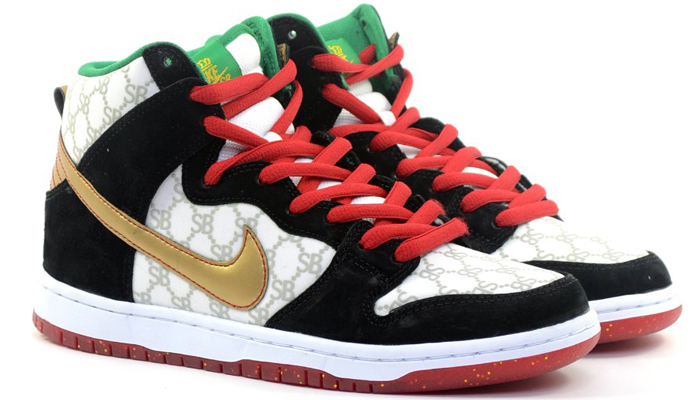 At $7500 these are undoubtedly the most premium shoes in the market available only in a select few retailers. They look stylish in Black and White, with the lower sole a distinctly magenta shade, bright red laces, and replete with accents of gold and green sprinkled around, especially in the Nike signature which pops out at you.
However, what truly makes this such an expensive buy, is the webwork of SB branding which runs through the surface of the shoes.
#1.  Tom Ford shoes covered in 14,000 Diamonds – $2 Million
We all know Tom Ford, right? His stuff is already pretty pricey. So what happens when you take an already expensive brand and then get them studded in 14,000 pieces of diamond? You get a pair of shoes worth $2million, that's what!
These diamonds are all well encased within white gold layers and casings. It was a shoe a year in the making, but the process was worth the wait for the most expensive pair of shoes in the history of mankind.
Well, these are some of the most expensive shoes in the world. There are of course other shoes as well that may be considered the most expensive shoes, even more than the ones at the bottom of the list. But we've selected a range to showcase both the more affordable of the most expensive shoes and the ridiculously extravagant ones. So let us know down in the comments section whether you think it's worth buying one of these, or if you can envision yourself in these.