Most people purchase sunglasses to either shield their eyes from the sun or if they have weak eye sight then to look slightly cool even while wearing powered glasses. Basically, for convenience, with just a touch of fashion consciousness. As such, sunglasses can be purchased quite cheap. However, despite the two uses just mentioned it is hard to avoid the fact that sunglasses really don't have all that much heavy utility. Which sort of highlights the fact that most expensive sunglasses are mostly worn for self-gratification.
However, people generally aren't vain enough that they'd empty their bank accounts for self-gratification alone. But do you know what is the cost of the most expensive sunglasses in the world ever, can be hardly dreamt of? These are mostly used as status symbols, for conspicuous consumption, designed by Dolce & Gabbana, Chopard and other names of high fashion. Other than brand names the most expensive sunglasses also derive their value from their jewel-studded aesthetics.
Top 10 Most Expensive Sunglasses In The World
So here's a list of the 10 most expensive sunglasses in the world.
#10. Bentley Platinum Sunglasses – $45,276

Bentley is more popularly known as the brand of luxury cars. The company was founded in 1919 by W.O. Bentley. However, soon after it was taken over by Rolls-Royce in 1931.
These shades were released in just a 100 pieces to commemorate the launch of their luxury car "Lausanne". It's made completely of platinum. However, the lower models made of rose, yellow or white gold are available for lower price tags of $14,000 each.
#9.  Gold and Wood 253 Diamond Glasses – $55,000
As the name itself suggests these constitute 253 pieces of high-grade diamonds, out of which 22 are princess-cut diamonds. That alone is enough to send the price of these glasses skyrocketing.
However, a major attraction of the aesthetic, despite the resplendent diamonds, is the simplicity and quite luxury it offers, as opposed to the most ostentatious offerings on this list.
#8.  Bulgari Flora Sunglasses – $59,000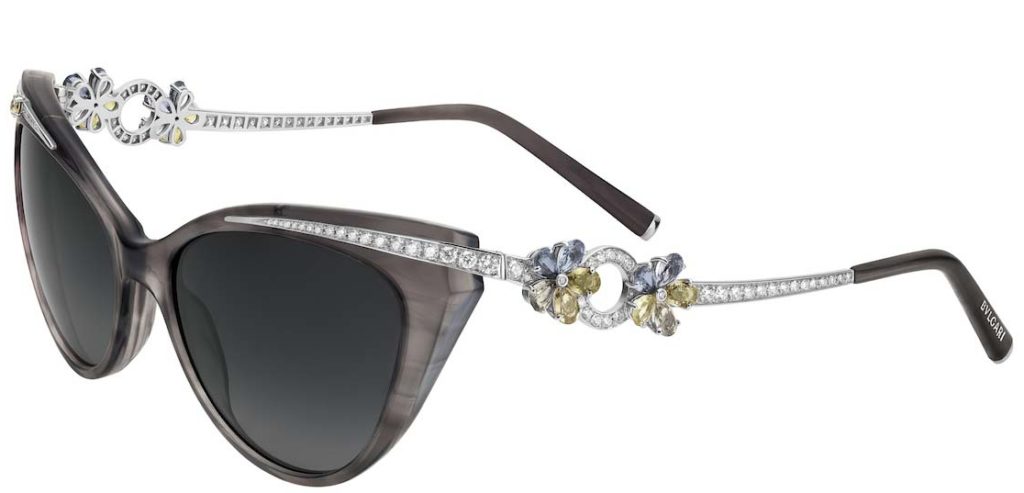 These frames are completely made of 18 karats white gold, and the edges of the frame, close to the lens, are surrounded with diamonds and blue sapphires.
The frame is also dotted with aquamarine to add that additional hint of color. A cheaper, more 'basic' version is available for $25,000 featuring lesser bling.
#7.  Maybach "The Diplomat I" – $60,000
Maybach is again more popularly known as a luxury car brand. They were founded in 1909, and after over a century of still competition with luxury car brands, they caved in on 2013 and were sold to Daimler AG.
The Diplomat I was one of their released glasses in accompaniment to one of their cars. Only 50 of these were made, a limited edition, and they came with 18 karat yellow gold frames, and the body of the frame was speckled with 174 hand-crafted diamonds which came to a total of 1.18 karats. The temples were made of buffalo horn in a tortoise shade.
#6.  Luxuriator Canary Diamond Glasses – $65,000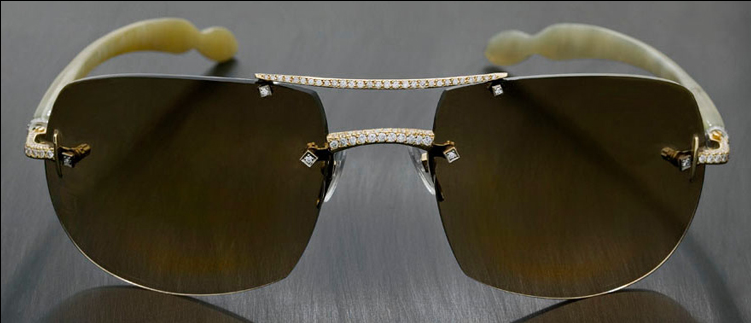 These are made from 18 karat gold plating and the body of the frame around the lenses and on the bridge are embossed with 132 hand-cut and paved diamonds.
Furthermore, the temples are made of ivory buffalo horn, and the dark lenses adjust well with the light.
#5.  CliC Gold 18 Carat Gold Sports Sunglasses – $75,000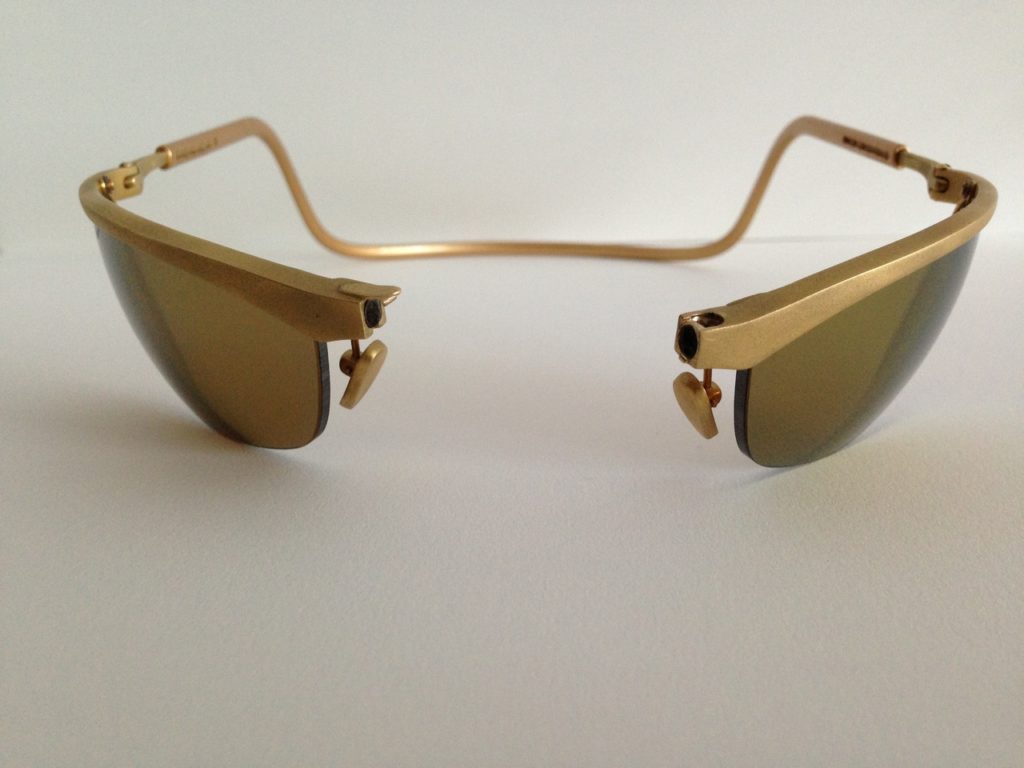 These are sports sunglasses designed the founder of Ron Lando in partnership with jewelry designer Hugh Power. Each piece is handmade over a period of 40 to 50 hours and is completely made of gold, in entirety.
These are the most expensive sports sunglasses in the world and have been made by the guy also credited with making the most expensive reading glasses in the world. He certainly seems determined to take those 'most expensive' titles for himself. Too bad he couldn't make the 'most expensive sunglasses, period.' Though to his credit fifth place isn't so bad either.
#4.  Cartier Panthere Glasses – $159,000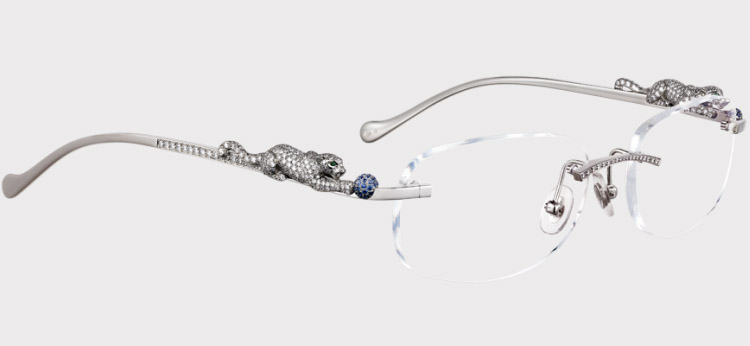 The Panthere of the title isn't just a bit of verbiage but a real representation of the tiny panthers that lie upon the stem of the frame, made of 18 karats white gold in totality.
The frames also boast a total of 561 cut diamonds and 645 pieces of sapphires. The lenses have to be ordered separately from the frames.
#3.  Shiels Jewellers Emerald Sunglasses – $200,000
The company Shiels Jewellers was founded by Jack Shiels back in 1945 in Australia. The lenses of these glasses are made of emerald that was 5 years in the making, from procurement, shaping and the cut.
These have been inspired by the Roman emperor Nero who made use of emerald to shield his eyes from the sun while enjoying his Gladiators fight in the arena. The frames of these stunning glasses are pure gold and speckled with diamonds.
#2.  Dolce and Gabbana DG2027B sunglasses – $383,000
DG2027B sunglasses are framed in pure gold with brown-tinted lenses that give it a distinctly warm and welcoming feel. It is not wondering that Dolce and Gabbana would make it to this list as any list of products related to high fashion would be quite incomplete without them.
However, not especially fond of subtlety or modesty, they have their names encrusted in tiny diamond speckles across the arms of the frame.
#1.  Chopard De Rigo Vision Sunglasses – $408,000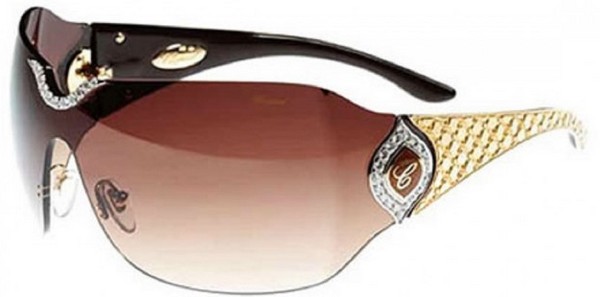 Chopard is a Swiss Luxury company that is responsible for some of the most expensive glasses to grace the face of the earth.  These sunglasses have been created in collaboration with the manufacturers of luxury glasses — De Rigo Vision.
The stems of these glasses are made of 60grams of 24 karat gold, as are the tips. The signature C of the company is embossed around the temple of the frame with 51 full-cut River diamonds of 4 karats.
So these are 10 of the most expensive sunglasses in the world. Let us know if you're tempted to purchase any of the most expensive sunglasses in this list. However, do let us know down in the comments section: What's the most expensive sunglasses you ever purchased, where did you wear them, and why? We'd love to hear from you!
Also, you might be interested in reading about