A mountain bike should be befitting to be ridden on any ride, any trail. It has to be loaded with additional features for safety and durability. Hence, this is one of the most technically advanced bike in the market and also the most expensive mountain bikes.
Let's have a look at the most expensive mountain bikes in regular and collector versions along with their features.
Most Expensive Mountain Bikes-Top 10
Regular MTB Version
#1. Focus Raven 4.0 30-G
Price:  $22 000
The Raven 4.0 30-G is a cross-country mountain bike designed to be lighter and more agile than other mountain bikes and are able to handle a mix of ascending and descending over reasonably technical terrain. As a category, cross-country bikes are the lightest, most competent mountain bikes with the minimum amount of travel.
It has 26-inch wheels, a carbon fiber frame, 100 mm of travel, and optimistic-level components. The most common groupset on the Focus Raven 4.0 30-G is Shimano XT. The frame is designed for optimum weight-to-stiffness ratio with Carbon fiber which is extremely lightweight while simultaneously being stiff. Carbon fiber frames are highly expensive due to the intricate manufacturing process. This is the most expensive mountain bikes in regular MTB.
#2. Santa Cruz V10 Carbon CC X01
Price: $12 000
From the regular manufacturer, Santa Cruz, this is bike gets to the podiums across the world and is a lean, mean racing machine. The bike even has adjustable geometry which can be set to your own personal preferences. It is quite lightweight, from the frame to the rims but with little impact to the overall strength and stiffness.
#3. Intense Carbine Factory 29er
Price: $12 000
This is a Carbon rims, high end suspension and a SRAM XX1 1×11-speed drivetrain bike that is quite fast and at the same time lightweighted. It is built for all-mountain and motorbike riding. This is the preferred bike for those riders who want the rolling capability and feel of a 29er but with the suspension travel of a true enduro machine.
#4. SANTA CRUZ BICYCLES 5010 2.0 CARBON CC XTR ENVE COMPLETE MOUNTAIN BIKE – 2016
Price: $10 700
Re-branded with a new frame — lower, longer, slacker, yet with a more aggressive pedaling platform and nimbler back end — than before and new head and seat tubes. It has saddles which are forward oriented and that makes it better suitable on the pedals while grinding out climbs. Carbon CC construction method and materials and truly all-mountain ENVE m60 Forty rims. This is one of the most expensive mountain bikes.
#5. Yeti SB-5C XTR Bike 2016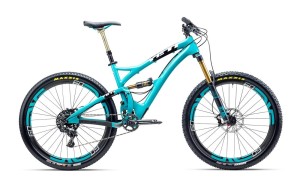 Price: $10 500
The Yeti SB-5C has a more 'enduro' riding style with sleek lines and beautiful performance-bred details. The bike has long top tube, low bottom bracket, and slack head angle and is made of high modulus carbon fiber which weighs about 2.3 Kg. This new lightweight frame design and with the climbing characteristics of the new Switch Infinity technology and Shimano's first ever 1×11 speed mountain drivetrain result in a 5" travel trail bike. This is for those riders who wants to climb fast, descend faster, and stay railed in every corner.
#6. NINER RIP 9 RDO 27.5+ 5-STAR EAGLE X01 COMPLETE MOUNTAIN BIKE – 2017
Price: $9 500
The 2016 revision is longer, slacker, and yet inexplicably more responsive on climbs combining with 27.5+ ENVE HV wheels and SRAM's shiny new Eagle X01 12-speed drivetrain. It features the Race Day Optimized (RDO) construction method and the Constantly Varying Arc (CVA) suspension design. The CVA suspension design is unchanged. The frame's finishing details are everything you'd expect from the obsessive developers at Niner. Vulnerable frame bits are girded with titanium protection plates, and the frame also includes integrated batter storage in case you get the urge for electro shifting. As a 27.5+ build, the RIP 9 can clear 3 inch tires.
#7. Kona Supreme Operator Mountain Bike 2016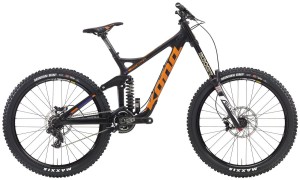 Price: $8 500
Go big, go fast. The Kona Supreme Operator is downhill MTB that is built to take on the world's burliest mountains. This is the same bike that Graham Agassiz and Antoine Bizet ride so you know it is just superb even on the roughest terrain.
The strong and lightweight carbon fibre front triangle with a robust 6061 aluminium rear end to form an extremely-stiff chassis. The 200mm of rear suspension is controlled by the capable RockShox Vivid Coil shock. Upfront the iconic RockShox Boxxer World Cup offers the very best in DH suspension performance.
The full SRAM DH XO1 drivetrain offers slick reliable shifting while the SRAM Guide Ultimate disc brakes provides the power you need when things get rowdy. Mavic EX729 rims are laced onto Hope Pro II hubs for bombproof performance.
#8. Budnitz FTB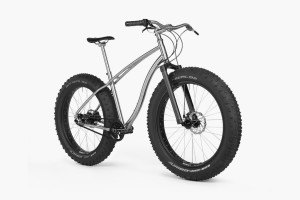 Price: $7 800
One look at this bike and you know why Mountain Bikes are also called "Fat Bikes".
Featuring giant 4.8-inch tires, a 14-speed Rohloff Speedhub, and a nearly indestructible carbon belt drive, this is highly durable bike. Curbs don't present a problem. Neither dirt, gravel, snow, sand, mud. Despite its "fat" appearance, this bike is incredibly light – the handmade titanium frame weighs under 2.2 kilograms.
#9. Ibis Mojo HD3 Boost X01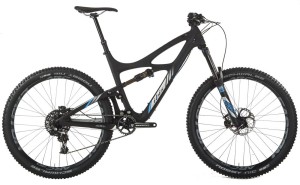 Price: $6 200
This is the new arrival from the Mojo HD Legacy. Compared to older versions, this addition has a better frame feature as it allows 6" of travel by using the DW-Link suspension platform. It also has a better boot rear spacing which increases the frame stiffness and gives better tire clearance. It also provides additional features like threaded bottom racket, internal cable routing and also the ability to store water bottle in the front triangle.
It has a lighter and stronger frame as the Ibis Mojo HD3 Boost uses a process that lets the carbon lay-up to be done in a single piece, with no joint or seams. The Mojo HD3 also features modern trail geometry, that is it's longer, lower, and slacker than older HD models. When compared to previous models , the top tubes across all the sizes of the HD3 have increased 20mm, in favor of the short-stem wide-bar standard seem as on other bikes of its class. Another new feature seen on the Mojo HD3 is the use of a ZS56 lower cup, which lets the headset fit fully within the frame.
#10. Giant Anthem Advanced SX 27.5 Bike 2016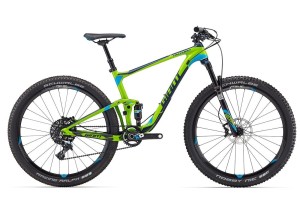 Price: $5 200
Along with being a versatile and gorgeous bike, Giant Anthem 27.5 is a race oriented bike. The Giant Anthem 27.5 has a super light Advanced-grade composite full suspension main frame and an ALUXX SL aluminum rear triangle. It also has an award-winning Maestro Suspension-engineered especially for 27.5 wheels and 120mm of suspension travel.
The Anthem Advanced SX has a race-ready SRAM X01 1×11 set-up which includes SRAM X01 trigger shifters, SRAM X01 Type 2 rear derailleur, and SRAM X01 crankset. It also comes with SRAM Guide RS hydraulic disc brakes, RockShox Monarch RT DebonAir rear suspension, and RockShox Revelation RL fork with 120mm of travel.
Most Expensive Mountain Bikes in Collector Versions – Top 3
1) 24K GOLD EXTREME MOUNTAIN BIKE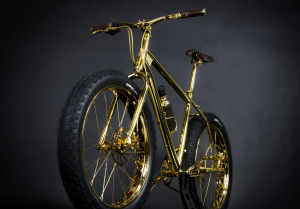 Price: $500 000
Named the "The Beverly Hills Edition", is an extreme mountain bike, handmade and superimposed with pure 24K gold using the electroplating. Only 13 gold extreme bikes will be manufactured. The bike is embellished with over 600 Black Diamonds (6.0 carats in total) and 500 Golden Sapphires (4.5 carats in total) and the customized seat is of alligator skin. This is the most expensive mountain bikes in collector version.
2) Trek Yoshitomo Nara Speed Concept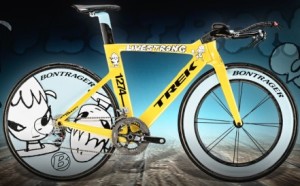 Price: $200 000
Yoshitomo Nara created this bike incorporating his signature features and Livestrong logo in 2009 along with Nike. A work of art, it was later sold at an auction for charity.
3) Auramania Crystal Edition Gold Bike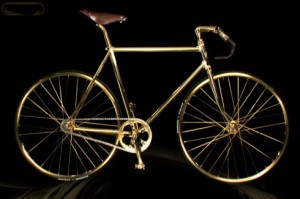 Price: $85 000
Swedish manufacturer Aurumania's offers this bike that is gold-plated, handmade and embellished with more than 600 fine Swarovski crystals and with moulded leather saddle and handlebar grips.
Hope you have got a good picture of the most expensive mountain bikes and brands. Want to read about the best recumbent bikes available in the market. Read the below article.