The scent of a woman is a very powerful phenomenon. It becomes her identity, her characteristic, and her soul. In the past, women of royal bearings were bathed in perfumed water by adding flowers and its essences. Over time, fashion trends have changed in clothing, accessories, hair styles and even footwear. Though most expensive women's perfume is not popularly known, the perfumes have always remained as the most essential commodity in a lady's handbag.
For anyone who knows a thing or two about perfumes, would swear by Coco Chanel, the French mistress of fashion and perfumery. Chanel No 5 has always been a constant in every girl's dream of must-haves in their possession. However, the most expensive women's perfume is something not as popularly known, but of the most exquisite scents, and of course, the price tag. In turn, prices are estimated depending on designs of the bottles and the rare ingredients used to produce these exquisite perfumes. Also, as opposed to choosing a bottle of fragrance, more luxurious scents are bought by the ounce.
Most Expensive Women's Perfume – Top 10
Now, let's have a look at the top 10 Most Expensive Women's Perfume.
10. Shalini Perfume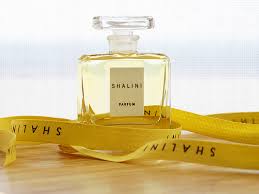 Shalini by Shalini is a Floral fragrance for women. This fragrance was composed by Maurice Roucel, an award winning master perfumer. Top note is neroli; middle notes are tuberose and tiare flower; base notes are sandalwood and musk. Shaline Perfume Price is $900 for a 2.2 oz bottle.
9.  Hermes 24 Faubourg
This perfume of light, composed by Maurice Roucel in 1995, is a Hermès signature right down to its bottle. Packed in square glass, it is gently curved with a sense of movement, like a breeze blowing through silk. Top redolence of brilliant white flowers, matched by a floral heart, are enveloped in iris,wood and mystery. Vanilla and ambergris lend the tone to its afternote.It costs around $ 1500.
8.  Annick Goutal Eau d'Hadrin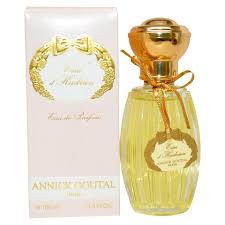 A universal perfume inspired by a Tuscany landscape, Eau d'Hadrien is Annick Goutal's deep passion for Italy. Its fragrance is mostly citrus because of the mixture of lemon, mandarin orange, Sicilian lemon, cypress, and grapefruit although it has a hint of floral thanks to the ylang ylang extracts. It costs $1700.
7.  Baccarat Les Lams Sarees de Thebes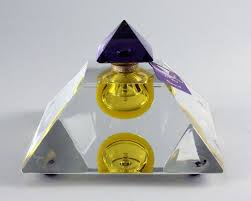 With Jasmine, Sandalwood, Musk and Ylang Ylang and Myrrh, it has a touch of the sacred. It feels mysterious and precious but still incredibly sensual. It costs $1700.
6.  Chanel grand extrait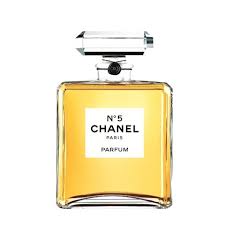 Its fabled heritage and abstract, eternally sensual bouquet are further elevated by its grand presentation — the classic faceted bottle, secured by means of baudruchage, a masterful sealing technique perfected by CHANEL. It costs $1850.
5.  Caron Poivre
It was launched in 1954 and the nose behind this hot spicy pepper note is Michel Morsetti. Its fragrance is  backed up by a typically Caronrich floral heart, and woody base. It costs $2000.
4. Clive Christian No 1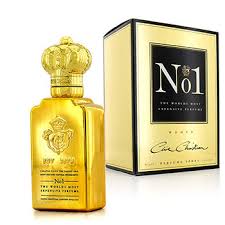 Per ounce, the most expensive perfume is Clive Christian No 1 for women that cost around $2,355 for a 30ml bottle. A floral-oriental fragrance with top notes of pineapple, plum, mirabelle, bergamot, lemon, and cardamom. Middle notes of rose, jasmine, ylang ylang, orris, and orchid. Base notes of vanilla, tonka seeds, cedarwood, sandalwood, and musk amber.
3.  The Royalé Dream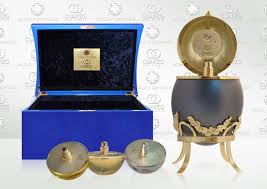 Last year, the most expensive perfume collection was launched in Singapore, at the Singapore Grand Prix 2015. Created by World of Diamonds, one of the largest privately-held diamond corporations and Cuarzo The Circle launched The Royalé Dream which was valued at $140,000. This is one of the most expensive women's perfume.
2. Clive Christian No 1 Imperial Majesty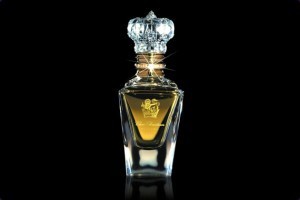 It was created in 2005 by Clive Christian unveiled the Imperial Majesty perfume, a 10-bottle, limited-edition collection priced at $205,000 per 500ml. The perfume made it to the Guinness Book of World Records as the most costly perfume on the planet. IT was presented in a Baccarat crystal flacon, and decorated with a five-carat white diamond and an 18-carat gold collar. The price also included delivery in a Bentley!
1. DKNY Golden Delicious fragrance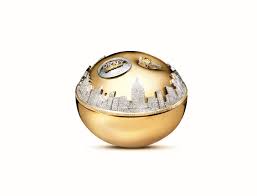 The most expensive women's perfume is the DKNY Golden Delicious fragrance. The cost is in its bottle, however, which is a staggering $1 million. The apple-formed, gem-studded piece of art is adorned with 2,909 precious stones sourced from all around the globe.
They are – a 14-karat yellow and white gold and contains 183 yellow sapphires, 2,700 white precious stones, a 1.6-carat turquoise Paraiba tourmaline from Brazil, a 7.18-carat oval Cabochon sapphire from Sri Lanka, 15 pink jewels from Australia, 4-rose cut precious stones, a 3.07-carat oval cut ruby, a 4.03-carat pear shape rose cut jewel, and a 2.43-carat perfect clear yellow Canary precious stone embellishing the cap.
What is more stunning than the collection of gems, is its display on the bottles – a recreation of the New York City skyline. It took nearly 1,500 hours to complete. The fragrance within, was described as a "radiant modern spirit with the contrast of glistening florals and delicious heat." The scent is a concoction of Orange Flower Water, sparkling Mirabelle and signature Golden DKNY Golden Delicious embraces a radiant modern spirit with the contrast of glistening florals and delicious heat. The top is a refreshing medley of Orange Flower Water, sparkling Mirabelle and signature Golden Delicious Apple as well as White Rose, Casablanca Lily, Vanilla Orchid, Muget, Musk, Sandalwood and Teakwood.
The diamond-encrusted bottle comprised of a palladium-plated, lambskin-lined ostrich egg designed to hold one of three artfully adorned perfume bottles, as well as a lambskin pillow fitted with a blue diamond ring (included in the collection). Of the three, Celestial was for women which was a floral scent.