The history of Food Trucks dates back to the old days when they were used to sell bland coffee and plastic-wrapped snacks like sandwiches to factory workers who wanted something cheap and quick. The food truck industry has grown significantly over the last five years and is one of the most successful segments in the food-service area. The food service industry is undergoing massive changes, from the increasingly popular open concept kitchens, to food manufacturers in Melbourne catering entirely towards QSRs and food trucks, making it easier for anyone to get started in this industry.
The rise of food trucks began in 2008 when the recession hit because new vendors identified the change in customer preferences in favor of affordable gourmet food. The mobile eateries are highly popular today and the most profitable food trucks feature a wide variety of offerings from freshly acquired seafood and vegan sandwiches to side dishes, burgers, and desserts.
According to reports, food truck industry sales are growing at about 15 percent per year which is quite high in comparison to the 5 percent annual growth of casual dining segment. The mobile restaurants are much more convenient and affordable than an established restaurant. The future of this industry is bright due to growing incomes and customer preferences inclining towards gourmet and healthy cuisine.
Top 10 – Most Profitable Food Trucks – 2018
Here are the top ten most profitable food trucks ranked in increasing order of their annual 'Gross Revenues'.
10. Kogi 
Annual Sales – $435,000
Los Angeles based food truck company, Kogi was founded by Roy Choi, known as the godfather of the food truck movement. It was in 2008 that the trained chef decided to take his Korean-Mexican fusion food to the streets.
His beef short rib taco with 21 ingredients special sauce instantly got popular as his signature dish. The business soon expanded from one truck, which was declared to be the 'America's First Viral Eatery' to a food truck empire with five trucks and four established restaurants.
9. Ms. Cheezious
Annual Sales – $470,000
The owners of this Miami based food truck company have proved that grilled cheese is the king of comfort foods. The first food truck of Ms. Cheezious was started in 2010 featuring a modern take on the classic grilled cheese sandwich. Dishes include BBQ pulled pork melt and grilled blue and bacon.
Its famous dessert item is s'mores melt containing salted chocolate, roasted marshmallows, graham cracker crumble and hazelnut spread on sourdough bread. The brand today owns two restaurants and two food trucks in Coral Gables and Miami.
8. Oink And Moo BBQ
Annual Sales – $580,000 
The popular barbecue truck has grown into a group of trucks and a brick and mortar restaurant. Located in Philadelphia and New Jersey, the food trucks feature built-in smokers to allow fresh on-site food delivery.
Chicken, pork, beef, and brisket are transformed into delicious barbecue-based meals like pulled pork sliders, chicken and pulled pork tacos, baby-back ribs served with cornbread. The food truck brand has won many awards right since its beginning.
7. Two For The Road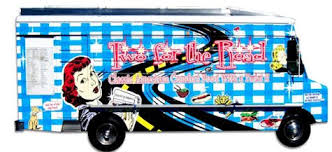 Annual Sales – $610,000
The San Diego based food truck focuses on American comfort food with a twist. It was ranked second on the list of 101 best food trucks by Daily Meal in 2015. Co-owner of Two for the Road brand, Roberto, is a trained chef who believes in standing out from the rest.
They offer a rotating menu to be able to bring all the special dishes for customers. They offer special burgers, corn dogs and hot dogs and every week, they make regional specials such as Miami Mojito Chicken Sandwiches, New England Lobster Rolls, and Seattle Salmon Burgers. The truck also has a selection of retro and unique chips and sodas to go with the menu. Their focus is on fresh ingredients delivering authentic recipes from across the world.
6. Grilled Cheeserie
Annual Sales – $635,000
Established in 2010, the Music City food truck has been voted as the Best Food Truck for 4 consecutive years in the Nashville Scene's Readers' Poll. The Nashville food truck, Grilled Cheeserie, serves gourmet grilled cheese and treats inspired by seasonal local ingredients.
Their menu contains specialty melts like B&B of Tennessee and the Pimento Mac & Cheese. Customers are allowed to create their own dish by choosing different ingredients and cheese. The brand has opened up their first brick-and-mortar restaurant in suburban Nashville that offers an extensive menu of grilled cheese melts and milkshakes.
5. The Taco Truck
Annual Sales – $680,000
The food truck was started in Hoboken, New Jersey by co-owners Chris Viola and Jason Scott. The Taco Truck food truck sells authentic Mexican street food including Aguacate tacos, Al Pastor tacos, Barbacoa Burrito and others.
The two had taken inspiration from Mexican chefs to design the new menu. The food truck serves customers across New Jersey, New York, Connecticut and Pennsylvania. They are among the most profitable Food Trucks and own four established restaurants in New Jersey, Hoboken, Morristown, and Princeton.
This service was unfortunately shut down this year, leaving loyal customers very disappointed. At its peak, this was the most popular food truck in New York.
4. Mac Mart Truck
Annual Sales – $729,000
Started in 2013 on the Drexel University campus in Philadelphia by Marti Lieberman. Mac Mart Truck features Lieberman's classic seven-cheese mac topped with potato chip panko crunch, Crabby Mac and BBQ in a Bowl among other dishes. The food truck also offers Return of the Mac – a classic mac sandwiched between two buttered slices of Texas toast and melted American cheese.
The growing demand for her mac and cheese dishes resulted in the brick and mortar restaurant in Philadelphia. This location offers all the dishes from the food truck and a dozen or more toppings to be mixed.
3. The Cow And Curd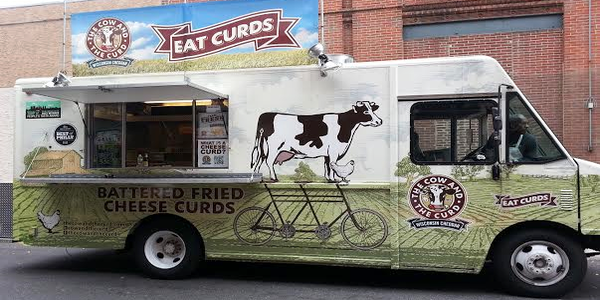 Annual Sales – $740,000
Though Philadelphia is famous for cheesesteaks, locals have started loving fried cheese curds, a Midwestern staple due to The Cow and the Curd food trucks. After a teaching career of 16 years, Robert Mitchell, the founder of this food truck decided to get a change. He realized that he liked food business but was in search of a unique concept. Mitchells' wife had been brought up in Midwest and suggested him cheese curds.
Curds are the primary form of cheese and curds can be eaten in unprocessed form. They can be battered, fried and eaten with sauce and this is what the food truck sells. A classic cheese curd costs $8 at The Cow and Curd truck and comes with three dips – smoked ketchup, chipotle ranch and sriracha mayo. The first truck was started in 2013 and another was added to the line next year in Philadelphia. After this, Mitchell started selling to restaurants and bars and finally, the food truck grew into a wholesale distribution business that introduced the entire country to cheese curds.
2. Cinnamon Snail
Annual Sales – $895,000
The popular and one of the most profitable Food Trucks – Cinnamon Snail was established at Penn Station in New York City intends to make vegan food exciting. The co-founder, Adam Sobel, worked as a chef at vegan restaurants for years and decided to start his own food truck in 2010 to entice those who never even tried vegan food.
Cinnamon Snail food truck sells delicious sandwiches, bowls and burgers and a fabulous range of over 30 vegan pastries and donuts. The food truck can be seen at many different spots in New Jersey and New York. More restaurants and food trucks are to be opened in coming years in NYC.
1. Fukuburger Truck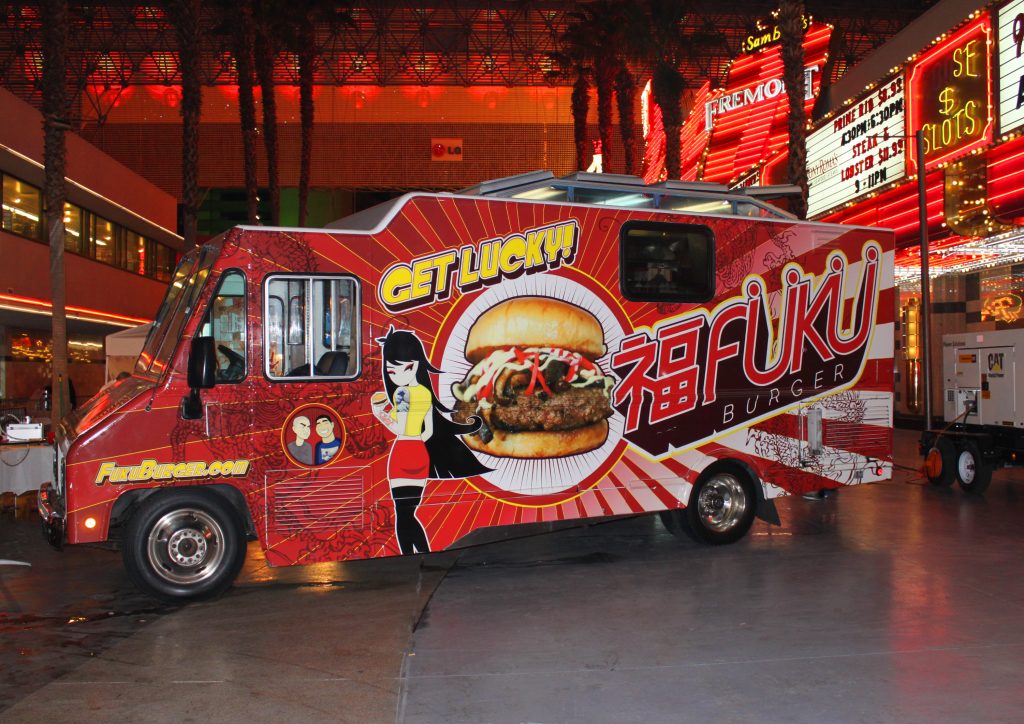 Annual Sales – $1,060,000
The Las Vegas-based food truck is named after the last name of its co-owner, Colin Fukunaga, who grew up flipping burgers at his grandfather's sandwich shop. He was in search of a gig when his mother suggested him to follow the taco trucks trend growing in Los Angeles.
Though Fukunaga had no interest in tacos, he was impressed by the idea of bringing the fusion of West Coast burgers and Japanese flavors to the streets. He opened his first food truck in 2010 in Las Vegas, offering burgers with special toppings such as pickled red ginger, wasabi mayonnaise, and his secret 'crack sauce'. After huge success and popularity of the Fukuburger Truck, Fukunaga opened a brick and mortar establishment in the Chinatown district.
These are few of the most popular and most profitable Food Trucks from across the world right now. We can expect many more in this line as food trucks are on trend right now!