After the World Cup ended we've had friendlies at stupid o'clock to watch, these are getting minimal coverage and it is basically to have a look at our new signings. Some teams are doing better than others and there's been a lot of transfers going on. I can't wait for the Premier League season to start again, I think it'll be even better than the awesomeness that was last season.
Here's my predictions for the league table come the end of the season. I'm no football expert so this isn't written in stone, it may even be completely inaccurate.
20. Burnley FC
Burnley did well to only lose 5 out of 46 games in the Championship last season but I think they will struggle to adapt to the Premier League. They've signed a bunch of players but I doubt it will be enough to save them from the brutality of the Premier League.
19. Queens Park Rangers
QPR have had a nightmare, they've released 14 players and have only recruited 3 so far. Granted those 3 are Rio Ferdinand, Ravel Morrison and Steven Caulker, they won't be able to keep QPR out of relegation.
18. West Ham United
They only just managed to save their skin from relegation last season, Big Sam's team have lost every game bar one in their pre-season friendlies and it looks inevitable that they'll fall harder when the Premier League comes around. They've lost a key player in Andy Carroll to injury and it will be difficult to score goals without him. They made a good signing in Enner Valencia but a bad playstyle by Allardyce accompanied by a lacklustre overall team isn't enough.
17. Leicester City FC
They did really well to come first in the Championship last season but after selling more players they've bought, they won't have the stamina to keep up with teams who can field their reserves and still have a good chance of winning. They need some big signings to give their fans and themselves hope.
16. West Bromwich Albion
West Brom have made some brilliant signings, taking Andre Wisdom on loan, securing the services of Brown Ideye and even the highly praised Joleon Lescott. They've done good business but under a new manager, they will take time to become a real force. If the manager gets time to implement his ideas and continues to make great signings then we will see West Brom go higher up the table as more seasons pass.
15. Stoke FC
I think Stoke are hoping to stay around the same that they were last season as they finished 9th but they've gone about it the wrong way. They've brought in 4 new players, sold one and sent 3 out on loan. You just have to do more business, teams adapt and improve but I fear Stoke will be too predictable. This combined with the age of their most talented players will see them slip down the board.
14. Southampton FC
I think it is fair to say that Southampton have been completely raided, there was nothing the owner/manager could do as loads of big teams swooped in to buy their best players. They've departed with 11 players and brought in just 3. Most of the players who left were clearly their best players and the ones brought in don't look too promising. It'll be a dark period for Southampton next season.
13. Sunderland
They looked 100% certain to be relegated last season but Sunderland have been in great form and there's a great confidence around them now. They managed to draw with Manchester City, destroy Cardiff, beat Chelsea and then beat Manchester United towards the end of the season. They used to be a team that would be regarded as an easy 3 points but now they've proven their point and I think they'll continue to do so.
12. Aston Villa FC
I'm looking at an improvement from last seasons 15th place finish for Aston Villa. They've departed with 2 players and sent a fair few out on loan but they've signed some good players like Joe Cole and Philippe Senderos. Their main man Benteke will no doubt be looking to fire in some goals and it is looking good for Aston Villa at the moment.
11. Hull FC
The cup run they enjoyed will have hampered their stamina last season and I have a good feeling they will improve on their 16th place finish last time. They had trouble scoring goals (38 in the entire season) but now that they've signed Robert Snodgrass and Tom Ince, I can't see why they won't be a team to watch this season.
10. Crystal Palace FC
Crystal Palace are now a fierce team with a hopeful future ahead of them. Revitalised under Tony Pulis, they managed to go from 20th to 11th in just a few months. Despite signing Frazier Campbell they have failed to impress in the transfer market and I expect this season to be another building season for Pulis to put his ideas into place. Palace fans will be looking forward to seeing their team cement  a place in the top 10 in seasons to come.
9. Swansea City
The Welsh boys didn't live up to their standards by finished 12th last season but with some good signings in Lukasz Fabianski and Gylfi Sigurdsson will see them challenge for the top 10 again.
8. Tottenham Hotspur
Tottenham haven't been the same since Gareth Bale left, he left a gap that hasn't been filled by the huge amount of signings brought in last season. This season they've only managed 3, granted they're not bad but it's just not enough to rival their opponents. I expect a fall of 3 places for Spurs as their rivals grow while they stay the same.
7. Newcastle United
They started the season strong last time but they fell towards the end and frustration grew. Alan Pardew has repaid the faith provided by the fans and brought in some great signings. Jack Colback, Daryl Janmaat and Remy Cabella will help push Newcastle up the table, closer to where they used to be so comfortable.
6. Everton
Everton now have a frightening starting 11 after the signings of Muhamed Besic, Gareth Barry and even Romelu Lukaku. Two of those three were on loan to them last season where they finished 5th and although they have a very good team, they will struggle against the better teams which is where they will drop points.
5. Liverpool
It pains me to say it as a Liverpool fan but I can't see us securing top 4 this season. With the departure of Luis Suarez we need another top striker, we've secured Rickie Lambert but he's just not good enough to fill the void and Sturridge can't do it on his own. We've got some great signings in Markovic, Lallana and Lovren but with 3 different cups as well as the league to compete in, I'll be surprised if this season turns out to be a memorable one. I have faith in Rodgers though and I know he won't disappoint us (Falcao please).
(I'm going to completely ignore our away and 3rd kits)
4. Arsenal
The Gunners are starting to look very, very scary. They made a huge signing in Mesut Ozil last season and fared really well (spending the most amount of days at 1st position out of anyone in the league) until injuries plagued them. They've parted ways with Bacary Sagna which is a blow but that won't matter after signing Alexis Sanchez. A front setup of Ozil, Ramsey, Giroud and Sanchez will propel them far into a cup run and allow them to make a stronger bid for the title.
3. Manchester United
After a horrendous (to say the least) season by their standards, the Red Devils seem to be back. They've parted ways with many of their iconic players like Vidic, Giggs, Ferdinand and Evra but they've replaced them with Ander Herrera and Luke Shaw who have impressed so far. They've won all of their pre-season games, beating the likes of LA Galaxy, AS Roma, Inter Milan, Liverpool and even Real Madrid. United fans were a laughing stock last season but I think it'll be their time to laugh at us once again.
2. Manchester City
They haven't done much business in the transfer market but who can blame them? They won the title last season and they already have two strong starting 11s so all they can do is work to improve what they already have. I'm expecting a repeat of last season, good bid for the title, good cup run and a failure in Europe.
1. Chelsea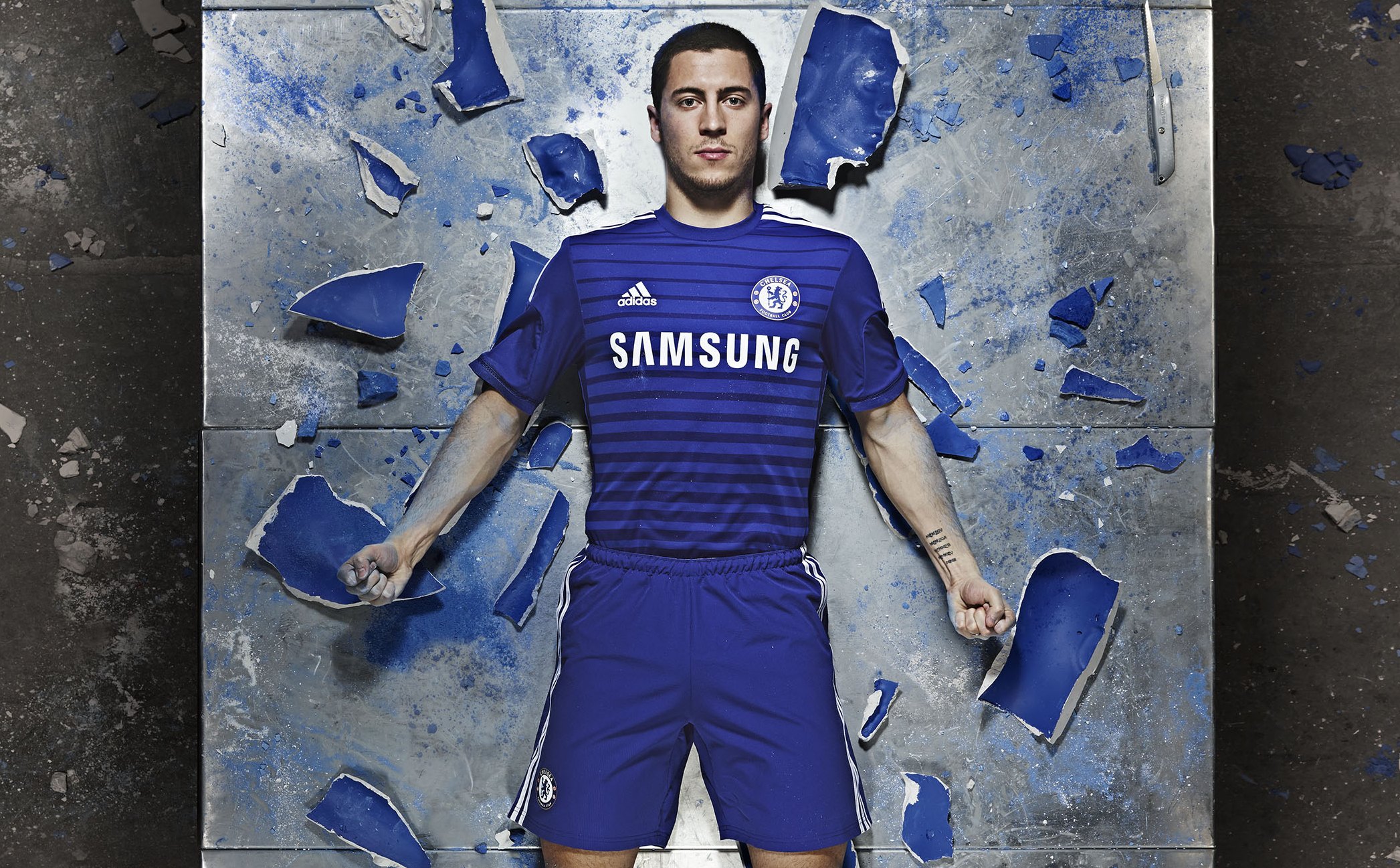 We might as well just hand them the Premier League title right now. Jose Mourinho has done some amazing business to shape a seemingly perfect squad. He said himself that last season wasn't meant to be a title challenge and it was a building season whereas this season is where they make the charge. With just Demba Ba, Fernando Torres, Andre Schurrle and Samuel Eto'o to lead their attack last season, it was difficult for them to score lots of goals. Now they've signed Diego Costa (top scorer of La Liga last season and La Liga winner), Didier Drogba (needs no introduction) with Cesc Fabregas backing them up. Mix these in with the huge amount of players with experience on the European stage as well as International and you have a title winning team.
Just look at two of their starting 11s
GK – Petr Cech
DL – Cesar Azpilicueta
DC – John Terry
DC – Gary Cahill
DR – Branislav Ivanovic
MC –  Nemanja Matic
MC – Cesc Fabregas
AC – Oscar
WL – Eden Hazard
WR – Willian
FC – Diego Costa
Or
GK – Thibaut Courtois
DL – Filipe Luis
DC – Kurt Zouma
DR – Nathan Ake
MC –  Ramires
DM – John Obi Mikel
MC –  Marco van Ginkel
WL – Mohamed Salah
WR – Andre Schurrle 
FC – Didier Drogba
FC – Fernando Torres
Scary I know.
Hope you enjoyed reading, I think any of the top 4 could be replaced with eachother and the same goes for 4th-6th.