TOP 10 BEST LIVERPOOL PLAYERS OF THE 21ST CENTURY
Although we've never won it, Liverpool have come close to the league title on two occasions so far this century. We've had a lot of talent come through our ranks, some left in search of trophies and others simply retired, it's hard to put the many great players into a list of the top 10 best but I believe I have done it.
10. PHILIPPE COUTINHO
The young Brazilian has turned out to be a master signing by Brendan Rodgers. At just 21 years of age, he's adjusted so well to the Premier League that his passes can work his way through nearly any defence. He can score goals, in big games too, as shown here. He's not topping any stat tables just yet though, but as he gets more experience he'll definitely be someone to watch out for.
9. RAHEEM STERLING
Another youngster who is showing immense potential. His blistering pace and control is a joy to watch, he always lurks in and around the box, sneaking in goals and providing assists. His performances has earned him 4 caps for England so far and he's only 19 years old. He's currently the16th most valuable player in the world, you can clearly see the potential there. Hopefully Real Madrid don't walk into Merseyside with £50,000,000.
8. LUIS GARCIA
After a less than successful spell at Barcelona, Luis Garcia made his way to Liverpool thanks to Rafa Benitez. He wasn't a prolific goalscorer but his ability made him a threat in every game he played. He scored some great goals, such as this beauty against Juventus and the famous "ghost goal" against Chelsea. He'll always be remembered in a good way to all Liverpool fans.
7. DANIEL STURRIDGE
I'm not quite sure how Sturridge has turned into the goal machine he currently is, it may be down to Rodgers but there's no denying he's stepped up his game massively. He disappointed at Manchester City and then Chelsea but at Liverpool he's been an absolute boss, scoring 31 goals in just 43 games (in comparison, Fernando Torres has scored 20 goals in 110 games for Chelsea). He's also a youngster, 24 years old so he has a lot to learn. If he stays with us, he'll be a massive part of Liverpool's attempts to get trophies.
6. PEPE REINA
He fell out of place recently, being replaced by Simon Mignolet and sent out on loan but Pepe's service to the club can't be ignored. There has been so many times that Reina has saved us points, he was the first goalkeeper to ever save a penalty from Balotelli and has finished 3rd in the Italian league with Napoli. He's easily the best goalkeeper we've had this century and among the top 3 at least for all time.
5. SAMI HYYPIA
A complete beast at the heart of defence, Hyypia is well known to all Liverpool fans and he should be after playing 318 league games. It's hard to describe his feats, he never did anything incredible, he was just really good at what he did. He scored 22 league goals and as a defender, that's very good. Every time he had the ball, or was in a one on one situation you felt comfortable watching it, which is more than can be said about our current defenders.
4. XABI ALONSO
Not a day goes by that all Kopites hope for the return of Xabi Alonso. He's won the World Cup and two Euros with Spain, Champions League and FA Cup with Liverpool and the La Liga, two Copa del Reys and another Champions League with Real Madrid too. There's no doubting his talent, he's scored a few amazing goals and lets not forget that penalty in the Champions League final. We're glad that he went to Real Madrid, he's shined there.
3. JAMIE CARRAGHER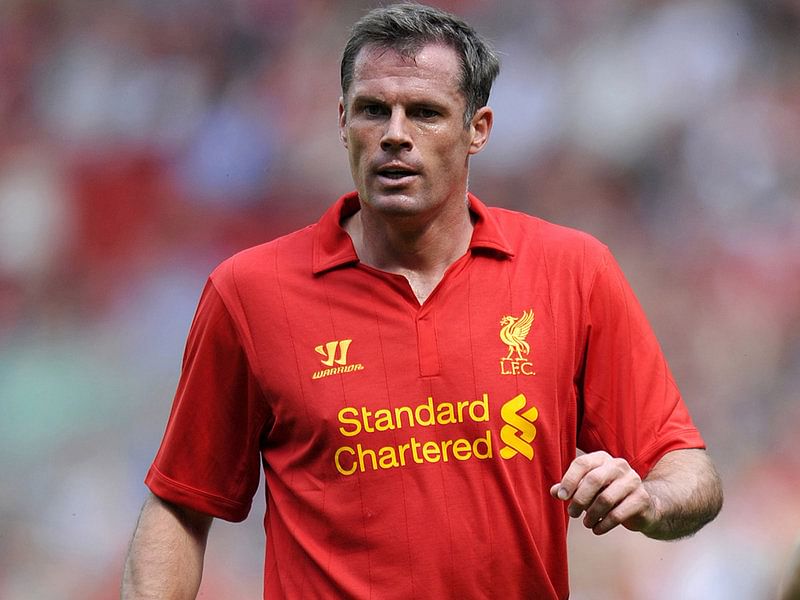 My favourite player of all time, not a single Liverpool fan can look at him and think he wasn't a huge asset. His feats in Istanbul can't be forgotten, even with cramp in his leg, he was defending better than anything the world has ever seen, holding off what was definitely the best football club in the world at the time. Not only was he a great defender, he was a leader, he controlled the back four and made sure everyone was organised. He's certainly missed, Liverpool's defense have cost us dearly recently. With 508 games over 17 years under his belt, he's certainly a true Kopite.
2. STEVEN GERRARD
There's no way you can explain what Gerrard means to Liverpool, to football as a whole without writing thousands of words. Captain of England, captain of Liverpool, his glistening career will go down as the best in Liverpool history. He's scored 111 goals in 475 games, he was the highest assisting player last season even at the age of 33. He's received an MBE because of his feats, got close to winning the Ballon D'or but the best thing is his passes and shooting. There has been few better passers, just watch this. As for his shooting, there's too many amazing goals to mention so I'll just leave this here.
1. LUIS SUAREZ
There's not much I can say that's not already been said here. He's a genius, an immense striker and he could nutmeg a mermaid. He's scored 69 goals in 110 games for Liverpool and 81 in 110 games for Ajax before that. He's the best striker in the world, the third most valuable player in the world and he's easily the best player for Liverpool this century.
So there we have it, let me remind you this is completely in my opinion but with statistics taken into account. If you don't agree then let me know.
List by Ryan