Unfortunately, as we all know, Steven Gerrard will be leaving Liverpool at the end of the season. The legendary captain is off to America to win some trophies but before he goes, he'll be staging a testimonial game that will pit some of the Liverpool's greatest players of the century against eachother. A line up has been confirmed and here it is for you to see.
Goalkeeper: Pepe Reina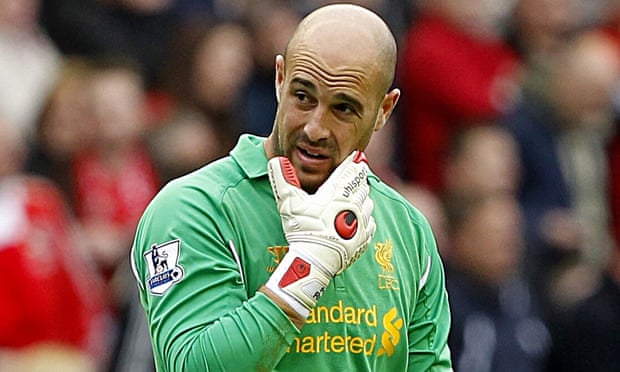 The Spaniard made 394 appearances for the Reds, earning 3 trophies (4 including the Community Shield). Pepe currently plays for German giants Bayern Munich, although he hasn't made a single appearance yet.
Right Back: Glen Johnson
Once one of the most sought after right backs in Europe, Johnson has dipped in form considerably but is a good friend of Stevie G's and has been an excellent servant to Liverpool. A lot of Liverpool fans are quick to write him off but he deserves a lot of respect and admiration.
Centre Back: Jamie Carragher
Who would have thought an ex-Evertonian would end up being a true Liverpool legend? Carra has been an inspiration to young defenders over the world, combining strength, timing and endurance with leadership and loyalty. His heroics at Istanbul were paramount to Liverpool's hopes of a 5th European title. Great friend of Gerrard's and we can't wait to see him playing again. He is 2nd on Liverpool's all-time appearances list.
Centre Back: Sami Hyypia
Sami Hyypia formed a solid partnership with Jamie Carragher that lasted a decade. Tough tackling and an eye for goal, he's adored by Liverpool fans and will receive a very warm welcome.
Left Back: John Arne Riise
Renowned for his unstoppable thunderbolts, Riise was a great left back for Liverpool, even providing an assist in the Champions League final. He played over 300 games for the Reds, earning 5 trophies (7 including Community Shields).
Midfielder: Xabi Alonso
It's not easy to be a regular in the Spain team with the likes of Iniesta and Xavi around but Alonso has held his own. It's no secret that he's still a huge Liverpool fan and he's still great friends with Gerrard. Still loved by Liverpool fans, he'll relish the chance to return to Anfield.
Midfielder: Javier Mascherano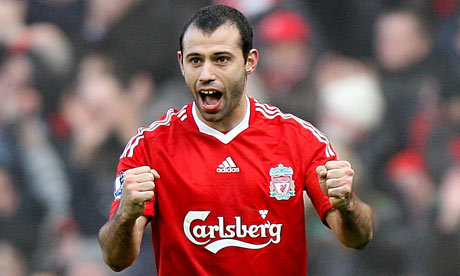 A great, versatile defender/defensive midfielder like Mascherano worked his way up from West Ham to Barcelona. He's had a wonderful career but unfortunately he cannot look back at his time with Liverpool as a great success as he lost a Champions League final. However, the Argentinian is a huge talent and very welcome here in Liverpool.
Midfielder: Steven Gerrard
The main man, will be sad to see him leave. We can all be happy knowing we witnessed the entire career of the greatest player of one of the greatest football teams in history. Stevie G has won countless individual awards and has pretty much single handedly dragged his side to trophies, such as his heroics in the FA Cup win over West Ham.
Forward: Luis Suarez
Not many things I can say that haven't been said here. The man is a genius, nearly broke the record for most goals scored in a 38 game Premier League season, earned a £75,000,000 move to Barcelona and even proved himself in the World Cup. He's still playing well and hopefully we can see some magic in this game.
Forward: Fernando Torres
At Liverpool, this man was unstoppable, scoring at will and slowly becoming one of the greatest to grace the shirt. This was until he left for a rival, Liverpool fans still love him deep down and will welcome his return but even though he did win a lot of trophies, I doubt he can say he didn't regret leaving. We can't wait to see him finally pair up with
Forward: Robbie Fowler
Nicknamed 'God' by Liverpool fans and for good reason, Fowler is the 6th highest Premier League goalscorer. A local lad and a living Liverpool legend, he'll be welcomed as such when he plays.