Boys grow up and replace their toys with real cars that can impress beautiful girls whom, by the way, nothing gets your romance compass high as Strong American Muscle Cars. Of course, it's very hurtful when the excellent cars are forgotten over time.
There is no philosophy, no conspiracy, these are just severe laws of the market. You can find such cars in different categories, but today, it is about amazing and brutal muscle cars. Some of them have a huge head start over many modern cars even in a disassembled condition.
Top 10 Underrated American Muscle Cars
1. Mercury Marauder
Period:1964-1965, 1969-1970, 2003-2004
Mercury Marauder had three completely different generations. However, every car was distinguished by one common thread, by caution. This is the most cautious car in the history of the muscle cars ever. The first two generations were designed with a V8 engine, while the last one had a nearly identical engine as the 2003 Mustang. The 1964 Marauder was powered by the Ford FE series V8 engines and it came in 3 and 4-speed manual as well as 3-speed automatic transmission options. The second generation Marauder was repackaged to make a personal luxury car by sharing the interior trim and front sheetmetal with the Mercury Marquis.
The famous muscle car was revived after a break of 33 years in the form of a full-sized four-door sedan. The appearance of the 2003 Marauder was based on the monochromatic theme from the 1990s. It featured a more powerful engine than the Marquis.
2. Pontiac 2+2
Period:1964-1967
2+2 had begun its life as one of the variations of Pontiac Catalina before it became an independent car. This version of the car was much bigger than its famous younger brother GTO. This giant dominated the car market for a short time, and 375 horsepower in addition to a V8 engine impressed potential buyers. It featured 421 cu engine, heavy duty front springs, dual exhaust and its outer body trim appointments. Standard floor mounted 3-speed manual transmission and optional 3-speed automatic and 4-speed manual transmission were available along with the signature 3×2 Tri-Power configuration.
The model was available as a hardtop coupe and convertible and faux louvers on the fenders or quarter panels distinguished it from a Catalina. Other details included a metal trim running on the full length of the car along with the skirt and lower body line. The interior of Pontiac 2+2 was equipped with bucket seats. It came with the elegant dashboard from the Catalina and optional features included console-mounted vacuum gauge and tachometer.
3. Ford Torino Cobra
Period:1968-1971
Cobra was a powerful car aimed at street racing. The basic model was offered with a 302 block (5 l) and a mechanical three-speed gearbox, optionally with 390 (6.4 l) or 428 (7 l) blocks. Technically, this is the fastest member of the Torino family, which embodied the whole idea of the fast muscle cars.
Growing five inches in length and two in track width allowed this muscle car to gain a position among the very best cars in the segment. The reshaped sheetmetal appeared to be aero-inspired and the high performance made it so popular.
With exposed headlamps, blackout hood and other touches like fat Polyglas on seven inches wide Magnum 500 wheels, rear window slats, the muscle car gained popularity as a hot option around. Standard equipment included a Hurst-shifted, competition suspension with staggered rear shocks. The standard engine was the 10.5:1 compression 360-bhp while the 429 cobra jet Ram-Air was optional. Cobras managed to be quiet and comfortable and strong on the streets.
4. Dodge Dart Swinger/Demon/Sport 340
Period:1968-1976
Surprisingly, Dodge released all their "Dart" at the same time. For example, a super limited Hemi Darts was designed for legal street races. Dodge gave the world a series of long-livers, and also managed to do the impossible and to conquer the market, offering its variety of models. You could find cheap "popular" sedans with economical engines I6 as well as sports cars with fastback coupe and a V8 engine. It attracted a very wide circle of customers.
The Dart two-door hardtops were named as Swinger which came with changes like functional hood scoops with 340 emblems and front disc brakes. The performance model from Dodge was replaced with Demon 340 that came with optional hood scoops and blackout hood treatment. In 1973, the high-performance model underwent a name change and styling changes. The Dodge Sport featured the same new front ends while the taillights were modified to two lights per side each having a chrome trim ring. Later, the Sport came in 'Convertriple' option that included a fold-down rear seat/security panel and manually operated metal sunroof.
5.  Buick GNX
Period:1987
Going against the traditional muscle car formula, Buick created a muscle car in the 1980s defining the muscle cars of the era. The 276 horsepower GNX (Grand National Xperimental) was designed to make use of a turbocharged V6 with a glorious boost rather than the normal, big V8 in a medium-sized car. GNX was a nightmare for the Mustangs, Camaro, Corvettes that could not boast of a special speed in the 80s of the last century. Officially, "only" 276 horsepower was listed. The manufacturer claimed standing-start acceleration to 96 km/ h in 5.5 seconds, but on measurements of the magazine Car and Driver, the couple showed a much better result: 4.7 seconds and a quarter mile in 13.5 seconds.
Silver-grey Firemist and fiberglass spoilers added over the charcoal paintwork, each car came with options like tungsten halogen headlights, F41 Gran Touring suspension, heavy-duty transmission and engine cooling. The 3.8 liters cars featured a rear axle ratio of 3.03:1 while the 4.1 liters cars had a 3.23:1 ratio. Other custom touches like rocker panel, wheel arch moldings, styled aluminum wheels, blacked-out grille and others contributed to making this muscle car one of the best in the era. The interiors included leather-wrapped steering wheel, Lear Siegler seats, Grand National steering cluster and other items.
6. Chevrolet Biscayne 427
Period:1966, 1968-1969
This car had an excellent V8 engine, two doors, and was lightweight in comparison to other cars of its category, and this significantly increased the already excellent speed of the car with such a simple exterior. The Biscayne was 213.2 inches in length with a width of 79.6 inches and 54.4 inches height. It came in a choice of 15 solid colors with an additional three combo options in two-tones with the roof painted in complementing color to the body.
Moreover, three interior color options were available – red, blue and fawn. The muscle car featured standard Chevrolet 14x5J wheels with wider 8.25×14 bias-ply tires. The 427 engine was rated at 425hp at 5600 rpm and 460 lbs-ft of torque at 4000 rpm. Priced at under $450, the Biscayne transformed low-cost sedate sedan into a competitive drag racer.
7. Buick Wildcat
Period:1963-1970
This car was originally designed as an option motor on the legendary Invicta. As soon as it became an autonomous car, it was equipped with the smallest V8 engine that could be imagined. This car is nothing but a result of the period and historical events. Two of these motors could be put on a trolley, connected and used as a starter-gear. Though Wildcat featured the standard 325-hp 401 V-8 and 214.1-inch long body, it was equipped with sporty vinyl bucket seats, dual exhaust, center console enveloping transmission shift lever, special headliner, tachometer, trim and wheel covers and custom vinyl top and many other exciting features.
It was available in two-door hardtop, convertible and four-door hardtop options. It had plush but racy interior features. The budget-friendly muscle car series came in a variety of interior and exterior options including the base and trim. The later versions of Wildcat included new federally mandated safety equipment providing better occupant protection in case of collisions and accident avoidance features too.
8. Mercury Cyclone Spoiler
Period:1970-1971
Like many cars on this list, it was initially implied that this amazing car would be an improvement for the model called Comet. However, later, it was decided to create an independent and very original car, with 375 hp. and unique design. Initially, the noble audience was very surprised. However, over time, people became accustomed to the model and praised it to the rank of deity. The model was available in two packages – a white car with red interior and exterior trim and a white car with blue interior and trim.
A sleeker front section was added to make the car more aerodynamic. The muscle car was very successful on the racing circuit. It was based on the 2-door hardtop of Mercury Cyclone 'Sportsroof'. The standard inset grille and headlights were replaced with a nose that extended its length by around six inches and featured flush-mounted grille giving it a much more aerodynamic front end. The rocker panels were reshaped to and rolled to let the racers run the cars an inch closer to the ground.
9. AMC Matador Machine
Period: 1971-1972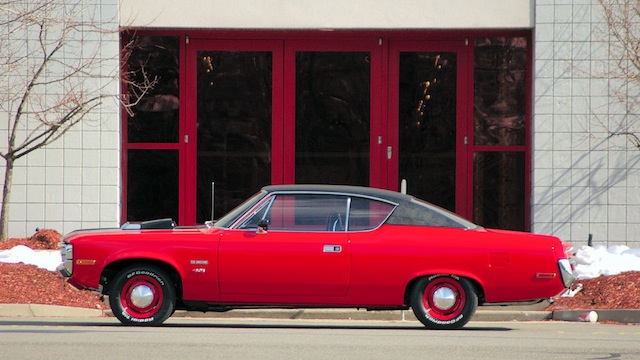 AMC Matador Machine was a mid-size muscle car created by AMC. 401 cubic inches were connected directly to the driver's soul through a manual gearbox, which ceased to exist in 1973. Everyone who has ever come across it, says exceptionally good things that do not lend themselves to technical characteristics, everything is to the touch.Matadors were featured in many television shows and films in the 70s. They were available as a two-door hardtop and four-door sedan and station wagon versions.
These models offered excellent value and were largely popular. The car was also offered in the form of taxicab, police and other packages. Military units, police departments, and government agencies used matador wagons and sedans with 360 cu in or 401 cu in V8 engines. The 'Go Package' Matador Machine produced in 1971 featured 15×7 inch slot styled steel wheels with white-lettered 'polyglass' belted tires, heavy-duty handling package, dual exhaust system, power disk brakes and a choice of the engine with three-speed automatic or four-speed manual transmission.
10. Ford Falcon Sprint
Period: 1964-1965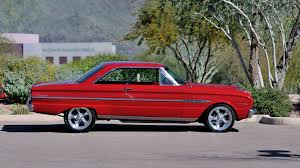 It began to lose dramatically in popularity as soon as the Mustang appeared on the market, re-writing all the achievements previously made by Falcon Sprint. Although this car was less expensive and had a V8 engine, buyers wanted a cult "Mustang." This compact muscle car was designed to offer a comparatively light curb weight while featuring a small and convenient interior and a lot of V-8 power. The 1964 Sprint is a convertible that features slightly larger dimensions than the Mustang. It was powered by the same 260 cu.in V-8 engine as the previous models.
The engine produced 164 horses at 4400 rpm with 258 lbs.ft. of torque at 2200 rpm. The 1964 and 1965 models of the muscle car are distinctly styled with a fresh, sculptured look complemented by dramatic, racy lines. Special door panels, a tachometer, a sports steering wheel along with center console and bucket seats make the interior of the two models. Safety and comfort options include a radio, a padded dash and visor, tinted glass, power steering and seat belts.
Above mentioned were few of the popular cars that dominated the market during their time but has long been forgotten. Share this nostalgia with friends by sharing it on Facebook and feel free to pin the above images on your favorite Pinterest boards.