Fallout 4 and the entire Fallout series is a first-person role play shooter game where you need to kill to survive. The Game of the Year award winner Fallout 4 is set in a barren wasteland known as the Commonwealth and you begin in this place with nothing but a meager 10 mm gun that can do very little damage and goes out of use very fast. As you make your way through this wasteland you need to have the appropriate weapons like the best Sniper Rifle Fallout 4 to survive and accomplish your missions.
The lonely yet beautiful scene of the Commonwealth is filled with an opposition of all kinds, from radroaches to raiders and many more. Often in the game, you'll be faced with a scenario where it is necessary to take out a large group of enemies but it's also pretty evident that if you go in all guns blazing, you're gonna be in for a bad ride.
This is where Sniper Rifles come into play. Snipers allow you to kill enemies from afar without revealing your location, or at least, giving you some time to flee in case the opposition is too much to handle.
10 Best Sniper Rifle Fallout 4
Snipers can be hard to find and it's even harder to recognize a good sniper from a bad one. This list will help you with that. Here is a list of the 10 best Sniper Rifle Fallout 4.
1. Gauss Rifle
Gauss Rifles are known for their extreme damage causing capabilities which are enhanced when the rifle is fully charged. The magnetic induction technology used in this rifle can prove devastating when paired with a Rank Five Rifleman perk or the Ninja perk.
As mentioned before, Gauss Rifles are known for their ability to cause damage and not for their accuracy so be prepared to miss a few shots. But if in the hand of a skilled marksman who knows how to use this machine, the Gauss Rifle can prove devastating for the enemy.
Stats
Fire Rate - 66

Range- 191

Damage- 110
2. Tinker Tom Special
The Tinker Tom Special, named after its maker and seller Mr. Tinker Tom, is mostly an ordinary sniper gun that you see and use in most games.
Until of course you activate the Stalker effect which increases VATS accuracy by 100% and almost guarantees a headshot even at long distances.
Stats
Fire Rate - 3

Range- 185

Damage- 37
3. Reba II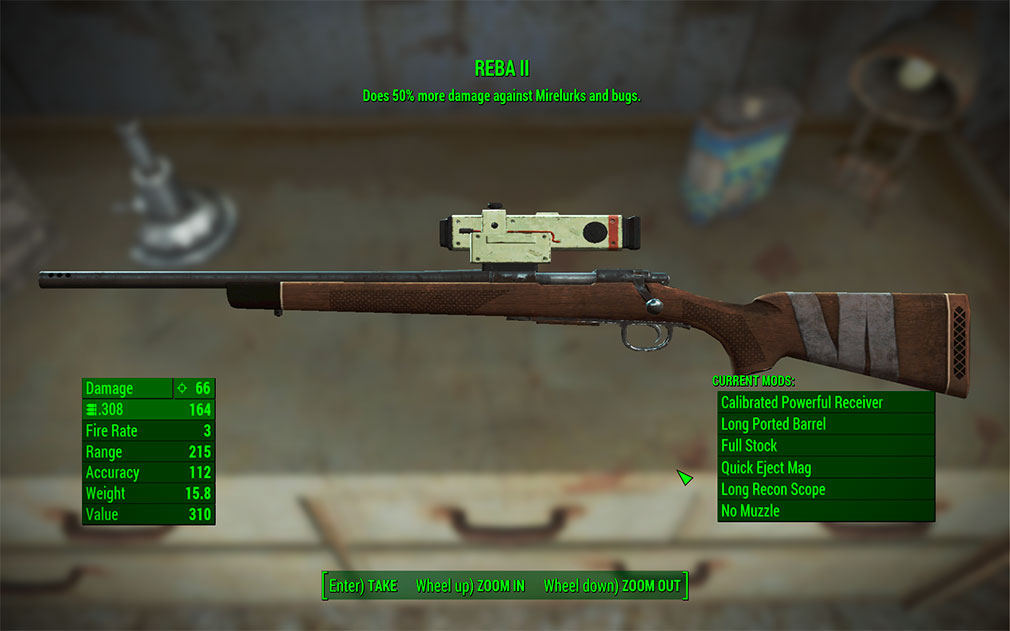 Reba II is a hunting rifle with a build that is similar to the Tinker Tom Special. What's different with the Reba II although is that it deals 50% extra damage to bugs and Mirelurks. Pest Control to be done right.
Stats
Fire Rate- 3

Range- 131

Damage- 37
4. The Last Minute
With the highest base damage level and one of the highest range levels across all snipers in the game, the Last Minute is a fantastic sniper rifle to have, especially since it deals 50% extra limb damage due to the Crippling effect contained by the rifle.
Stats
Fire Rate- 66

Range- 203

Damage- 192
5. The Problem Solver
The Problem Solver is a sniper rifle although it may look like an AK-47. In fact, it's one of the best sniper Rifle Fallout 4 out there with its ability to deal extra damage with every consecutive hit on the same target through the use of the perk 'Furious'. This means more damage and faster deaths.
And the looks on this thing make it nothing if not attractive. There is one caveat to acquiring this weapon, however. To add The Problem Solver to your arsenal you must have enough Charisma and you also need to pass Mason's quest known as An Ambitious Plan.
Stats
Fire Rate- 59

Range- 185

Damage- 57 (increases when Furious is used)
6. Hunting Rifle
A staple in any good marksman, the Hunting Rifle looks like an ordinary gun but is way more than that. With a great range and decent damage capability, this weapon works extremely well during the early and mid game after which modifications are required to have it be a weapon of good use.
This sniper rifle should be a prized possession in the early game and should be used often since it works well with enemies in the first half of the game.
Stats
Fire Rate- 3

Range- 131

Damage- 37
7. Overseer's Guardian
The Overseer's Guardian gives you more bang for your buck, literally. It shoots 2 projectile in place of one everytime the trigger is pushed with the ammunition only losing one bullet. This gives the rifle a heavy damage advantage.
Additional modifications make this a highly accurate weapon that can and has been proven deadly on the wastelands of the Commonwealth.
Stats
Fire Rate- 90

Range- 119

Damage- 55
8. Laser Gun
The Laser Gun is an energy weapon that can do a lot of damage to the opponent. One of the downsides to this kind of a weapon, however, is the slow fire rate. This means that the weapon takes time to reload and also takes a long time between hits.
Depending on the modification though, the range and accuracy of this rifle can be improved which would make it a valuable long-range weapon.
Stats
Fire Rate- 50

Range- 71

Damage- 24
9. Wazer Wifle
The Wazer Wifle, as the name hints at, is a laser weapon. It has a perk that gives it unlimited magazine capacity. Which basically means that you don't have to reload it as long as you have some ammunition left inside.
Different modifications add different capabilities to this device, making it worth the 3 unmarked quests you need to do to acquire it.
Stats
Fire Rate- 50

Range- 302

Damage- 55
10. Virgil's Rifle
Last but not least, we have Virgil's Rifle. Considered one of the best Sniper Rifle Fallout 4, this rifle too is energy based. The perk Mutant Slayer adds 50% damage against super mutants.
Stats
Fire Rate- 66

Range- 227

Damage- 29