If you're in the mood to bust some collective stress from the week, playing Paintball with one of the most expensive paintball guns, is a great way to do so. While the game initially started as a little fun game for kids, it has eventually evolved into something a lot more complex with its own set of rules and formulae for success. Far from being a kids game, it has become something that adults actively participate in and terrains have been created for Paintball which accurately imitates war zone terrains such as dark rooms and dense forests.
However, the most vital instrument is, of course, a paintball gun. There are a lot of guns available out there with their unique qualities and attractions, some of them can even hurt quite a bit, even so much as leaving bruises on a body. This popularity of Paintball has been given a significant boost in recent years as a result of being featured in prominent popular TV shows such as 'Community', and 'The Big Bang Theory.' That rising popularity has significantly boosted the price range of guns out there, enabling some of the expensive paintball guns to leave a hole in our pockets!
Top 10 Most Expensive Paintball Guns – 2017
So in case you're wondering, here's a list of some of the most expensive paintball guns out there.
#1.  Crystal Bling Ego 09 — $5,001
A derivation from Eclipse Ego 09, this paintball gun mostly derives all its value from the fact that it is completely bedecked in crystals. All the Swarovski crystals decorating the gun have been carved and stuck by hand.
That is pretty much the only quality on which it differs from most regular guns, but that is enough to make it quite expensive and quite attractive.
#2.  Breda M37 8mm Machine Gun – $4,999
This is a custom replica by Real Action Paintball. It weighs 30 pounds and it can either shoot in semi-automatic, fully automatic, or short bust modes, making it quite a versatile option for the most expert players out there.
One of its key features is a Q-Loader automatic paintball feed system with two Q pods and pod loader hopper, and an ultra-light trigger pulls kit.
#3.  RAP4 T68 M240 — $4,500
It's gas operated and it can deliver a large amount of effective fire. It is a very realistic looking paintball gun and may easily be mistaken for an actual machine gun.
And this was exactly the intention too, as it's an exact copy of the M60 machine gun which was prominently used by US forces during the Vietnam War.
#4.  RAP4 T68 Avenger — $4,000
Armed with enough firepower to effectively defeat an entire team within seconds, this is an extremely powerful gun from Rap4, which requires an extremely powerful arm behind the trigger.
It's been constructed with a twin grenade launcher, has a red dot scope so you don't miss a large and can pack over 400 shots in a single round.
#5.  RAP4 249 Minimi SAW  — $2,500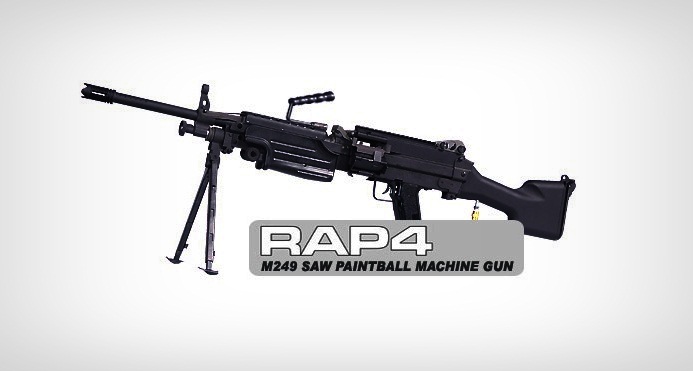 This is a gas-operated gun which can pack 200 shots in a round. It is also extremely lightweight and capable of quick bursts of rapid fire. It weights 15 pounds and has an all metal exterior.
It's available in 2 different versions — M249 Para Version and M249 Minimi Version. Both of them operate with the help of CO2 and compressed air.
#6.  RAP4 T68 M1919 Browning — $2,500
The design for this paintball gun is a completely realistic copy of M1919 Browning Machine Gun, which was again used by US forces both during World War II and the Vietnam War. This was the gun which was used mounted upon planes and helped win a decisive victory in many battles and eventually the war itself.
This can thus also help you and your team get a leg up on your opponents with unstoppable firepower and the ability to easily swerve towards any direction at all. It can carry 400 rounds.
#7.  Planet Eclipse SL74 — $1,995
This is an electro-pneumatic open-bolt stack-tube paintball gun which was introduced way back in 2004. It can shoot 14 balls per second and comes with an SL in-line regulator, SL valve guide kit, SL trigger frame, and 5-piece SL shaft barrel kit.
It comes with an auto-fire mode, a dual grenade launcher and .68 caliber eighteen round magazines.
#8.  WDP Angel G7 — $1,600
It was made back in 2013, and is the fastest paintball in the world, with the ability to fire 31 pellets per second at the velocity of 300 feet per second, making sure that your opponents leave the battleground with quite a few markers and reminders of your superior skills (or superior equipment, but they don't need to know that).
Around 1000 of these game guns were sold in their opening week alone.
#9.  Planet Eclipse Geo 3 – $1,345
This one doesn't have a 'realistic' look like a lot of other guns out there, but it definitely really amps up the whole cool factor and could easily be a gun used in an Alien movie, with its aqua green or Atlantic blue markers and shades.
It comes with lots of customizable features and a wider frame-to-reg spacing so that you have a larger space to hold onto with your hands.
#10. Bob Long Marq Victory V2 — $1,249
Some of the different versions available in this particular piece are V2 Victory Titanium, V2 Victory White, and V2 Victory Dust Black. These came during 2007 and have been quite a favorite since then.
They also look really cool, even though they don't have the appearance of real guns, which is great for those who don't actually care for real guns and violence and don't want to immerse in the illusion of playing at actual war. Some of its prominent features are 3D molded supple rubber grip panels, supercharged motor, and several others.
So these are some of the most expensive paintball guns out there currently. Do let us know down in the comments sections which of these most expensive paintball guns you love the most, and why, we'd love to hear from you!
You might also find this piece of information about kayaks useful