Best Beginner FPV Drones – Are you looking for your first FPV drone? Do you want to know the best FPV drones that include some amazing features for first flight experience?
FPV stands for First Person View. In short, you attach a camera on the flying drone with a video transmitter and you will receive live updates from this camera via monitor or goggles. It allows you to see what your drone sees from a bird's eye view.
Top 10 Best Beginner FPV Drones
Below you can find a brief information about some of best ready to fly FPV drones of 2018 for beginners. If you are not familiar with drones then I suggest you go with beginner drones because it is a good idea to learn and practice with this before you upgrade to a professional one.
See Also – Most Expensive Drones Currently On Sale
1. HUBSAN H107D X4 Drone
If you are looking for best budget FPV drone for the beginner then this might be the one. This Hubsan H107D camera drone packs with lots of amazing features. The 480p camera wirelessly transmits video to the controller via 5.8 GHz and allows you to capture photos and record video onto a micro SD card.
Features:
6 axis controller provide stable flight and excellent control
480p camera with 4.3 inches LCD remote control screen
Fashion design with nice durability
Small size with light weight make it hard to damage
LED lights indicate the direction in the night
Best entry level camera drone in market
Pros:
Fast and easy to fly
Cheap spare parts with easy to install 
Cons:
Short video signal range
Low video quality
Process video before editing
2. UDI U818A
The UDI U818A quad is the best option for those who want to control flight themselves and record videos on a cheap budget. The 2MP camera capable to record videos in 1280 x 720 at 30 fps and stored on a removable micro SD card. You can also pair UDI U818A with smartphone or tablet.
You can find a number of LEDs placed around the frame, motors and single while forward facing LED.
Features:
4 CHANNEL function provide stable flying
6 axis gyro with posture control
360 flips and rolls with a push of the button
Strong power motors enable to fly longer
High capacity battery with 7-9 minutes flight duration 
Pros
Easy to fly
Very affordable
Fast and quick turning
Ideal for beginners
Cons
Poor image and video quality
Short battery life
3. Cheerwing Syma X5SW-V3
The x5sw drone is using wifi to transmit videos from 2MP camera to your smartphone device. Altitude-hold feature allows you to maintain altitude at your selected level. Also, headless mode helps to maintain camera in challenging conditions. This is one of the best FPV drones and is perfect for flying outside even in medium wind conditions.
Features:
Headless mode
360-degree stunts
6-axis flight control system
HD camera to take photos and video
Wifi FPV allows viewing photos and video while flying
Pros:
Smooth and stable flight performance
Take video selfie while flying
Very durable construction
Simple to fly 
Cons:
Video has a slight delay
No SD card slot
The camera angle is fixed can't be changed
4. Syma X8HG Drone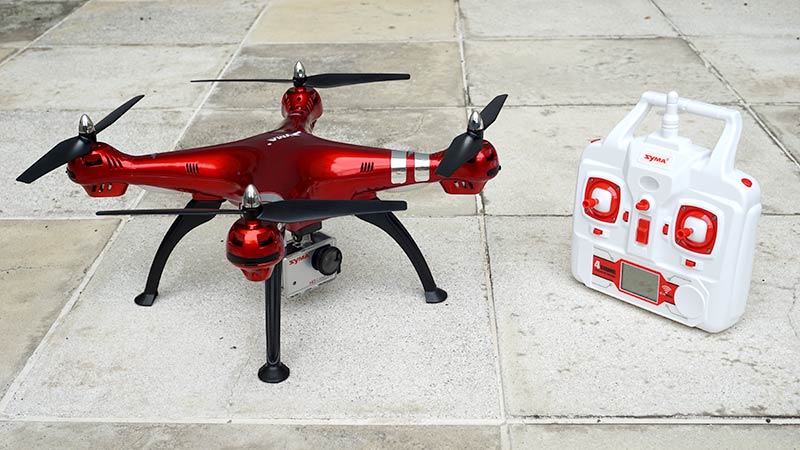 Syma X8HG comes with 6-axis gyro flight system for easy handling and stabilization. You can also perform different flight movement with the help of gyroscope. The 7.4V 2000 mAh Li-Po battery allows a flying time of around 5 to 7 minutes. This drone is controlled using 4HC digital remote control.
Features:
Professional cool and exquisite flight action
8MP HD camera and 1MP video
4CH digital proportional RC system
6-axis gyro quad rotorcraft flight
4G anti-interference technology
Colorful flashing LED lights
Pros:
Smooth flight performance
Good image quality
Cons:
Low flight time
Transmission interface can affect recorded video
See Also – Check Out This Footage From A $150,000 Drone
5. Holy Stone X400C
Holy store X400C is a pretty little entry level FPV drone for beginners. It comes with a decent onboard camera and goggle. FPV real-time transmission allows you to take aerial photos and videos with your smartphone. Flight time is about 8 to 10 minutes with 3.7V 750 mAh Li-Po battery.
Features:
4gHz remoter controller
6-axis gyro for in-flight stability
FPV & stable flying mode
7 to 9 minutes flying time
A 720p video camera that supports FPV to Android or iOS
Pros:
Lightweight and durable
Extremely responsive controls
Different flying mode available
Cons:
No LED lights on a quadcopter
Limited wifi range
6. Dromida Ominus Unmanned Aerial Vehicle (UAV)
Dromida Ominus UAV comes with an impressive aerial system that is lightweight and durable. If you are a beginner then this quadcopter is the best option out there. The 3-axis gyro and 3 accelerometers make Dromida Omnius very smooth to fly. You can also download photos and videos directly into your smartphone.
Features:
4GHz radio controller provides interference-free flight
Auto-Flip function flips quad with button-push
Colored LEDs help you orient in the night
Capture crisp clear photos and videos
Four fantastic flight modes
Pros:
Extremely durable fans
Fits all experience levels
Affordable replacement parts
Cons:
Noisy motors
No blade guards
Does not fly well in the wind
7. ARRIS FPV250
Arris FPV250 is a small and durable quadcopter perfect for FPV racing. It is fully assembled and tested by the technician.
It comes with a host of advanced features that's why it suitable for both beginners and professionals. You can fly this drone for about 10 minutes with 3S 11.1V 2000 mAh Li-Po battery.
Features:
F3 flight controller
High quality S2205 2300KV motor
A 700TVL camera makes a perfect quality video
10 minutes of flying time with 2000 mAh battery
Suitable for both newbies and experts
Pros:
Great for FPV racing
Durable frames and arms
Vibration damper plate 
Cons:
Low payload capacity
No SD card slot
8. JXD 509G 5.8G FPV
JXD 509G 5.8G is best to budget long flight time FPV drone. The 5 built-in LED lights make it very easy to see a drone in the night time. 4.3-inch remote control screen lets you view real-time FPV video.
Features:
Professional cool and exquisite flight action
High-performance rechargeable battery
High definition cameras to record every beautiful moment
8G Real-time photos transmission
Suitable for flying in the dark at night
Pros:
High agility
Solid construction
Responsive flight
Cons:
Short flight time
Affected by winds
Low control range
9. WL Toys V686G
WL Toys V686G is the best option for the beginner on a budget that wants to try FPV drone. It comes with a 6 axis gyro has strong stability in flight. A 2MP camera provides clear images and record videos. It has 10 minutes of flying time with 3.7V 730 mAh battery. It also offers some advanced features like headless mode and one key home return.
Features:
Designed with an inbuilt 6 axis Gyroscope
2MP camera with 720p resolution
Real-time video transmission
7V 730 mAh Li-Po battery
Controller use 6AA battery
Four main engine
Pros:
Perfect for beginners
No need for extra hardware
Best camera quality
Cons:
The camera may have a jello effect
Screen too bright on sunlight
10. JXD 510G
The JXD 510G is a complete FPV set with a great specifications for its price range. It comes with real-time transmission without lag and no blurry image. The strong power motors and high capacity battery allow you fly the drone for about 7-9 minutes.
Features:
8G real-time transmission
Headless mode solve the loss of orientation
6 axis gyro for more stable flight
360-degree eversion
4GHz control system
One key to return reducing your fear of losing it
Pros:
Responsive flight
Extremely responsive controls
Affordable replacement parts
Cons:
Short battery life
Does not fly well in a wind
So these are just a few of our choices about the best beginner FPV drones that you can select as an amateur drone enthusiast. Do you have any other options? Please do share with us in the comments section below. We would love to hear from you!